Published on
July 7, 2016
Category
Features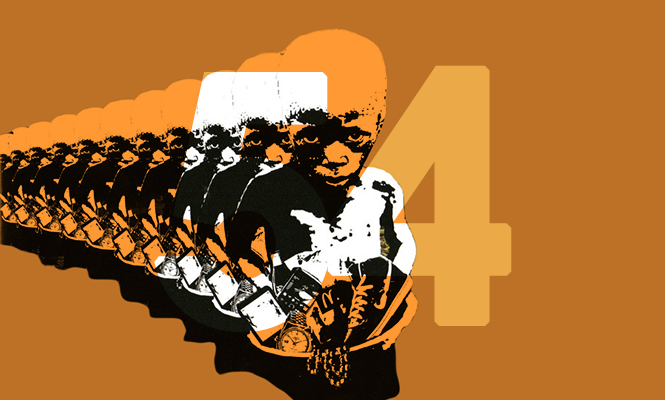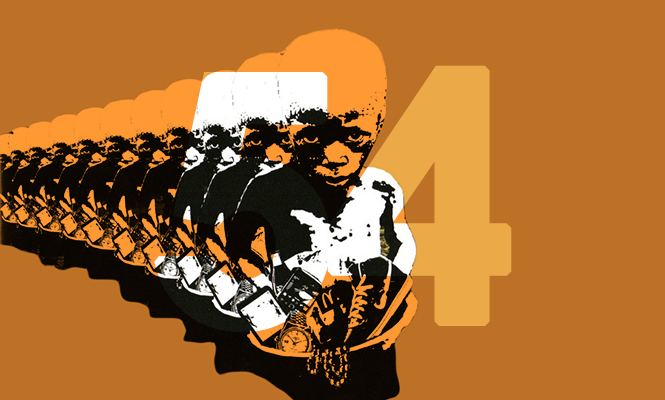 Anarchists congregate on VF Mix 54.
Bad Breeding originate from the council blocks of Stevenage, a commuter-town just outside London where, according to their lyrics at least, "nothing really happens, except nothingness itself". They all work in construction and write their music in a tiny rehearsal space on an industrial estate.
Full of frustration, anger and anxiety towards the current state of social progression, their self-titled debut album – which was recently released for free – explores the manipulation and misuse of institutional power. There's a clear anarcho and hardcore sensibility to the record, drawing reference to acts like Crass and Flux of Pink Indians. These bands appear on Bad Breeding's excellent VF Mix, as well as the full breadth of the original anarcho-punk movement, from the feminism of Poison Girls to the deathrock of Discharge.
Listen below and scroll down for an annotated tracklist.
---
Words: Bad Breeding
---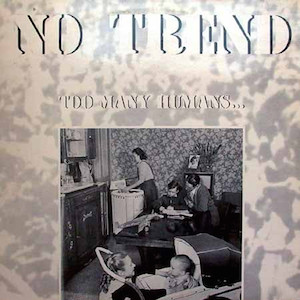 No Trend
'Family Style' from Too Many Humans
(No Trend Records, 1983)
I think stumbling across Too Many Humans when I was younger was one of those mercurial moments, it sort of changed my outlook on the application of ideas and opinion. Having read about No Trend wherever possible, what interested me most was the whole rejection of what had arguably become scenes that were so rigid and stifled by insular conformity. Listening to this record feels like a fresh slate. It's something that's absolutely terrifying and inspiring in equal measure. Most of this list is made up of UK punk and anarcho, but I couldn't leave this out as it's particularly significant for me. If I ever have kids it's something that I'll probably play to them when they're about five or six just so they know what sort of cesspit they're going to be growing up in.
---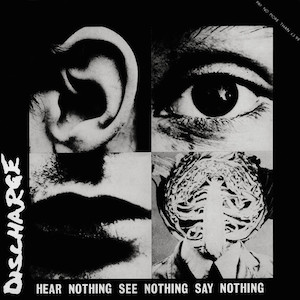 Discharge
'The Nightmare Continues' from Hear Nothing See Nothing Say Nothing
(Clay Records, 1982)
This thing needs little to no introduction to be honest. I think people have varying opinions on the political interests of Discharge, but what you can't deny is the brilliance of this record and its impact (along with the Why EP) on the formation of what later became D-Beat. There's something wonderful about the structured simplicity. It's a formula that so many have tried to imitate right up until today with varying degrees of success. Without this record we likely wouldn't have had the brilliance of Kawakami and Disclose to look forward to in later years either.
---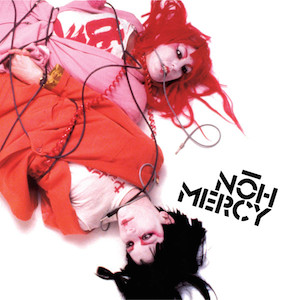 Noh Mercy
'No Caucasian Guilt' from Noh Mercy
(Superior Viaduct, 1979/2012)
Charlie [our bassist] and I came across Noh Mercy through the excellent Superior Viaduct. From what I know, they came together in San Fransisco in 1977 as a sort of answer to the patriarchal nature dominant in a lot of performance art at the time. No Caucasian Guilt is a pretty dangerous song lyrically and they're not afraid to take on some difficult subject matter.
---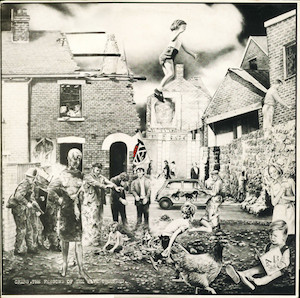 Crass
'Banned from the Roxy' from The Feeding of the 5000
(Small Wonder Records, 1978)
Where to start… I was born in 1990 so a great deal of songs on this playlist are likely to conjure up vastly different meanings and emotions depending on the age of the listener. One thing that I've always loved about Crass is that idea of community-driven self-empowerment. That breaking down of conventional artistic constructs. If you look at the lyrical context of a number of songs on The Feeding of the 5000 (Securicor, Women, You Pay, Banned from the Roxy…) they are still arguably as relevant today as they were in 1978.
---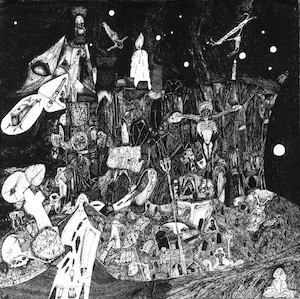 Rudimentary Peni
'1/4 Dead' from Death Church
(Corpus Christi, 1983)
The most important band to have walked the earth. I think Death Church serves as one of my favourite records. Nick Blinko is a genius. There are so many moments on Death Church when you're not sure whether to laugh or cry the lyrics are so acutely macabre. They're one of those bands that however many times you revisit their work it always feels like the first time you're digging into it. Sonics aside, Blinko's artwork is special and the depth to his drawings always astounds me. Everything he does is so arresting.
---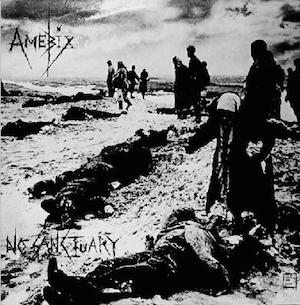 Amebix
'Battery Humans' from No Sanctuary
(Spiderleg Records, 1984)
Depending on who you speak to, Amebix are credited with a whole host of things ranging from being pioneers of crust right through to pushing forward elements of proto-metal and inspiring the likes of Darkthrone. The No Sanctuary EP was put out with the help of Flux of Pink Indian's Spiderleg in 1984 and probably stands as my favourite work of theirs. I think they wrote No Sanctuary with Virus from Disorder on drums too, but do correct me if I'm wrong on that…
---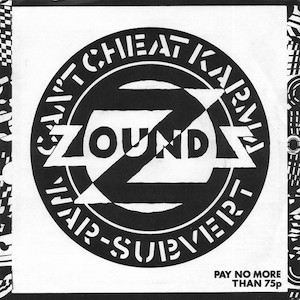 Zounds
'Can't Cheat Karma' from Can't Cheat Karma/ War/ Subvert
(Crass Records, 1980)
Another fantastic band… Zounds were pretty divergent in terms of sound if you look at what forms of anarcho were prominent when this was released. Can't Cheat Karma first came out as part of a 7" on Crass Records. The seven also features two other songs, War and Subvert, which are cracking too. There's a really interesting book knocking around called Zounds Demystified, which sees lyricist Steve Lake provide a commentary for much of the band's output.
---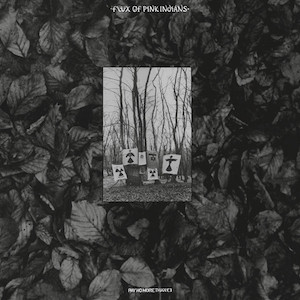 Flux of Pink Indians
'Blinded by Science' from Strive to Survive Causing Least Suffering Possible
(Spiderleg Records, 1982)
Flux started not too far down the road from us in Bishop's Stortford. After originally putting the Neu Smell EP out with the help of Crass, they went on to establish Spiderleg to release their own work, as well as stuff from the likes of Subhumans and Amebix. A lot of what we've done with our own self-release ideas have been largely informed by the way Flux went about handling themselves. Away from the release side of things, they just have so many great ideas when it comes to songs. They're far removed from standard three or four-chord chugging and you can really hear that on the reissue of Strive to Survive… that came out on One Little Indian. One of my favourite things about Colin Latter's lyrics is that they're honest and impassioned, but never really land on the side of being too preachy.
---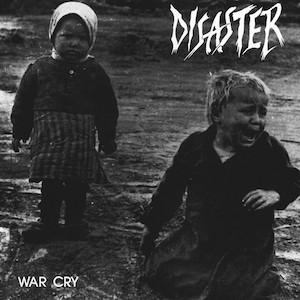 Disaster
'Devastation' from War Cry
(Tone Deaf Records, 1991)
My favourite of the Discharge-influenced bands to spring up in the early 1990s. Every song on this record is an absolute belter, it just rips so hard… it's relentless. War Cry was reissued on CD in Japan about ten years ago, but Paco of La Vida Es Un Mus brought it back to life on vinyl a couple of years back. It's a standout package that originally included a flexi with two Discharge covers on it, plus a 12-page booklet of artwork, flyers, interviews and lots of other bits, all for the princely sum of just nine quid.
---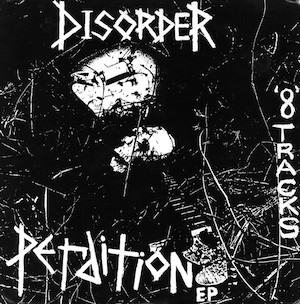 Disorder
'Suicide Children' from Perdition
(Disorder Records, 1982)
Given the nature of this piece I've had to cut out a lot of stuff that I love. When it comes to Bristol and its surrounding areas, I had to decide between two bands: Disorder or Chaos UK. They're both just as brilliant as each other, but I'd have been here all week if I'd included everything I wanted to. I could have chosen any song on the 1983 Perdition EP and it would have ripped the skin off your face. Whatever they did was brutal and they rarely ever veered away from it.
---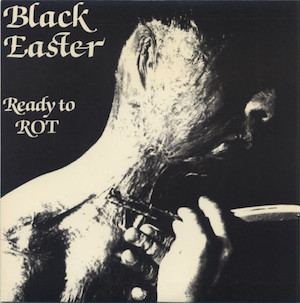 Black Easter
'Action Speak' from Ready to Rot
(Illuminated Records, 1982)
These lot were from Farnborough in Hampshire. Action Speak features on the B-side of an EP called Ready to Rot that I think came out on Illuminated. From what I know they were around for a couple of years. I visited Farnborough when I was younger to watch what was then a Conference football match with my old man. It felt vaguely like a minor upgrade on Stevenage. We got battered 6-1 from what I can remember. I've searched for this 7" for a while, but can't afford the £50 it would cost to get it off some proud owner in Germany or the Netherlands.
---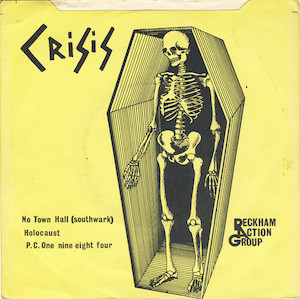 Crisis
'No Town Hall' from No Town Hall
(Action Group Records, 1978)
Regardless of what Tony Wakeford and Douglas P went on to do with Death in June, Crisis stands alone for me. So much has been written and discussed about both bands so I won't waffle on about that. I wanted to feature this as No Town Hall is a personal favourite. The original was released in 1978 on Action Group and has two standout B-sides in the shape of Holocaust and P.C. One Nine Eight Four.
---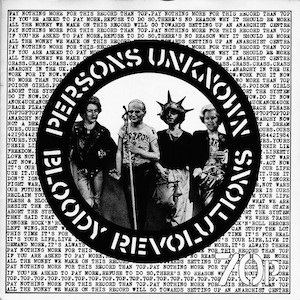 Poison Girls
'Persons Unknown' from Bloody Revolutions/ Persons Unknown
(Crass Records , 1980)
Persons Unknown formed half of a split release with Crass that also included Bloody Revolutions. I think that 7" is a good demonstration of what was so brilliant about Poison Girls. Using the money raised from the sales of that single – along with money raised from benefit gigs – both bands went on to help establish the Wapping Autonomy Centre. However short-lived that place turned out to be it just goes to show what sort of educational and creative things can be achieved with shared understanding. If I hadn't gone with Persons Unknown, it would have been Bully Boys, which takes on some of the absurd, violent notions of masculinity that were dominant at the time.
---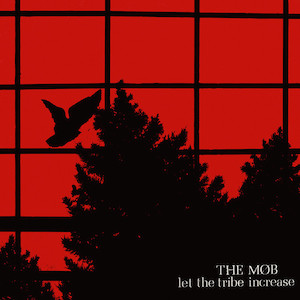 The Mob
'Witch Hunt' from Let the Tribe Increase
(All The Madmen Records, 1983)
Brilliantly honest peace-punk. The band released this record through their own All the Madmen label with the proceeds being reinvested into its running. I think some of those behind the label also had a strong affiliation with the Kill Your Pet Puppy collective and zine. K.Y.P.P ran between 1979-1983 and some of its content has been moved online for viewing here. In fact, there's a brilliant chronicle of the history of The Mob that can be found on there, which includes a memorable collection of posters and photos, along with some of the band's artwork produced by the legendary Wilf.
Given my age I don't have any anecdotes about the era much of this music came from, although I was first introduced to The Mob when I noticed some of their artwork pinned on a wall in an old family photograph. My grandparents, along with the help of my dad, used to run a hostel in Stevenage during the 70s and 80s. A couple of years back I found an old image of one of the rooms in the house with heaps of Mob stuff plastered everywhere. I'm not sure if they ever played down at Bowes Lyon House during its heyday, but someone in Stevenage must have been a massive fan at the time.
---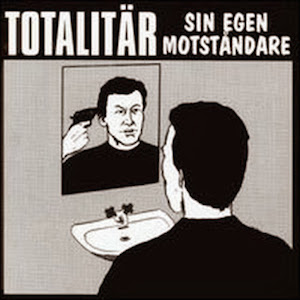 Totalitär
'Sin egen motståndare' from Sin egen motståndare
(Finn Records, 1994)
Blistering D-Beat/ hardcore from Hudiksvall in Sweden. I believe one of the members also played in the city's other formidable output in the way of Brainbombs. If you're into these sort of playlist things then feel free to add whatever else you can recommend in what I presume will be a comments thread below. I'd have built something hours long (inclusive of Icons of Filth, Doom and many more), but just wouldn't have had the time to compile words on everyone.