Published on
April 21, 2020
Category
Features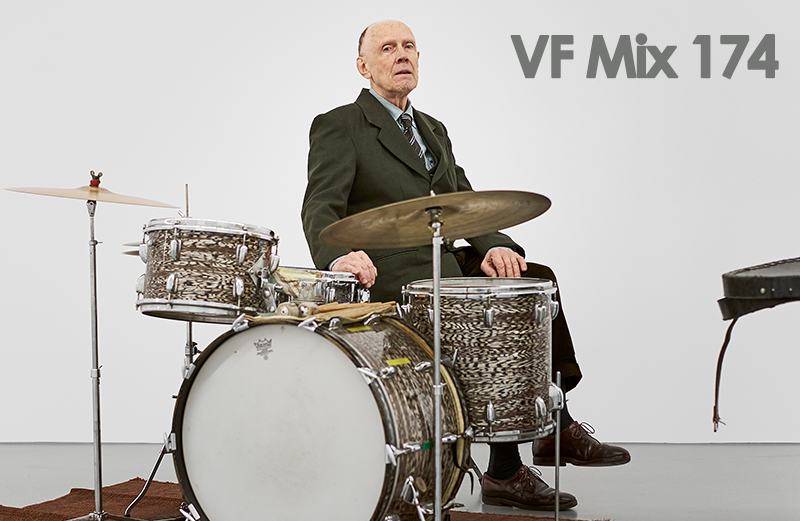 A journey through the sounds of the experimental jazz and fluxus artist.
DJ and music programmer Phuong-Dan is a passionate "anything-goes" selector. This eclectic open-mindedness can be heard in his sets – fuelled by his Pudel Club residency that spans nearly 20 years alongside international gigs, as well as his project specific audio works and programming. His passion for digging and collecting is ignited by a voracious curiosity, and genreless approach, something that is apparent when you see him play live.
For his VF Mix, Phuong-Dan explores the oeuvre of Swedish composer, multi-instrumentalist and artist Sven-Åke Johansson. For the uninitiated: Johansson is an unsung pioneer of free jazz and the fluxus movement, who never lets boundaries get in the way of his creativity – as likely to play boxes using a stringed bow as he is to wail out improvisational drum compositions.
Listen to the mix and find out more about it from Phuong-Dan below:
The first time I sat together with Sven-Åke Johansson was on a warm summer day in 2016 at the art institution Kunsthal 44 in Møen. I was visiting the opening of the exhibition "_ _ _ _ / / / / O / O / O The mouth expresses thoughts. The landscape renders its tone!" curated by the art historian Nico Anklam. The project put focus on the work of Fluxus artist and composer Henning Christiansen – in particular on his ideas of nature in relation to sound and language – and was accompanied by a performance programme with international artists.
Among others, I saw Sven's re-creation of his own composition Klingend und Festgehalten – Erbsen aus Blasrohr from 1995. Originally intended to play drums by shooting peas through a blowpipe, he positioned himself in an old barn, using its metal roof as a membrane.
Sven is a fascinating person, warm-hearted, awake, playful, humorous and thoroughly serious at the same time. Back then I just knew a little about his oeuvre. A style-defining drummer of the German free jazz-era of the '60s and '70s, Sven-Åke Johansson is also profoundly active as a music performer and composer in the sphere of fine arts and new music.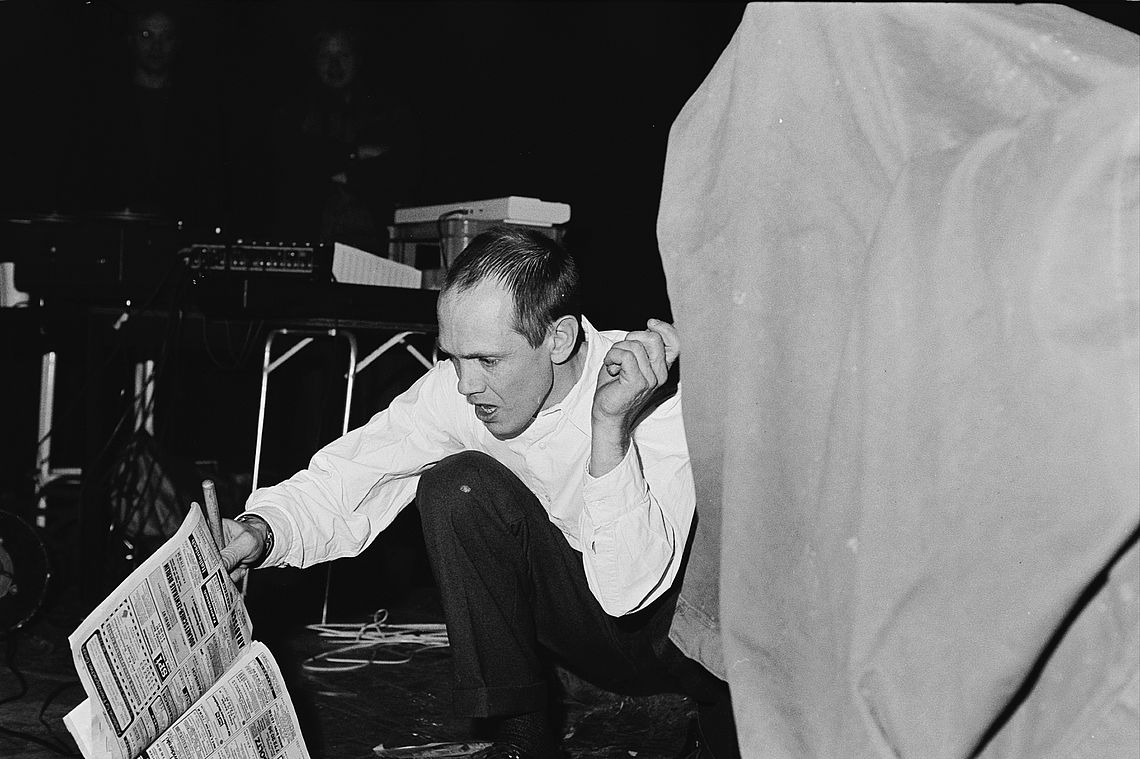 Never constricting himself to a certain approach, he has collaborated with numerous artists of different shapes, such as Peter Brötzmann, Alexander von Schlippenbach, Shelley Hirsch, Conrad Schnitzler, Tangerine Dream, Annette Krebs, Martin Kippenberger or Sonic Youth.
While still being active in classical jazz ensembles, Sven would also sing, rub sandpaper, replacing drumsticks with cucumbers and compose pieces for tractors or wind turbine propeller blades. I made a quite large selection and a pretty long mix and hope it conveys the variety of his rich and adventurous work."
Tracklist:
1. Cool Quartet with Lina Nyberg featuring Eric La Casa – September In Tomelilla III (2008)
2. Sven-Åke Johansson / Annette Krebs – Speaking (2009)
3. Sven-Åke Johansson – Trilogie Für Windgeneratoren: Getrennte Ebenen – Hohlraum (2009)
4. Sven-Åke Johansson – More Compositions IV: Die Neue Zeit Ist Pausenlos (2008)
5. Sven-Åke Johansson – Kurze Studie (1972)
6. Sven-Åke Johansson – I Didn't Know What Time It Was (2004)
7. Sven-Åke Johanssons Ol' Man Rebop Ensemble – If I should Lose You (1998)
8. Rüdiger Carl & Sven-Åke Johansson – Djungelmusik Med Sång: Untitled (1997)
9. Sven-Åke Johansson, Andrea Neumann, Axel Dörner – Eingang (2009)
10. Thomas Kapielski & Sven-Åke Johansson – Das Moabiter Duo – Recovered (1983/2019)
11. Johansson presents Anderson – The Syncopated Clock (2002)
12. Oliver Augst, Rüdiger Carl, Sven-Åke Johansson – Kippenberger Hören: Aufstehen/ Stuhl Kaputt Machen/ You/ Yellow/ You (2008)
13. Sven-Åke Johanssons Ol' Man Rebop Ensemble – You And The Night And The Music (1998)
14. Sven-Åke Johansson – Klingend Und Festgehalten: Erbsen Aus Blasrohr, 3-4 Meter (1995)
15. Norbert Eisbrenner, Conrad Schnitzler, Sven-Åke Johansson – Mariental Tapes 1970: v. Dewitz (1970)
16. Sven-Åke Johansson – More Compositions II: 22 Miniaturen Für Akkordeonorchester (2003)
17. Sven-Åke Johansson – Abovensen…: Einen Staubigen Klang Finden (1999)*Erwähnung, Komposition
18. Der Kreis Des Gegenstandes – DKGD IV (2010)
19. Sven-Åke Johansson – Konzert Für 12 Traktoren (2009)
20. Sven-Åke Johansson, Sten Sandell – 1.435 (One Point Four Three Five) (1997)
21. Wallin & Johansson – Proklamation I (2000)
22. Dietmar Diesner & Sven-Åke Johansson ‎– Konsum – Delikatessware X (1988)
23. Sven-Åke Johansson – Abovensen…: Polis, Wachs Und Pomade (2002)
24. STEAM-Group + Sven-Åke Johansson – A Friendly Goodbye, Vocal (1972)
25. The Peter Brötzmann Trio – Sanity (1967)
26. Dietmar Diesner & Sven-Åke Johansson ‎– Konsum – Delikatessware Va Jazzintermezzo (1988)
27. Peter Ablinger & Sven Åke Johansson – Das Telefonbuchstueck, Fuer Zwei Gelbe Seiten (2007)
28. Sven Åke Johansson & Alexander Von Schlippenbach ‎– …Über Ursache Und Wirkung Der Meinungsverschiedenheiten Beim Turmbau Zu Babel – Szene I (1989)
29. E.M.T. – Cassettenbrief Von Sven-Ake, Teil 1 (1973)
30. Sven-Åke Johansson – Rimski: Bestandteile Und Obertöne (1990)
31. Sven-Åke Johansson – More Compositions IV: Flötenquartett Nr.1 (1993)
32. Sven-Åke Johansson – Mit dem NMUI im SO36'79 – I Mel. F, Berliner/Früh Um Fünfe (1979)
33. Sven-Åke Johanssons Ol' Man Rebop Ensemble – Darn That Dream (1998)