Published on
April 22, 2015
Category
Features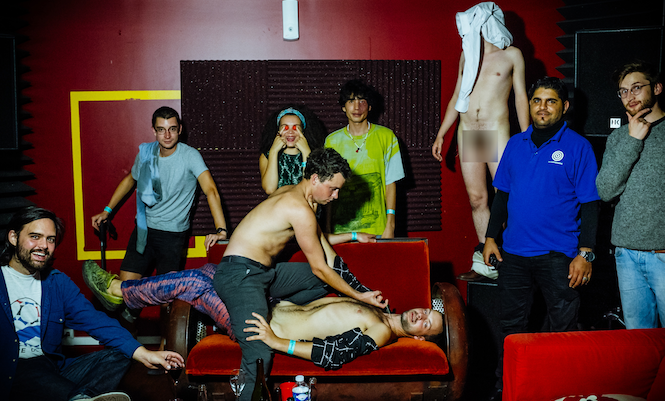 Glasgow's rambunctious six-piece get primordial for our latest vinyl-only mix.
The progeny of noise punk trio Ultimate Thrush and all analogue house duo, Silk Cut, Golden Teacher were heaved from the Glasgow's fiery underbelly by JD Twitch three years ago, bringing with them the trio of cracking EPs subsequently released on Optimo Music. A potent, rib-rattling melee of NYC-inspired post-punk, African drumming and DIY attitude, the EPs have gone some way to capturing the ensemble's untamed live sound, once described by Optimo as "hypno-psych voodoo groove".
In truth, given how they've moulded a range of influences into something wholly original, it's hard to write about Golden Teacher without making them seem the opposite. But see Golden Teacher live, or spend any time with 'Party People' turned up to the top and you'll understand what they say when describing the music as the soundtrack to "the party Arthur Russell was talking about when he said "I wanna see all my friends at once"." Join in below:
VF Mix 12: Golden Teacher by The Vinyl Factory on Mixcloud
To get a better understanding of what's gone into this bristling spectacle, we asked the band to dive into their record collections and give us a taste of the Teacher at rest, and the mix they've come up with doesn't disappoint.
Named after a track by porn disco don Patrick Cowley which sits in the middle of the 45 minute selection like a cosmic oasis, Golden Teacher have christened this their 'Primordial Landscape mix', a heady journey across a warped, surreal, often distorted dream world where Vox Pupuli! dance in dissonant commune with Hessle upstart Joe and the wooden flutes of Toto La Momposina waft through the warm evening air.
As if that wasn't enough they've even thrown in a new track of their own featuring UK reggae legend Dennis 'Dubmaster' Bovell from a forthcoming 12″ on Optimo Music.
Over to Golden Teacher for a little bit of context:
A rolling journey through time and space with tracks from the past (reissues only!) and the future* (forthcoming at ya!). Vinyl are heavy, CDs weigh less, and MP3s are weightless, kind of. But slowing down is always nice.
Tracklist:
Bernard Bonnier – Soldier Boy (Amaryllis) / Buy
LAPS – Yolk (Clan Destine Traxx) / Buy
Leven Signs – Sedes Sapientiae (Cordelia Records) / Buy
Alwin Nikolais – Fixation (Hanover) / Buy
Vox Populi! – Jube Man (On A Faim !) / Buy
Les Vampyrettes – Biomutanten (Self-released) / Buy
Burning Star Core – Mezzo Forte (Hospital) / Buy
Patrick Cowley – Primordial Landscape (Dark Entries) / Buy
T++ – Dig (Honest Jon's) / Buy
Balarabe Dan Musa – Salli Ala Khairil-Wara
100% Positive Feedback – VIIKKRRAAMM
Love of Life Orchestra – Condo (Expanded Music) / Buy
Joe – Claptrap (Hessle Audio) / Buy
Golden Teacher meets Dennis 'Dubmaster' Bovell – Instigator* (Optimo Music)
Toto La Momposina Y Sus Tamboes – Curura (Caroline Records) / Buy
As well as the Golden Teacher meets Dennis 'Dubmaster' Bovell on 12″ for Optimo Music, Golden Teacher also have a self-released EP in the works for May and make an appearance on Sounds Of The Universe's forthcoming Art + Sound comp too.
See Golden Teacher live:
May 7th – Edinburgh – The Mash House
May 8th – Glasgow – The Art School
May 20th – Leeds – Hi Fi Club
May 21st – Liverpool – Kazmier
May 22nd – Bristol – The Fleece (w ESG)
May 23rd – London – Oval Space (w ESG)
May 25th – Brighton – Sticky Mike's
May 26th – London – Birthdays
May 27th – Manchester – Islington Mill
Photo: Benjamin Segura