Published on
April 23, 2015
Category
Features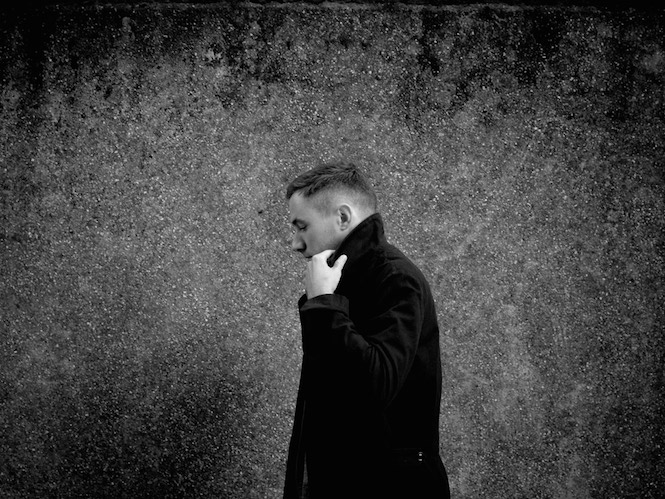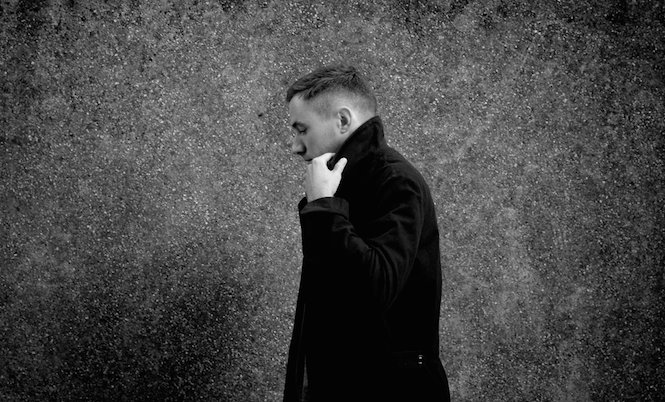 Our Crate Diggers series profiles record collectors across the globe. We've visited the digging worlds of Motor City Drum Ensemble, Jonny Trunk and Antony Naples, now we sit down with Deviation boss and Radio 1 personality Benji B to find out about his collecting style.
---
Name: Benji B
Size of Collection: 15,000 - 20,000 records
What were the sounds coming out of your house growing up?
The soundtrack in the house from my dad's side was Stevie Wonder songs on rotation, and there was also of course Motown and some jazz but on the other side there was Joni Mitchell and Crosby, Stills and Nash and that sort of thing too. My mum was very much into The Police, Sade, David Bowie, that kind of vibe. So I kind of grew up amongst all of that stuff with quite an exposure to soul, jazz, funk, fusion, classical, everything. And I had my own pop taste as well.
I was talking to Nile Rodgers the other day. I was saying to him that my mum used to listen to David Bowie all the time and I didn't mind the music but it wasn't ever something that grabbed me in my soul as a kid until "Let's Dance" came along. I also bought the record that Nile produced for Duran Duran but before that had never cared about Duran Duran. It's a really interesting study of the purity in the way you approach music as a child – you just respond to shit that you like with no perception or knowledge of what you should or shouldn't like. You respond to what you're interested in but it's also interesting that this was, in a way, my first totally naive and unknowing relationship with a record producer.
That's an interesting point about how forthright kids can be.
This is an anecdote that my mum loves to tell: when I was a kid they used to send me to summer crèche or something and one day my mum came to pick me up, and the very concerned teacher had to pull her to one side and say "I don't want to alarm you but I just want you to know that your son keeps rewinding our cassette player to this one song over and over again. But the thing is that song's called 'Sex Machine' and I'm a bit concerned that he's really obsessed with this song." At the time I had no idea what the lyrics were but it was the only song on the tape by James Brown and I remember that was the way I discovered that tune.
Do you remember the very first record you bought? 
I don't exactly.  I was lucky because I was always encouraged to be into music and I was allowed to buy singles. Our Price used to do 7″ singles for 50p or 99p when they were first released and I used to go to my local Our Price and buy a single either once a week or once every two weeks. I'm talking way before I got into buying club music, or 12 inches or crate digging or whatever; these were pop records that were coming out at the time. I found a whole stack of them recently – David Bowie "Let's Dance", Madonna "Get Into The Groove"… I was actually quite impressed. Obviously like everyone I have loads of guilty pleasures from my childhood in the '80s but generally speaking it was pretty good taste considering.
As a child I used to buy singles on 7" and I would buy albums on cassette because you could get lyrics on the cassette. I think my first important LP moments were probably with groups like Public Enemy. They definitely changed my life. That was when I suddenly felt like I was discovering my own taste in contemporary music.
What's your philosophy behind collecting records these days? What do you look for in a record?
Oh, it hasn't changed since I was five years old. It's just simply what I love, and what interests me and what touches me. It's funny, I haven't done any interviews for a while, but by talking to people recently I've realised that its unusual just to play what you love. I mean that with no judgement of whether it should or shouldn't be unusual, I'm just observing that it is unusual now that I operate in a space where I genuinely just play and buy and support and represent what I like. And there are a lot of people on the radio and in clubs that are not exactly doing that, and are doing what they think they should like or they think their audience should like.
To answer your question, totally honestly, I don't have any perception or approach other than a privilege of a lifetime of music listening and collecting, and therefore an advantageous starting point in terms of discovery. But in the same breath it's important to say that the amount of music in the world is infinite; it's impossible for us to comprehend how to touch all the corners of the music that's available to us so you have to approach record collecting with the same humility that you did when you were 15.
Record collecting can definitely have an elitist streak.
One thing that I've always been a campaigner against is the element of record digging snobbery. That's an area of record collecting that has always turned me off. It's one of the reasons I love Soul Jazz and always have. In the old shop, before the new one on Broadwick Street, I'll never forget this girl walking in. I think she was 15, in her teens. She came in and asked 'Who is Pharoah Sanders?', and they were like 'Awesome question. Go over to this section.' Any girl or boy of any age of any background in any city in the world  should feel like they can walk into any record shop in the world and ask who's James Brown or even who's Michael Jackson or whatever is the most obvious record digging thing for you. Everyone has to discover music somewhere.
Agreed. Do you think some collectors get bogged down in details about rarity and price?
When I was a teenager a few people took me on their record dealer trips to nasty hotel rooms in Oxford Circus with piles of different rare jazz records. I'm not a stranger to that culture. I've also seen American producers come over and buy records for like £800 because there's an interesting track on side B. I get the culture and I respect the culture but for me it's always been driven by music and music alone. Does rare mean good? Not necessarily. Listen to music and then decide.
I would be a liar if I said it doesn't feel great to have something someone else doesn't have yet or to have an exclusive or a dubplate. But you have to remember that my actual job is to go on the radio and as soon as the job is done to write down on the website exactly what I played and where you can get it. So the the soundboy culture of rubbing out records so the next DJ doesn't know what you got is something I removed from my part of the game from an early age because my job was to play music and then tell people what it was.
Tell us about some records you've picked up recently.
I just had a great session digging in Brazil. I went and saw this crazy guy called Fabio who has a private house where he sees private clients and I was put in touch with him via some mutual friends and yeah I went a bit crazy in Brazil.
I got this amazing album called Maysa from 1969. It looks like a 40-something year old woman and her son on the front cover. The reason it's amazing is because two of the songs are arranged by Antionio Aldofo and the one I like is arranged by Arthur Verocai. Obviously Arthur Verocai's album is like one of the holy grails of Brazilian records but apart from being an amazing artist Verocai was an amazing arranger as well so I went on a bit of mission to find records that he's arranged. This album Maysa has his arrangement on it and it's phenomenal.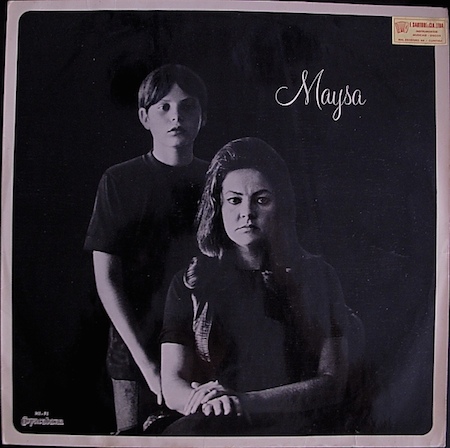 This other record I got is called Marília Medalha also from 1969. It's not bossa, well it is bossa-y, but it's almost like the Brazilian version of Serge Gainsbourg but sort of sung by a woman. It's really dope. Then there's this Caymmi record. In Brazilian music I'm much more of a fan of samba and sort of the more rugged, organic music rather than the super nice bossa, so that's what always appeals to me and this Caymmi record is really interesting.
Egberto Gismonti is always good so I just picked up a couple of records by him that I didn't already have. Quarteto Em Cy. Gilles Peterson put me on to them years ago – he deserves credit for introducing me to a lot of Brazilian music actually. I learnt a lot about Brazilian music when I was a teenager through listening to Gilles Peterson and buying his compilations. Gal costa, I bought a lot of Gal costa this trip in Brazil because I'm a really big fan of her and her singing and her arrangement. Caetano Veloso, Elis Regina… I spent a lot of money in Brazil, it was really bad.
Here's a tough one: your house is burning down, you can only save one record - what would it have to be?
Ah god, that's a very, very difficult question. It would probably be whichever one's on the turntable at the time because that would be the easiest one to find. Every other record would probably be difficult to find knowing my filing system.
Ok, but are there any records that mean a lot to you?
There's loads. A Love Supreme, John Coltrane is one of those records I think, even if you listen to it a thousand times, you will always hear something new in it. And in a way it is an amazing moment in time: a live take, amongst four musicians at the peak of their power, and the power of them coming together recorded on to wax. And probably one of the highest moments in terms of achievement playing a melody instrument and pretty much a bible on the fact that when it comes to tenor saxophone, that's the benchmark. It's a bible not just in terms of jazz, but musical prowess and expression.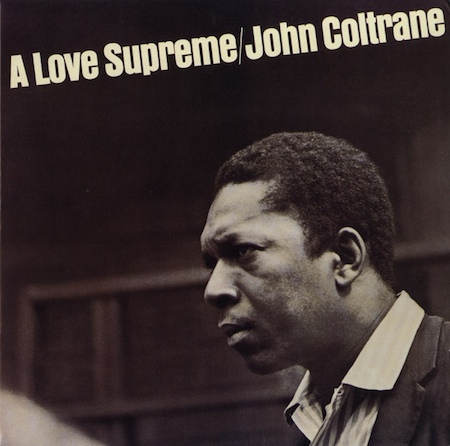 I would also say D'Angelo – Voodoo. It's not an old record but you know it's probably one of my most battered records and most played records. If I'm honest I have probably listened to that album more than most in my life.
Favourite label?
How can you have a favourite label? If you said what's your favourite disco labels, i'd be like: Prelude, West End, Sleeping Bag. If you said to me what are your favourite reggae or house labels, then I'd have a different answer. There's too many. I do like that when I look at my record collection all the Impulse spines look the same and all the Philly International ones look the same. That's dope. But I think it would be disingenuous of me to pretend that there's a simple answer to that.
Do you organise your collection at all?
I want to say shout out to Santi. He helped me one summer, about five or six years ago, do what I've never done properly which is organise the whole collection. and I'm still using that organisation as a base right now even though I've fucked it up a little bit. Overall he did an amazing job on that.
Anyone's record collection is kind of like a reflection on how their brain works. Everyone's different. Just thinking around my room, mine goes: house tempo music A-Z, techno/electronic/glitchy A-Z, broken beat below that, then jungle from '92 to '96, drum and bass, there's a little proto-dark garage, pre-dubstep, then there's a massive garage section of white labels I used to buy in Uptown that are all warped and stuff, and there's grime on that wall as well. On the other massive wall there's jazz albums A-Z, soul albums A-Z, soul 12″s, disco 12″s – that's massive- and then disco albums. Next to that there's a whole post-punk section – Liquid Liquid, ESG, 99 records – and that leads into punk and rock which is quite a small section to be honest. I have folk and post-rock like Tortoise, Stereo Lab. Then there's soundtrack, score, classical. Oh, I forgot, there's a massive Latin section, Brazilian section, and African. There's also a synth and sci-fi section – Synergy, Vangelis, that kind of stuff.  Then the next wall is hip-hop 12″ A-Z and that's like half the wall pretty much and to be honest with you, half of that part of the room I could probably get rid of …but I just cant be bothered to go through it all. The next section is hip-hop LPs, R&B and modern soul 12s, modern soul albums and R&B albums… Are you bored yet?
Yes, let's move on! Do you have a favourite record store?
Ah I've got loads but I'm loyal to the people I've always been loyal to. I love Sound Of The Universe in London. I've been a customer there since I was sixteen and it was called Soul Jazz. I love Rush Hour records in Amsterdam, I've got a lot of time for them. The sign of a good record store is even if you've got ten minutes and you can run in there, and if there's someone you trust you can just say 'Give me the five things you think I'll like the most'. Rush Hour always nail it, I always leave with something that I didn't have elsewhere. Hardwax in Germany is also great.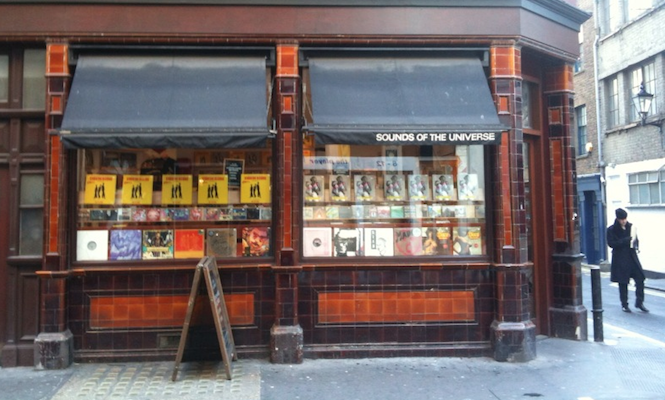 But these are sort of more modern music shops. In terms of digging, there's still a few shops that I don't mind giving away, but the people who tell me about them probably would mind so I respect that. But generally speaking I feel like there's much less: record digging in the UK is not that good anymore. Like most people the first time I went to Detroit or Chicago or places in America outside of NY, I just realised that I'd been mugged my whole life in England. Digging in America for me is the best. Record digging in Japan is obviously great but really expensive and really overpriced even though they have loads of really great stuff in great condition. I enjoy record shopping there a lot.
Where do you go in Japan?
Disk Union is mind-blowing. I mean it's incredible. I went to Shibuya for the first time in 2004 and obviously I lost my mind and probably about three credit cards and part of my bank account and my credit rating as well. Sadly a lot of those stores have shut down in and around Shibuya and so there's not much left. Disk Union's still going, HMV just opened a vinyl-only store and it's actually not bad, it's pretty good. It's not "heads level" but it's good if you're just looking for decent stuff. There's a few amazing record dealers in Japan, I wanna say shout out to Jazzy Sport records too who are my boys over there. They always have a really tasteful selection of records in their store and they have some old stuff as well. They're very much a good shop that reflects digging culture and also the new music culture as well.
If money were no object, is there a record you'd buy?
That's a really good question, I think there is but I can't think of what it is. There have been moments like that. The thing is I've gotta be honest with you though, that fire in me is not there as much anymore. If someone says to me that record costs £1000, I'm not going start saving for it. And maybe that is because I know I can get it digitally or some other way, I don't know. But don't misinterpret what I'm saying: my passion has not changed one bit but the madness has changed a bit. The madness of me going to one of those record dealers and saying 'Ok all the ones with a purple sticker, how much are they?… Oh £180 each. Ok, but I quite like that 30 second interlude on side B so stick that one in as well.' I used to be that guy and to be honest with you I have no idea how I used to afford to be that guy.
Strangest or funniest digging experience?
I don't know what qualifies as funny, but I've definitely done my fair share of going into basements where the guy doesn't really know what he's got and you're wearing your favourite pair of sneakers and a really nice coat and end up covered in dust and dirt all around your knees. I've  had a few of those experiences but that doesn't really constitute weird, that's pretty normal in digging terms.
My last digging experience was pretty nuts because it was a national weather warning in Rio, and the way that Caricaos are in Rio is that when there's a little bit of rain they don't leave their house. When there's a lot of rain, Rio's a quite dramatic place to be because all of the drains overflow and the streets turn into rivers and it becomes quite dangerous, and there's a lot of car accidents. I spoke to Fabio [the record dealer] and he was like 'I had to cancel all of my clients because of this weather warning'. I said 'I'm leaving tomorrow, I really want to see you before I go'.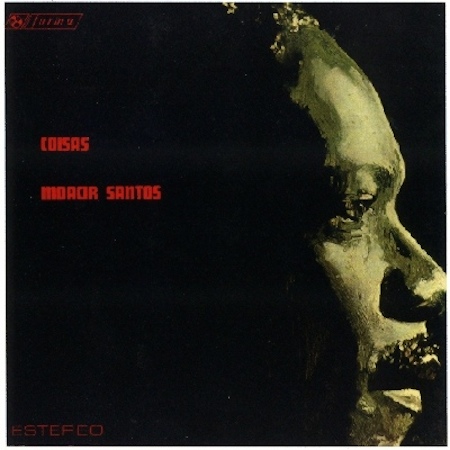 So I ended up getting one of the only cabs that was willing to work in this crazy biblical rainstorm and eventually found this random address. Fabio opened the door and before I even said 'Hi, nice to meet you', he was saying 'You're gonna go nuts man. You're gonna go nuts!' And then he took me upstairs and I actually did go nuts. He brought out his party pieces including the first ever samba ever recorded which is a 78 record recored in 1913 or something. That was pretty amazing to see that and hear that. He showed me his holy grail, a record called Coisas by Moacir Santos, and started waving it around, and was like 'You crazy! You crazy to leave this!' To which I said: 'Yeah, but I don't really like it bruv.'
---
Catch Benji B at his XOYO residency.