Published on
August 24, 2016
Category
Features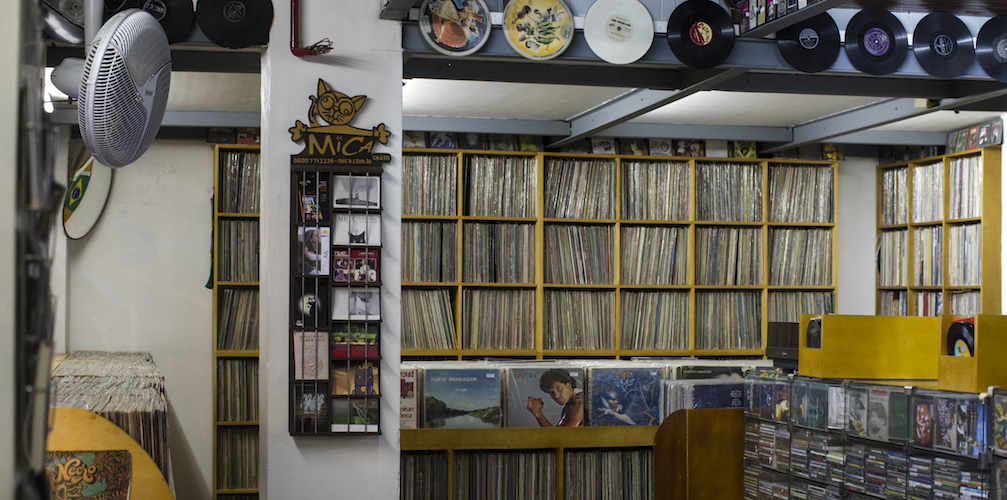 Sao Paulo is one of the world's record shopping capitals. Here's our guide to navigating the Latin American metropolis.
---
Words: J. Kim / Photos: Renato Custodio
---
São Paulo is the third largest city in the world and Brazil's sprawling cultural hub. It's a city made up of immigrants from all of the world, while also being home to Brazilians from other parts of the country. Home to many African, Caribbean, Arab, Italian, German, and Japanese immigrants and housing the largest Jewish population in Brazil, anyone can be Brazilian in Sao Paulo. Imagine Manhattan and its high rise buildings. Then imagine the urban sprawl of Los Angeles. Filled with street art and its own style of graffiti (Pichação) on almost every corner and building, Sao Paulo is also the place to be if you're looking to buy music in Brazil.
Luckily, a large majority of the record stores are very close together in the downtown (Centro) area. The stores are mostly located in galerias (shopping malls) and often you can encounter 10+ stores on a single floor. Some of the best record stores are in the downtown galerias but travel outside of the city centre and you'll be equally rewarded, as long as you know where to look.
The demand for Brazilian music has been high since the late '90s and many records remains rare and difficult to track down. A word of warning though – if you haven't been to Brazil since 2001 and are expecting the same type of supply and demand that you experienced 15 years ago, you will be disappointed. Although prices are probably at an all-time high right now, São Paulo is the one city in Brazil where you'll be put in front of more records than anywhere else.
The list of record stores below is just the tip of the iceberg. There are probably over fifty other locations throughout the city that have records for sale and 'sebos' (second hand shops that sell old books, magazines, and records) are all over the place. None of those places are listed though because some things are best discovered on your own. If you're local you'll know where to go; if you're visiting for the first time, your best bet is to visit one of these stores below, meet the owners, and hopefully either find something that you've been looking for, or even better, something you didn't know you wanted.
---
Disco 7
Location: Galeria Nova Barão, Rua 7 de Abril, 154 – Loja 24
Go for: MPB, samba, Samba jazz, Brazilian soul, 7"s, American soul, funk, and modern soul
What's the story: Located on the second floor of the Nova Barão galleria in Centro, Carlinhos, the owner of Disco 7 may be one of the most beloved record dealers in all of Brazil. It doesn't matter if you're a DJ, collector, or a fellow store owner/dealer, Carlinhos has a rock solid reputation of being one of the best in the game. His knowledge of Brazilian music is endless while stocking a great selection of Japanese imports, American jazz, soul, and rock. It also doesn't hurt that he's one of the nicest guys around, always with a smile, while always trying to be fair with his pricing.
For foreigners who are starting to collect Brazilian music, make sure to check out the promo bins as he often has great records for $5-10BRL and a lot of LPs and 7"s are between $10-40BRL. Carlinhos maintains legendary status amongst collectors of Brazilian music and if you're coming into Sao Paulo with spare copies of modern-soul / boogie records, swing by Disco 7 and talk to him as those are his personal favourites.
---
Locomotiva Discos
Location: Galeria Nova Barão, Rua 7 De Abril, 154 – Loja 8
Go for: Various styles of used and new Brazilian music, new CDs and vinyl, and punk/indie
What's the story: Just steps away from Disco 7, you have Locomotiva Discos. The store isn't just designed for hard-core collectors but more for the average music lover who buys CDs, vinyl and other music memorabilia. It has a good selection of both used and new vinyl, carrying a lot new releases from Brazil and as well from the US and EU/UK. The store also carries a nice selection of new and used CDs from all over the world. But for the 'only originals' type of record collector, it's still worth your time, especially as it is so close to Disco 7 and other stores. Sometimes you'll find a nice batch of rare original Brazilian records, so don't write it off.
---
Baratos Afins
Location: Galeria do Rock, Rua 24 de Maio 62 – Loja 314/318
Go for: American rock, all styles of Brazilian music, CDs and other music memorabilia
What's the story: Regardless of whether you're record shopping or not, anyone visiting São Paulo should experience Galeria do Rock in Centro. It's a cultural mecca for skate shops, tattoo parlours, clothing and music stores. Walk through the multi-levelled galeria and you'll arrive at Baratos Afins and their staggering ensemble of vinyl, CDs and memorabilia from owner, Luiz Calanca.
Opened in 1978, the store carries a nice selection of all styles of Brazilian music and an impressive assortment of imported goods, both new and used. The record store is also the home of their own independent record label, under the same name, which releases new bands/groups from Brazil, while reissuing lost Brazilian classics, from the likes of Os Mutantes. The staff are very knowledgeable and friendly, so go and enjoy the cultural melting pot of the galeria as a whole, while supporting one of the oldest record stores in São Paulo.
---
Cel-Som Discos
Location: Galeria Boulevard, Rua 24 de Maio, 188 – Loja 116/118
Go for: Used rare Brazilian records, Forró and other Northeastern styles, American rock
What's the story: Just a short 5 minute walk from Galeria Nova Barão will take you to Galeria Boulevard where you will encounter another set of record stores. Go up the escalator to the second floor and you'll come across Cel-Som Discos. The owner, Celso, is blind but has an amazing memory and is accompanied by his lovely wife, Sandra. The current store opened in 2006 is one of the best stores for rare used Brazilian records, from all parts of the country.
You'll always be able to find great samba, bossa nova, tropicalia, rock/psych and north-eastern styles and at times you'll find a great selection of 7"s as well. It's quite amazing to see Celso manoeuvre through the store and with an impeccable ear he knows where everything is in the store. Cel-Som's prices are quite fair for the most part and Celso speaks enough English for anyone that comes who cannot speak any Portuguese.
---
Tony's Hits
Location: Galeria Boulevard, Rua 24 de Maio, 188 – Loja 109
Go for: American soul/funk/jazz, Brazilian soul/funk, Bossa Nova, samba, 7"s
What's the Story: Just across from Cel-Som, located in Galeria Boulevard on the same floor, Tony Hits is a great place for DJs and collectors alike. The owner Tony has been DJing parties since the 1970s, primarily playing American soul/funk and Brazilian soul. His current store opened in 2008 and you will not only find rare and used Brazilian records but a great selection of American and non-Brazilian soul, funk, and modern soul. At times, he'll have a nice selection of 7"s, mostly Brazilian, and his prices are often very fair.
Tony and his store is an important institution for not only record culture, but DJ culture in São Paulo. He has played an important role in the development of a funk/soul scene in the city and carries that same aesthetic for the records he sells in his store.
---
Chico & Zico Discos
Location: Galeria Boulevard, Rua 24 de Maio, 188 – Loja 113
Go for: Rare Brazilian Records, music from the northeast of Brazil
What's the story: Chico and Zico have been selling records out of their home since the 1990s. Their current store, which is on the same floor as Tony's Hits and Cel-Som Discos, opened just in 2014. Even prior to their actual store-front, Chico and Zico developed somewhat of a legendary and infamous status amongst DJs and collectors around the world. Most likely, your favourite DJ or producer from the US or the UK has been to their house to buy records. They probably left with some of Brazil's finest and rarest gems and they definitely paid a high price for it.
Chico and Zico Discos is the store that will probably have everything on your 'want list'. But be forewarned because your bank account needs to be prepared. It's also one of the only places in the city to find a healthy stock of rare records from the northeast of Brazil for those interested in Forró, Carimbó, etc. Even for those on smaller budgets, it's still worth spending some time here listening to records that you may not see again for some time.
---
Patuá Discos
Location: Rua Fidalga, 516
Go for: All styles of Brazilian music, 7"s, American soul/funk/jazz, reggae/dub, and DJ in-stores
What's the story: Patuá is relatively new compared to some of the other record stores in the city. Located in the trendy and art-filled neighbourhood of Vila Madalena, the store is not only for the average music lover and collector but owners DJs Paulão and RamiroZ have created somewhat of place where fellow DJs can convene, trade ideas and discover new music. The store has a great selection of Brazilian 7"s and LPs while being of one of the best stores in the city for used non-Brazilian jazz, funk, soul, rock and reggae.
It feels like Paulão and RamiroZ have created a store that puts the DJ in the forefront, as anyone can come before their DJ gig, select from any bin and find something to play out later that evening. Both Paulão and RamiroZ speak English and make sure to check their schedule as they hold regular in-stores and listening parties. It's a great place to buy some records, drink a beer and meet new like-minded friends.
---
Casarão do Vinil
Location: Rua dos Trilhos 1212
Go for: A mix of everything and the experience of being in a house full of records
What's the story: Have you heard the story about the Brazilian Bus Magnate, Zero Freitas, who has been buying millions of records in São Paulo? Well, the owner of Casarão do Vinil, Jorge, sold Zero Freitas about 750,000 LPs and about 50,000 7"s. Jorge has been buying large collections of records since the early 2000s and has been selling records in different locations throughout the Mooca neighbourhood. Casarão do Vinil is literally a house full of records. Officially opened to the public in 2014, it's a place where one can get lost in records for the entire day, even weeks, as each room in the house has a mix of Brazilian music and jazz/rock/soul from all over the world. Each section of the house is divided by price therefore you can sit in a room that only has records for $30BRL, $50BRL, etc.
Downstairs, there is a batch of about 20 boxes of 7"s which often has great records below market value and they frequently run sales where if you buy a certain amount of records, you also get to take home another record for free. Make sure you go outside to the back part of the house too, where there is an outdoor area that's also full of records. Literally every single corner of the house has records, even the kitchen! The overall vibe of the house is unique and friendly as the house is well decorated with various antiques and musical artefacts. There are about 6 dogs that live there and Jorge keeps a mix of staff who are knowledgeable about the music, as well as younger workers, to help create an overall well-rounded environment. Truly a unique experience to check out when you are in the city.
---
Feira Benedito Calixto
Location: Praça Bendito Calixto (Jardim Paulista)
Go for: Records, antiques, arts and crafts and food
What's the story: Every Saturday, Praça Benedito Calixto is a great place for record hunting which often has about 10 separate record dealers. You can find antique goods, used clothing, old magazines/books, and great food for cheap. Each record dealer has their own stall and each dealer has their own speciality. You can find everything from rare Brazilian LPs and 7"s, American rock, etc and often you will pay less than what you find in the record stores in Centro. If you're trying to increase your chances of finding some of the rarer stuff, get there early as the record rats always come early in the morning to snatch everything up. But if you just want to spend a nice Saturday doing a little bit of everything, Benedito Calixto is a great place to spend the day.
---
Casa Brasilis
Location: Rua Amália de Noronha, 256
Go for: Records, beat making showcases, DJ/production classes
What's the story: Located in the Pinheiros neighborhood, Casa Brasilis is an important place for a city like São Paulo. Heavenly influence by hip hop culture, it's a proper record store with an assortment of vinyl from all of the world, but also a community centre where they hold DJ and production courses/classes. They hold various beat making showcases/competitions where all participating producers sample a record and they produce the beat on the spot, and showcase it shortly after. Time will only tell when one of the students or participants will play an important role in the new music scene in Brazil. They may have gotten their start at Casa Brasilis!