Published on
June 29, 2016
Category
Features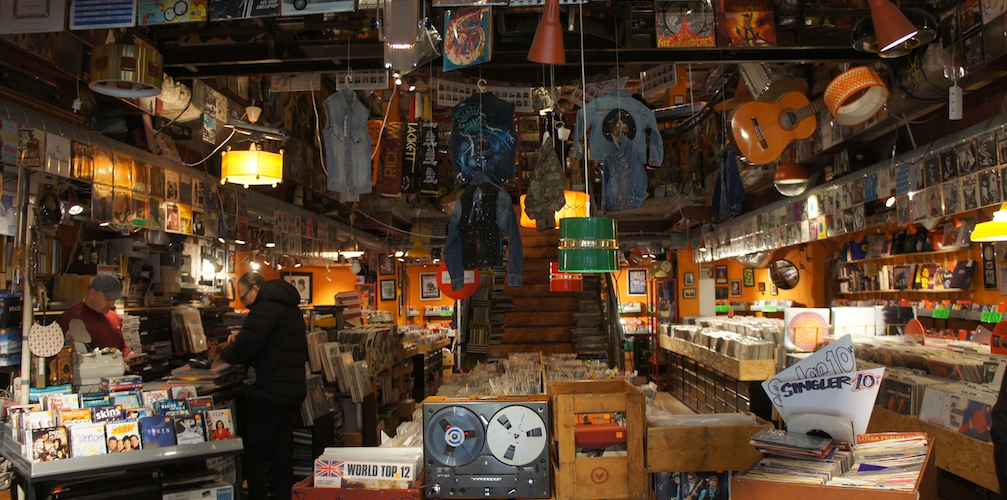 See how the Norwegians do it.
---
Words & photography: Alexander Horne
---
Norway's capital is small in size compared to its European equivalents but, when it comes to music it delivers on a par with many of its larger peers. Around 2/3 of the Norwegian population regularly attend concerts, and 1/3 make it to festivals every year. It's no surprise then that Oslo offers a rich and diverse range of record stores and music spots in and around its compact centre.
Established concert venues such as Blå, Rockefeller and Parkteatret keep gig goers happy with a regular stream of local talent and big name bands, while audiophiles and international DJs rejoice at the sound on offer at the city's favourite clubs The Villa and Jaeger. The latter renowned for its bespoke rotating rotary mixing desk and a sauna hut-turned-DJ booth. In terms of buying records, there are an abundance of hidden gems. Even some of the more established stores can be tricky to find though, so hopefully this concentrated selection of 7 will set you on your way.
---
Filter Musikk
Location: Skippergata 33, 0154 Oslo, Norway
Go for: Electronic music, studio and DJ equipment
What's the story? Oslo's dance music specialist, Roland Lifjell's Filter Musikk is so popular a flux of excitable customers have recently taken to sharing photos of themselves in Filter emblazoned apparel on social media. Run from a downtown spot, close to Oslo Central Station, since 2000, Filter holds a large amount of DJ and production equipment at the front end of the store – even fitting in a small studio for in-house demonstrations.
At the rear of the shop lies the good stuff, rumour has it just a fraction of Lifjell's collection. The rest is in the basement apparently. These are the kind of crates where you'll stumble across that Sex Tags Mania record now going for £80 on Discogs at a more democratic price (it's still Norway remember though), early Planet E, old Warp, broken beat, all kinds of Norwegian dance music (from skweee to strangle jazz and cosmic disco) and oddball hip hop bits for good measure. There is plenty of up-to-date techno and house available too, normally smartly arranged in a pile at the front of the record section for passing shoppers to pick out from Tuesday when the latest shipment comes in. Records vary from around 90,- for EPs to 200,- for LPs. This is my go to store when I'm in town.
---
The Garden
Location: Skippergata 33, 0154 Oslo, Norway
Go for: Indie, rock, funk, world, jazz, box sets
What's the story? Directly next door to Filter Musikk, The Garden compliments it's neighbour by focusing on mostly non-dance music – although they do have the occasional dance record. Well organised and clearly labelled, The Garden started out as a small import and and mail order company in the late 80s. Since 1991 they have branched out to open stores in Oslo, Bergen (Apollon) and Tønsberg (the first one, around an hour drive from Oslo).
The crates run deep with mostly rock, pop, world, jazz and box sets over two floors. Serving a similar amount and style of stock to Big Dipper but, with more emphasis on secondhand and world music. For new records stick to the ground floor, for second hand dive into the basement.
---
Bare Jazz
Location: Grensen 8, 0159 Oslo, Norway
Go for: Jazz, jazz and coffee
What's the story? A record shop, and fine coffee and cake spot, that does what the name suggests – only jazz. Down a slight alleyway on the same strip of road as Jaeger club, Bare Jazz has a nice backyard to hang out in, occasional live concerts, a tightly packed upstairs cafe and a concise selection of jazz records on the ground floor.
The former horse stable, stocks anything from classic 50s and 60s re-issues, up to modern day collaboration records by Oslo local Bugge Weseltoft, and releases by Norwegian heavyweights such as Arve Henriksen and Nils Peter Molvaer. On the downside, there is not a deluge of records on offer and although they are well selected these 180mg and shiny plastic sleeve pieces come at a cost. Somewhere to shop for one or two polished additions. If you look up inside, you'll spot a rare chandelier that used to be hung at the Royal Palace and was kindly donated to Bare Jazz by a generous customer.
---
Big Dipper
Location: Møllergata 1, 0179 Oslo, Norway
Go for: Latest in indie, rock, pop. blues, country and beyond
What's the story? One of the more established record boutique's in town is stocked to the brim with the latest indie, rock, soul, classic album re-issues and beyond. It also sells high quality turntables, vinyl accessories, books and DVDs. Big Dipper is a bit like a smarter and more organised Nordic version of Fopp, catering for the archetypal Pitchfork reader and closely linked musically to the line ups of Norway's biggest festival Øyafestivalen.
The shop space is generous with plenty of leeway given for walking from the front to the back of the store through the neatly stacked aisles. Genre and record info is well labeled, and staff are friendly and on hand to recommend you on local or international scenes. There's a great little 7"s section next to the till, and there are regular in-store release and showcase events. It's impressive to see such a professionally run and sizeable independent store in a city the size of Oslo.
---
Råkk & Rålls
Location: Akersgata 39, 0158 Oslo, Norway
Go for: Diggers paradise, second hand, hip hop funk, soul, new wave, all sorts
What's the story? This place is a mecca for second hand vinyl, and a bit of a music lovers vortex – enter and time disappears. Råkk & Rålls is the kind of spot you might bump into Prins Thomas looking for that special record, or just browsing the endless collection in the basement.
From the outside, passersby don't suspect much. Inside Råkk & Rålls houses a 3-floor explosion of records, vintage turntables, radios, amplifiers, VHS, computer games, cassettes, CDs, furniture, the whole lot. Explosion, as it seems everything is all over the place. Head to the basement for serious digging but, be selective with your listening choices as there is only one openly visible listening 'booth' on the ground floor. Be warned, there are treasures in those crates but it takes time and patience to find them. Word is Råkk & Rålls will be moving to an even more central spot later this year so keep an eye out if you happen to be visiting.
---
Tiger
Location: Hammersborggata 18, 0181 Oslo, Norway
Go for: Punk, indie, local and international independents
What's the story? Excellent little sardine-packed store hidden away round the corner from the central Youngstorget square, and directly next to the busy Hammersborggata road. You'll need to take a double take to notice it.
Tiger owner Kristian Kallevilk originally dedicated the store to punk and hardcore but, has since grown to include indie, metal, electronic, and alt rock music, as well as a distribution arm (Diger Distro) and record label (Fysisk Format) that he runs from the basement of the shop. A real diy aesthetic runs through Tiger with plenty of merch, zines and flyers filling any available space on the walls and front window ledge. According to the owner they "serve crusties and suits alike!".
---
Neseblod Records
Location: Schweigaards gate 56, 0656 Oslo, Norway
Go for: Black metal, punk, rock, hardcore
What's the story? Oslo's black metal haven was established in 2003, and has since gone on to include a 'Black Metal Museum' in the basement as well as the main ground floor shop. Neseblod is run from the same location as the legendary early 90's black metal record shop Helmet which, was run by the band Euronymous. Probably one of the few places you'll manage to find the full back catalogue of Slayer magazine in mint condition. Rare demos, test press records, merch, badges, 7"s, CDs, framed memorabilia from the likes of Darkthrone, Sarcofago and Euronymous – it's all in here. Bit of a tradition for travelling metalheads to drop by here, well worth a peak for non-metal types too.
---
Hendrix Ibsen
Location: Vulkan 16, 0178 Oslo, Norway
Go for: Coffee, craft beer, 2nd hand 70s to 90s records
What's the story? The most recent addition in this list. Hendrix Ibsen is the brainchild of coffeee- enthusiast Kristian Moldskred, and is situated next to the Mathallen (food hall) complex in Vulkan. The addition of the Mathallen in 2012 was arguably a watershed moment for Oslo in terms of food culture, introducing a swathe of new flavours and appreciation for what the public ate.
Hendrix Ibsen feeds off this open European approach with a Berlin inspired cafe concept, influenced by Moldskred's time living in the German city. Big communal tables that are inviting to work, literary and musical events, fancy coffee, craft beers and an ever-expanding record collection fill the space. The selection of records on offer are steadily growing but, not yet at the standard of the aforementioned specialist shops. Then again Hendrix Ibsen is not purely a record store. Local selectors such as Fred Fades and Kent Horne (no relation but, an excellent DJ) regularly play into the wee small hours at the weekend, and 8am til 11pm opening hours during the week making it an ideal spot to start or finish off a day of record shopping in Oslo.