Published on
February 29, 2016
Category
Features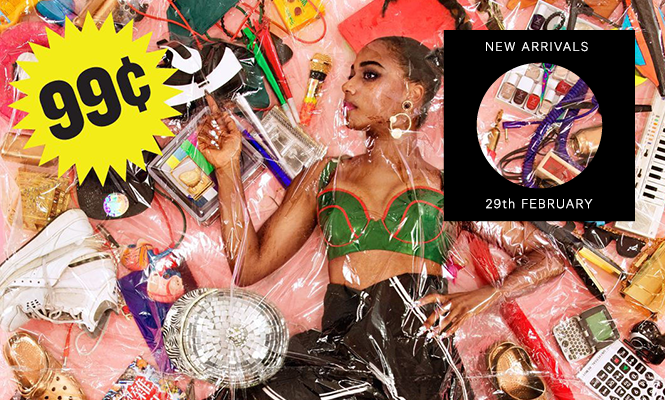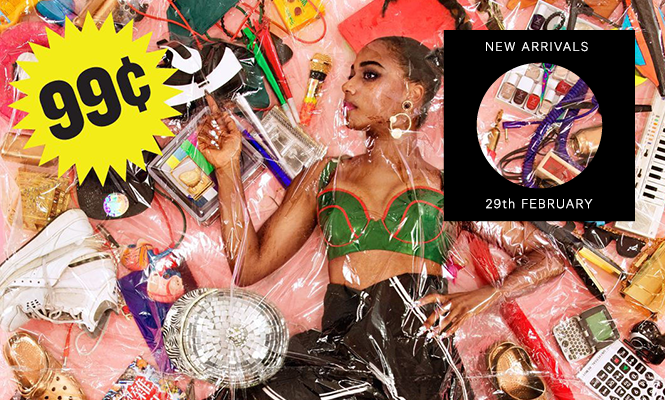 We select the 10 most essential vinyl releases of the last 7 days.
Taking the leap this week, we've got new singles from Posse, Micachu and Wild Billy Childish, as well as a rib-rattling '70s underground psych ballad called 'Synthezoid Heartbreak' to share with you.
On the albums front, there's Bullion's long-awaited debut LP, a piece of shrink-wrapped genius (and a rare bit of major label biz for us) from Santigold, and a strong shout for vocal performance of the year from Mothers.
Scroll down for our definitive across-the-board rundown of the week's new vinyl releases as selected by The Vinyl Factory's Chris Summers, Patrick Ryder and James Hammond with help from Norman Records. 5 singles and 5 LPs every 7 days that are unmissable additions to any collection.
---
Singles
---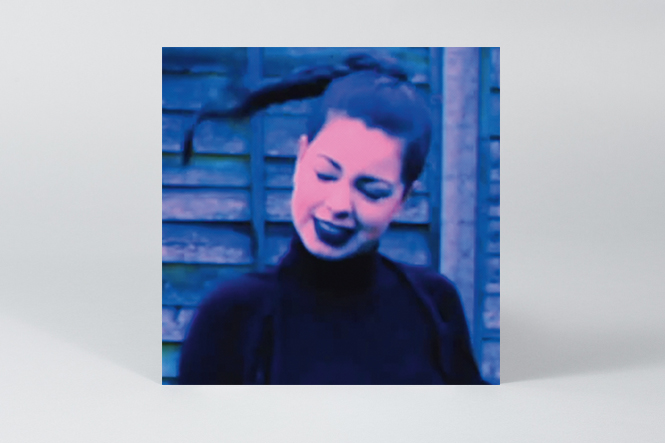 Micachu
Taz and May Vids
(DDS)
Whilst the acclaim for 2014's Under the Skin soundtrack brought Mica Levi's/ Micachu's music to a much wider audience, this EP is a reminder that she's been making great electronica for some time now. The springboard track for this EP 'Go' has been up online with its accompanying video since 2011, and Demdike Stare's DDS label have taken it upon themselves to finally put it out there with some other choice selections that have yet to see the light of day on vinyl. If you haven't heard anything from Levi outside of Under the Skin, this is a fine EP to acquaint yourself with another side of her craft. Only 500 pressed and these won't stick around.
---
Posse
Perfect H / Voices
(Wharf Cat Records)
Spectral and stripped back slow core that reminds us of Galaxie 500, Low and Cass McCombs. Posse play a kind of shackled indie rock where the voice of some kind of David Bermann/Tim Darcy crossbreed is wrapped around extra cuddly guitars.
---
Diamond Jackson
Streets
(Arcane)
Superior Elevation boss Tom Noble mans the controls for the inaugural release on NYC imprint Arcane, donning his Diamond Jackson moniker for a trio of cut'n'paste club gems. The peaktime bump of 'Stars' opens the set, driving us into the heart of the floor with tape saturated machine beats and a choice Salsoul drum break. Jazzy Rhodes keys add an air of sophistication to proceedings, while the squirming, squelching boogie bass and shouted crowd vocals ain't nothing but hot, sticky funk. 'Maybe So' finds Tom layering dreamy keys and love-stoned vocals over THAT Fingers track, while B-side cut 'Streets' offers an uplifting excursion into the soulful end of the dream house spectrum.
---
CTMF
A Glimpse Of Another Time
(Damaged Goods)
Once again the legendary Damaged Goods label rises to the top of the pile with another killer single from a killer artist. The artist is of course Billy Childish and here with his latest band CTMF he carves a cracking track to a long forgotten legendary scene centred around Slim Chance's Club at the Wild Western Rooms in North London. It sounds exactly like it should…and it does…and it's great.
---
Maya
Synthezoid Heartbreak / Distant Visions
(Touch Sensitive)
Having gathered the splinters from the worldwide post-punk underground in his 2015 compilation Critical Mass, Cherrystones turns up another truffle from the dirt, in the shape of this dinked space rock 7″ from Maya. With one of the best track titles of all time 'Synthezoid Heartbreak' is an asteroid from Ohio's psychedelic underground, all chunky drums, massive guitar solos and primitive electronics, while 'Distant Visions' on the flip takes things down a touch, a plaintive prog lament "searching for the limitless horizons of infinite dreams". The 7″ comes with liner notes from Maya's Burk Skyhorse Price.
---
LPs
---
Bullion
Loop The Loop
(DEEK Recordings)
If you haven't yet, now is the time to dip your foot in the river of Bullion. Nathan Jenkins rolls out his debut LP Loop The Loop this week, uniting a sound that has come to define his quietly curated label DEEK. The thirteen tracks collected here shimmer in their own peculiar light, gathering refractions of '80s pop hooks, soaring saxophones, soft-padded percussion and astute observations that are as playful as they are melancholy. Life-affirming miniatures of a parallel universe, 'My Lar', 'Never Is The Change' and 'Speed' exemplify just how varied an album Loop The Loop is, where each piece is guided by a seductive internal logic. The artwork on the gatefold release is similarly on point, and a shining example of an idea executed with unerring clarity.
---
Santigold
99 Cents
(Atlantic)
Santi White aka Santigold is back with her third album and once again shows everyone how to write the perfect album full of the most perfect songs. There's not many other artists out there that can put over their ideas, visions and social commentary in such a stupidly catchy pop way that it takes a moment to sink in and to realise what that melody you're humming really means. This fine lady is an absolute genius from every angle and this album is simply perfect.
---
Mike Cooper
New Kiribati
(Discrepant)
"Imaginary soundscapes from imagined exotic places based on my travels in the Pacific Islands and South East Asia" is how Mike Cooper outlines this remarkably textured patchwork of sounds. With a wondrously eclectic discography to his name, New Kiribati is far from the more traditional folk roots he was associated with in the 1960s, and is testament to his expansion of this palette and ability to cast all manner of sounds into unfamiliar and alluring territories. Certainly one for your ears to swim within, and along with 2004s Rayon Hula, New Kiribati really deserves more attention as a sublime work of ambience that forges an exotic aura like no other. To have it on the vinyl for the first time is a very welcome development.
---
Mothers
When You Walk A Long Distance You Are Tired
(Wichita)
This indie-folk-rock four piece from Athens, GA have made a front-to-back gorgeous record of howling strings, plumbed piano chords, solemn guitar riffs and one of the year's most unflinching vocal performance from Kristine Leschpe. Her Angel Olsen-ish vocals explore the big life questions whilst the band play spacious and elegant folk music.
---
Ishmael
Sometime In Space
(Church)
After a couple of contributions to UK house institution Wolf Music, and a sublime 10″ on Church last year, Ishmael returns to the London label with his debut full length release Sometime In Space. The eleven track set sees the multi instrumentalist switch between stark and futuristic ambient pieces, hard hitting nebulous techno and soul infused house, maintaining a constant narrative throughout despite the varied genre. Whether he's treating us to all out bangers like 'Salt Spring Falls' and 'In Sun', the deep and immersive 'Leviathan' and 'Titan, My Friend' or the abstract sounds of 'Sputnik Sweetheart' and 'Desiderata', Ishmael keeps the quality sky high, delivering an interesting and expressive debut LP.