Published on
February 15, 2016
Category
Features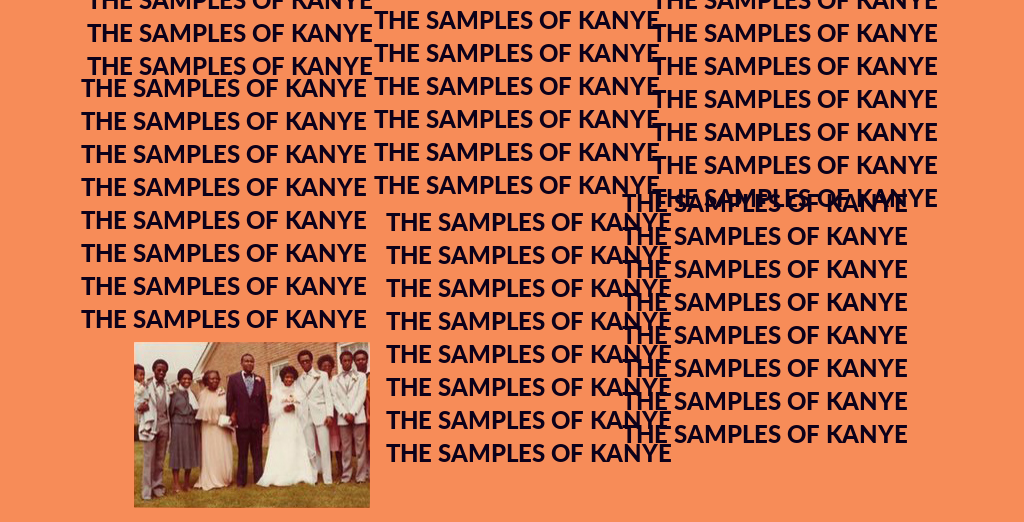 Originally published on FACT, dive into the patchwork of records sampled on Kanye West's new album The Life of Pablo.
---
Words: Claire Lobenfeld & Miles Bowe
---
When it comes to samples, Kanye West is a master architect.
Dissect many of the songs on new album The Life Of Pablo and you're reminded once again that, beneath his many layers of neurosis, there's a music nerd with a near-unparalleled ear for taking obscure tracks and thrillingly repurposing them. This is nothing new for Kanye, of course. He's previously transformed Chaka Kahn's ballad 'Through the Fire' into a song about a near-death experience, rapped through wired-shut teeth. He's turned Can's 'Sing Swan Song' into his own 'Drunk and Hot Girls'. He's sampled Public Enemy, Beenie Man, the Alan Parsons Project, Daft Punk, the Jackson Five, C-Murder, James Brown, Giorgio Moroder and more, putting his own distinct stamp on each.
That list goes on with The Life Of Pablo, finally released yesterday after a week of false starts. But what are its samples? And what added meaning does each lend to Kanye's seventh solo album? Read our deconstruction of Pablo's samples, and scroll to the bottom for a playlist of them all.
---
'Father Stretch My Hands Pt. 1 & 2'
Sampled:
Desiigner – 'Panda'
(LOD, 2015)
Pastor T. L. Barrett – 'Father I Stretch My Hands'
(from Do Not Pass Me By, Gospel Roots, 1976)
'Father Stretch My Hands' takes its name and foundation from Chicago local legend Pastor T. L. Barret and pairs it with 'Panda' by Desiigner, a rapper so fresh his G.O.O.D. Music signing wasn't made public until after the album premiered.
It's the classic soul Kanye used to make his name, set to lyrics about how he's lost his own. Addressing his relationship with his father, the song is the bookends of his career laid out in one moment, but really, it's just West lighting the fuse.
---
'Famous'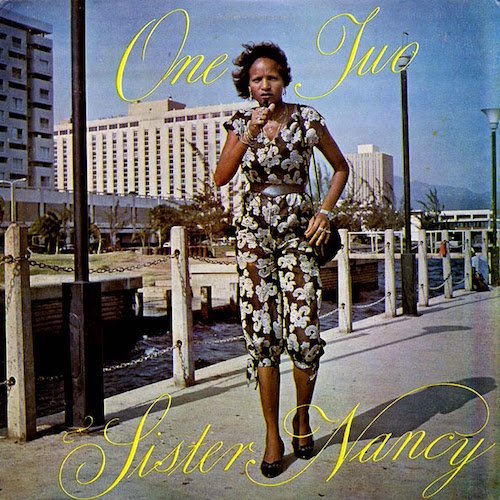 Sampled:
Sister Nancy – 'Bam Bam'
(from One, Two, Techniques, 1982)
Nina Simone – 'Do What You Gotta Do'
(from 'Nuff Said!, RCA, 1968)
Kanye West – 'Wake Up Mr West'
(from Late Registration, Roc-A-Fella, 2005)
Kanye West – 'Good Morning'
(from Graduation, Roc-A-Fella, 2007)
There is a lot to unpack with 'Famous', not least its headline-garnering lyric: "I feel like me and Taylor might still have sex / Why, I made that bitch famous". But there are nuances within the production worthy of equal examination. Employing Sister Nancy's classic rumination on sexism in dancehall 'Bam Bam' could be an assertion that his Taylor lyrics are playing into the insidious misogyny within in the music industry, inescapable even when you're at the peak of fame; its use could also be about the dichotomous treatment of black and white stars of equal prominence — no matter what, it's representative that someone is getting a bum deal.
Reggae influenced a chunk of Yeezus and this track pulls double-duty on bringing back references from that album. It closes with Nina Simone's rendition of the Four Tops' 'Do What You Gotta Do' — which Rihanna also sings on the hook — recalling his flip of 'Strange Fruit' on the similarly controversial 'Blood on the Leaves'. He also makes reference to Late Registration and Graduation, with co-producer Swizz Beatz dropping "Wake up Mr. West" ad-libs (instead of his usual "Showtime!"), a mark that this project is reflective of Kanye's work as a whole, instead of one specific sonic influence, as he can be prone to do.
---
'Real Friends'
Sampled:
Whodini – 'Friends'
(from Escape, Jive, 1984)
Whodini's 'Friends', a classic in its own right, has been sampled famously by both MF Doom on 'Deep Fried Frenz' and as the drum loop on Nas' star-making 'If I Ruled the World (Imagine That)'. Here, Kanye flips the original's playful approach to questioning the validity of friendly relationships by lifting its "Friends: How many of us have them?" hook refrain into a downcast meditation on supreme celebrity. It's not, "How many of us have them?" in West's world — it's how many of them have forsaken him for favors, handouts and, well, laptops that he "use to fuck bitches on"?
---
'30 Hours'
Sampled:
Arthur Russell – 'Answers Me'
(from World of Echo, Upside, 1986)
It's almost a given at this point that a new Kanye album will feature one sample you simply never expected to appear on a hip-hop record. He's rapped over Can, Aphex Twin, and King Crimson and in turn given younger listeners an opportunity to explore something they may never have found on their own. Here Kanye rides a vocal loop like he would a classic soul sample, but the voice in question belongs to the utterly singular Arthur Russell.
The track 'Answers Me' comes from World Of Echo – FACT's number one album of the 1980s. There are few singers with as much soul as Arthur Russell and the tragedy of his career is he was too ahead of his time for anyone to understand or appreciate it. Here — decades after his lonely death — West might finally help new listeners catch up to the man's genius.
---
'No More Parties In LA'
Sampled:
Walter "Junie" Morrison – 'Suzie Thundertussy'
(from Suzie Super Groupie, Westbound, 1976)
Johnny "Guitar" Watson – 'Give Me My Love'
(from Funk Beyond The Call Of Duty, DJM, 1977)
Larry Graham – 'Stand Up and Shout About Love'
(from One in a Million You, Warner Bros., 1980)
Ghostface Killah – 'Mighty Healthy'
(from Supreme Clientele, Epic, 2000)
While the primary backdrop for 'No More Parties' was created by super-producer Madlib in 2010 and seemingly left unused from the My Beautiful Dark Twisted Fantasy sessions, the intro is pure Kanye. Joining the opening of P-Funk musical director Walter "Junie" Morrison's 'Suzie Thundertussy',la-dee-da-das from blues luminary Johnny "Guitar" Watson's 'Give Me My Love' and vox from 'Stand Up and Shout About Love' by Sly and the Family Stone bassist Larry Graham, West weaves together a funk quilt that is both a nod to his soul sample past and evidence he's learned how to advance the intricacies of his craft.
The beat also includes "Shake that body / Party that body" from Ghostface Killah's 'Mighty Healthy', a callback to West and Pusha T's 'New God Flow'. Morrison's voice makes another appearance at the end, right before a peppering of canned crowd cheers from NBA Jam, begging the question: Did he really want to change the name from Swish?
---
'FACTS'
Sampled:
Father's Children – 'Dirt and Grime'
(from Who's Gonna Save the World, Numero, 2011)
Yoko Shimomura – Street Fighter II OST
(Capcom, 1991)
Before 'Real Friends' gave us a sobering reassurance of Kanye's direction, 'FACTS' scared the living hell out of most of us. Was this what we were waiting years for? Still, we're happy it made it onto the final tracklist, because few songs capture West's current state better than this tightrope walk between thoughtful construction and impulsive mania.
The red herring intro of 'Dirt And Grime' by Father's Children sets you up for classic dusty-soul-sampling-Kanye (that a red herring itself, the song is from 1989) but before the dust can settle we're thrown into a wormhole of clashing contemporary rap tropes and hysterical shouts. There's the endlessly referenced 'Jumpman' meshed with Street Fighter samples before we're thrown back into 'Dirt & Grime'. It's a funhouse of a song in the truest sense — disorienting, upsetting and confusing, but bookended by a grateful glimpse at reality.
---
'Fade'
Mr. Fingers – 'Mystery of Love'
(Alleviated Records, 1985)
Hardrive – 'Deep Inside'
(Strictly Rhythm, 1993)
Rare Earth – '(I Know) I'm Losing You'
(Rare Earth, 1970)
Kanye has a grand history of flipping one perfectly-selected sample into a full-on hit (see: 'Stronger', 'Gold Digger' or Pablo's previous '30 Seconds'), but 'Fade' shows him juggling three at once. The track splits itself between two house classics, one from Harddrive and another from Larry Heard's (recently revived) Mr. Fingers project.
Kanye keeps himself (not to mention Ty Dolla $ign and Post Malone) balanced between the two with a vocal snatch of blues rockers Rare Earth's 'I Know I'm Losing You' which gives the song its title, hook, and College Dropout-era vibe. He's should take up plate spinning in the time off after this album. He'd be great at it.