Published on
November 7, 2015
Category
Features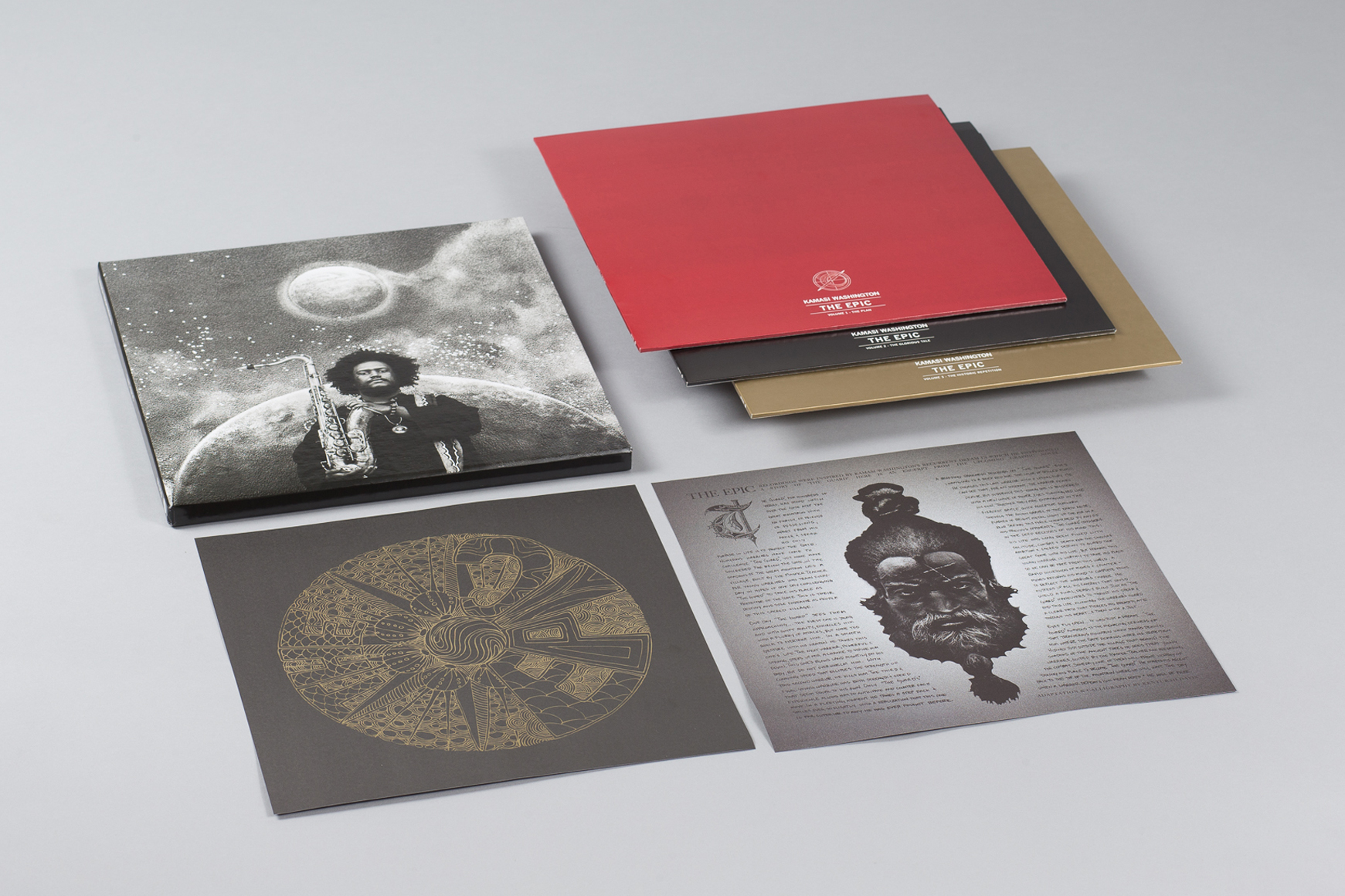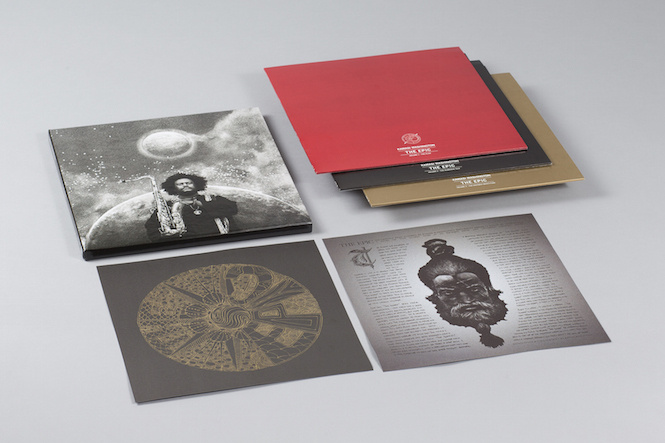 Kamasi Washington's Brainfeeder debut has been one of the year's most ambitious releases.
No wonder it took so long. With nigh on three hours of music pressed across three impeccably constructed records, the vinyl edition of Kamasi Washington's aptly-titled The Epic has been hotly anticipated. In a year that has seen him arrange and play on Kendrick Lamar's To Pimp A Butterfly (itself seeing a belated vinyl release this month), The Epic is Kamasi Washington's opus, a muscular demonstration of raw instrumental talent and compositional prowess.
It is a record that articulates the spiritual jazz traditions of Pharoah Sanders, Yusef Lateef and John Coltrane (heavyweight tenor players with whom Washington is aligning himself) with the technical proficiency of hard and fast fusion, treading the fine line between deference and originality that eludes much modern jazz. The arrangements are sweeping, the chorus of voices evoking the fantastical theologies of the recurring dream which has inspired many of the compositions.
Included in the box set as an insert that hints at an accompanying graphic novel, the conceptual narrative behind The Epic is striking if only to reinforce just how successful the album has been in providing a context for jazz beyond its conventional boundaries.
Released on Brainfeeder, home to Flying Lotus, and Thundercat (who features on The Epic) and a depository for fantasies of computer games, stoner comics and extrovert hip hop, The Epic quite literally repackages the genre in a new context. On the vinyl edition, the album is presented as an adventure, each disc a new chapter, adorned with the black and white photography that evokes the afro-centric free jazz aesthetic of trail-blazing labels Tribe, Strata and Black Jazz.
Here is a new three-hour jazz record not short on spiritual incantations with a graphic novel insert and close to forty musicians infiltrating a whole new environment (it has over half a million plays on Brainfeeder's official YouTube alone), taking the musical and visual cues of a maligned genre and dragging it back into public consciousness.
That Washington has worked with Nas, Lauryn Hill and Snoop Dogg, as well as Herbie Hancock certainly helps, but in presenting The Epic with such conviction, knowingly and confidently within the jazz tradition, Brainfeeder's triple vinyl edition manages to recontextualise the music without compromise.
To bear this out, we got hold of a copy of The Epic and photographed it from all angles. Hover over the gallery below and click the arrows to cycle through the imagery. Order your copy here.