Published on
May 28, 2015
Category
Features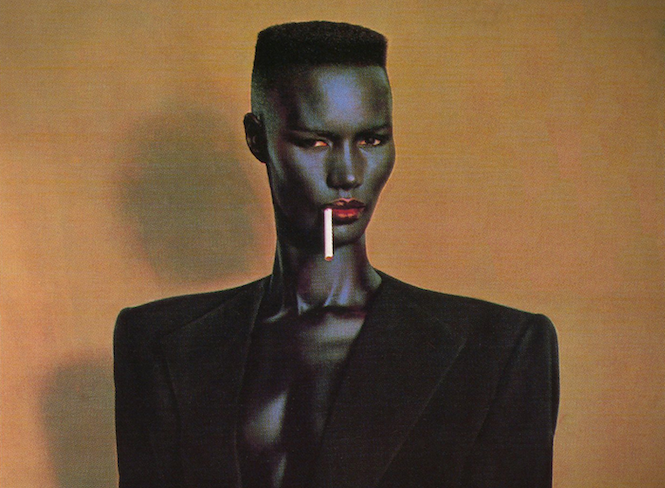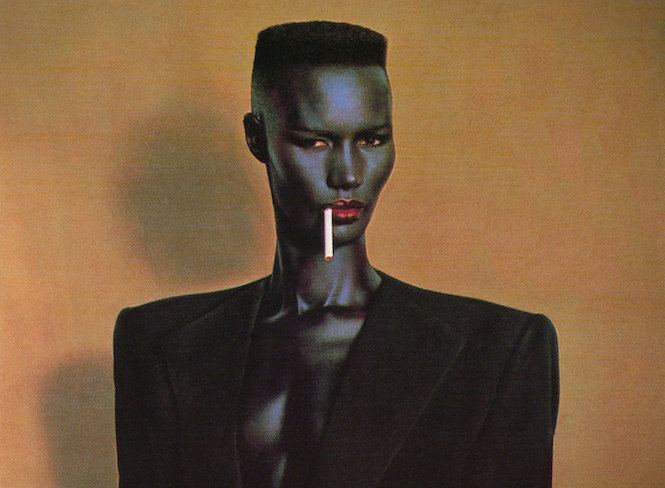 Supermodel, disco queen, glam rock star, Bond girl, muse and work of art; it's no surprise that Jones has changed a few lives. From Meshell Ndegeocello to Kim Ann Foxman we invited 11 artists to select their favourite Grace Jones records and explain why.
Almost twenty years ago, Graces Jones played the Wicked Witch in an all-black musical retelling of The Wizard Of Oz. It was a brilliant casting choice but when it comes down to it Jones sees herself as more of a Dorothy kind of girl. "I just go with the flow, follow the yellow brick road. I don't know where it's going to lead me, but I follow", she once explained.
Her carefree attitude has taken her on all kinds of twists and turns. And it's lead her to trouble, where trouble is public outrage at slapping a television host or a lifetime ban from Disney for indecent exposure. And that's Jones in a nutshell – she lets the music, and everything else, take her wherever it takes her, even if it means taking off all her clothes.
Growing up in Jamaica she was teased for her 'skinny frame' but the yellow brick road took her to the catwalks of Paris, spawning Grace Jones the supermodel. Her striking square-cut look and androgyny also struck a chord in downtown NY, where she performed at Studio 54 and became Andy Warhol's friend and muse. Success in the club scene paved the way for a record deal with Island in '77: the formal kickstart to her career in music. Working with Tom Moulton, she released three disco albums (Portfolio, Fame and Muse) in as many years, and garnered a strong gay following with her sexual live show, inspiring the title 'Queen of the Gay Discos'.
The Eighties presented new pastures. By '84 she had broken into film, working with Arnold Schwarzenegger in Conan The Destroyer and playing Bond girl in A View To A Kill. On the music front, as disco waned, the constantly evolving Jones followed the road to new wave and experimental territory. The result was some of her best known releases: Warm Leatherette, Nightclubbing and Slave To The Rhythm.
Following a relatively silent period in the '90s, Jones made a comeback with Hurricane in 2008, almost two decades on from Bulletproof Heart. Long-time collaborators Sly & Robbie were called upon but Wally Badarou, Tricky, Brian Eno, Tony Allen, amongst others, weighed in to help produce a terrific return to form.
To this day, Grace Jones is known as much for her unusual look and fiery character as she is for her music. For this feature, as with previous ones on Prince, Sun Ra, Kraftwerk, Arthur Russell and Bob Marley, we've chosen to zero in on the influence Jones has had on specific musicians at specific times of their lives.
---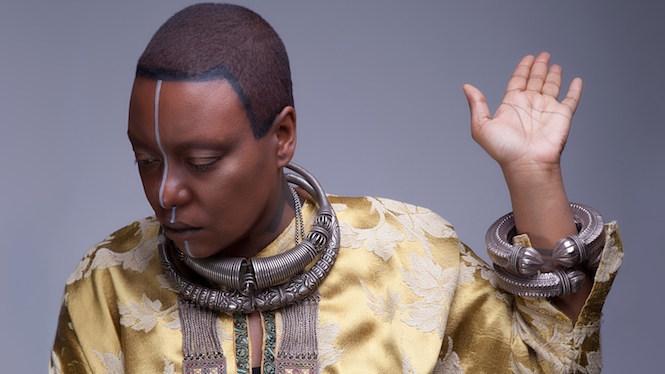 Meshell Ndegeocello
Acclaimed genre-hopping bass player and singer-song writer Meshell Ngegeocello is credited with igniting the neo-soul movement. In turn, listening to Grace Jones albums for the first time ignited something deep within Meshell.
---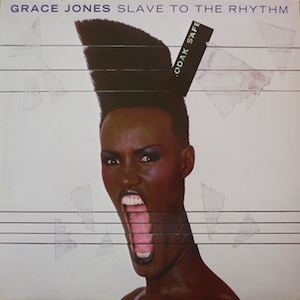 Grace Jones
Slave To The Rhythm 
(Island, 1987)
Slave To The Rhythm was my invitation to the beauty of interpretation, the power of production and the importance of a clear vision. It's a fully formed idea, from its musical and sonic approach to the powerful imagery. The interviews felt like small intimacies, listening to her enunciation and her aura of grandeur, I eroticized her, her features, her beauty, her complicated androgyny.
"I was amazed when I first saw Grace Jones. She was the first to take radical fashion out of its predictable Parisian context and bring it into music, where I always thought it belonged…" Jean-Paul Goude goes on to describe their romance as intense and hysterical, he divulges that his money ran out and when he had to go back to work, Grace was the ideal vehicle for his ideas. Work that 30 years later still thrills and excites conceptually, inspiring countless generations and imitations. Most recently, Kim Kardashian's inspired Paper magazine cover still wowed.
I was living in D.C. when I heard these albums for the first time. D.C., the fertile ground from which the rhythm of this recording originates. GO-GO MUSIC often existed in dark, dank urban landscapes where sex, fashion, competition, comedy, jazz and crime mingled tightly together. We played and we danced with the rhythm and pulse of a unified chain gang, slaving for the hedonistic pleasures I so yearned for, all while I attempted to escape the shackles of obedience to a society that didn't seem to care about me or a certain category of people and their creations.
Grace Jones was the recipient of adoration and lust by many, including Jean-Paul Goude. My own lust and admiration were inspired by the way he disembodied her, contorted her body, enlarged her head, and exalted her image. Accompanied by a sonic adventure based on a resonant theme, it was intoxicating. I listened non-stop, each track allowing me to place myself in alternate realms: the art world I hoped I would one day encounter, the secret meeting places where men and women where able to escape the drab constructs of gender, paradises I couldn't even imagine.
More importantly, it was embraced by the proprietors of GO-GO itself. I believe these albums were a testament to a music that Grace Jones truly seemed to feel as deeply as if it were her own. Grace Jones, like Nina Simone, had that gift – to make something other sound and feel like her own. She so embodied the song, and whether singing or speaking, her voice is a vibrant instrument and the connective force between a killer track and someone dying for connection, someone outside "normal", someone looking for an inside of their own. I am a Grace Jones disciple, and one who still appreciates those who can navigate the burden and beauty of pop songs without losing themselves along the way.
---