Published on
November 10, 2015
Category
Features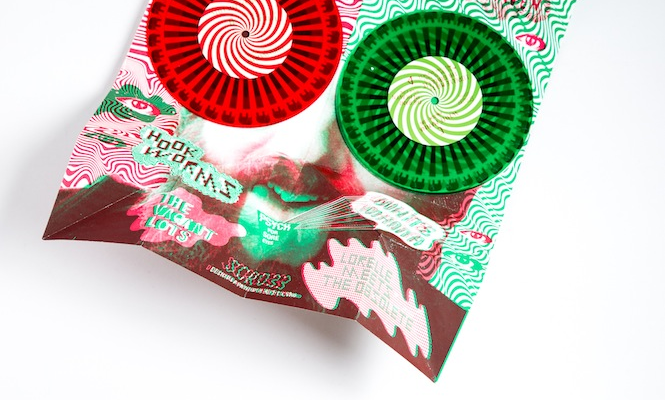 Freaky formats is a new column for Kev Foakes aka DJ Food to share some of the weirdest formats in his collection.
"My criteria is… when you look at a record and go 'What the Fuck?'" A collector's collector, if anyone's got an eye for the unusual it's DJ Food. Keeper of one of the country's most eclectic record collections, he's spent the last two decades supplementing his vast archive of beats and breaks with forgotten relics from vinyl's more obscure niches.
A graphic designer with a passion for comic book culture and visual ephemera, his attention to record sleeves and packaging is second nature. Having let us into his peerless collection of flexi-discs we were blown away by the variety of weird and wonderful records that remained largely undocumented in his impeccably organised shelves.
To remedy this, we've invited Food to hold down a monthly column exploring the stranger corners of his collection, from mini-records to postcard novelties. With photography by Michael Wilkin, Food dons his spectacles and kicks things off with a mind-bending look at 3D record sleeves.
---
Words: DJ Food
---
3D was a big craze for a minute in the mid '50s, famously in films and also in comics where the green & red offset wonders sold like crazy for a year before dying a death and going underground for nearly three decades. The 2D record sleeve is a perfect canvas for such depth-defying delights and music always having a visual side has exploited the medium too. Many have witnessed Kraftwerk's recent concerts whilst wearing the flimsy cardboard glasses free with magazines and I remember Hexstatic handing them out for a London gig as early as 2002. But we're here to showcase sleeves that use the medium as a gimmick to sell or reinforce the title inside the cover.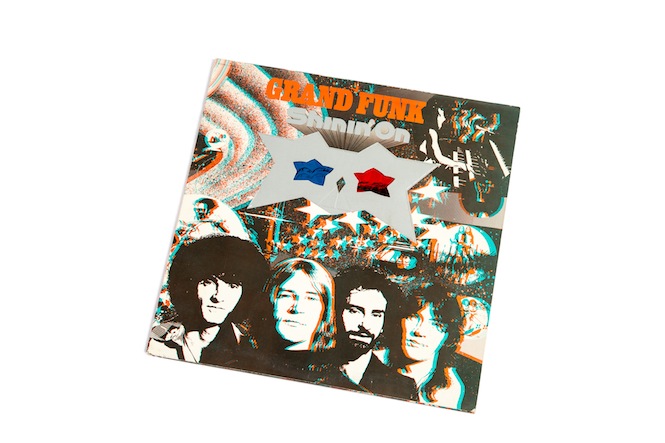 Grand Funk Railroad – Shinin' On
An early example is Grand Funk's 1974 album Shinin' On which came with push-out star-shaped specs as part of the front cover. As well as both the back and front being offset with the 3D effect they included a fold out 'poster' of the band but this seems to be an odd early anomaly in the history of three dimensional sleeves.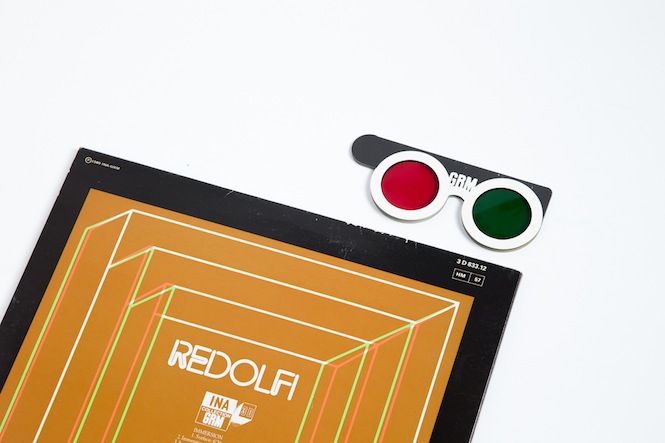 Redolfi – Pacific Tubular Waves
3D seemed to come back into fashion in the early '80s for a while, possibly because of the work the infamous Ray Zone was doing converting a variety of printed material. A 1980 avant grade album by Redolfi on the French label INA-GRM is an early case, resplendent in gatefold cover with custom specs tucked inside a handy pocket lest you lose the little buggers like every other example we'll look at.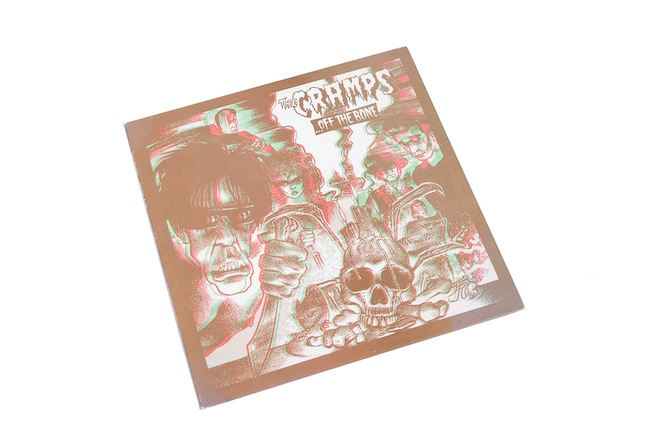 The Cramps – …Off The Bone
The Cramps, keen purveyors of trash culture, got in early with their homage to 3D on the UK issue of the album …Off The Bone, complete with horror film poster artist, Graham Humphreys' cover art.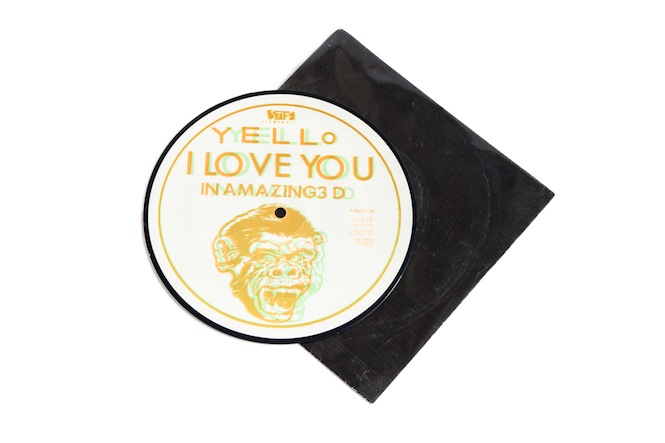 Tello – 'I Love You'
The same year Yello released a 7″ picture disc of their 'I Love You' single with 3D comic book King Kong graphics. The effect wasn't that well realised and what it had to do with the song is anyone's guess but their label, Stiff, loved playful, gimmicky formats as we will see.
Nile Rodgers – B-movie Matinee
Nile Rogers got his entry in for his 1985 solo album B-movie Matinee with very convincing depth but a tiny pair of specs that would get lost like all the rest (finding used copies of any of these still with the glasses is nigh on impossible). Bizarrely there was even a 3D 7″ picture disc of A Tribe Called Quest's 'Can I Kick It?' in 1990 (not featured here sadly) but this was a relatively lone release in 1990.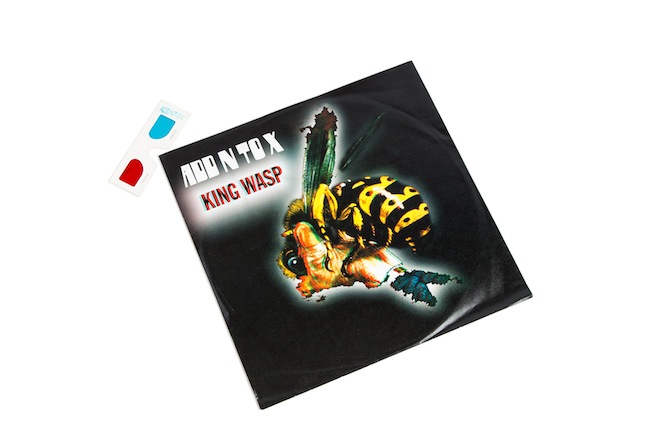 Add N To X – 'King Wasp'
Fast forwarding to the end of the '90s and a pre-Mute Add N To X featured the effect on their 'King Wasp' single with the cover and I even attempted it for Amon Tobin's Splinter Cell 3D soundtrack, the computer game of the same name having jumped on the emerging 3D film bandwagon.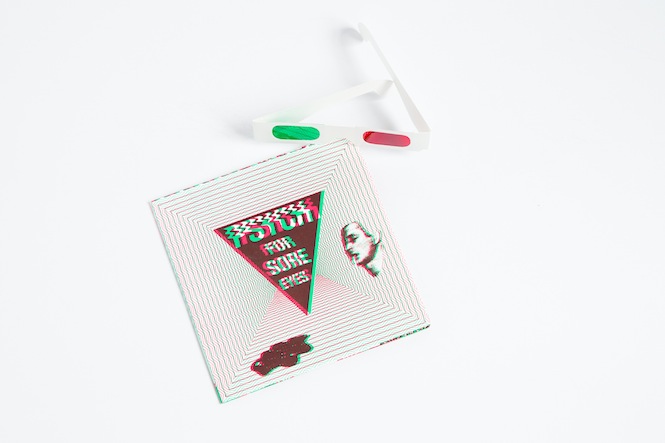 Various Artist – Psych For Soar Eyes
With the re-emergence of the fad there have been various appearances in recent years, most noticeably on the psychedelic scene, with the amazing fold out double 7″ Sonic Cathedral compilation A Psych For Sore Eyes and King Gizzard & The Lizard Wizard's 'Cellophane' single.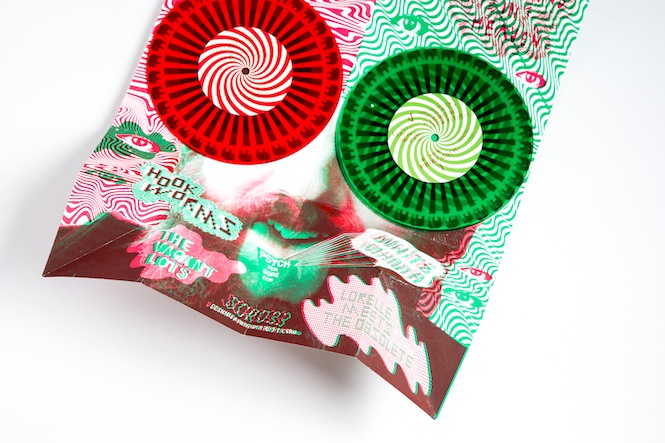 ---
Follow DJ Food on his brilliant blog here. Catch DJ Food presenting his collection of flexi-discs at The Horse Hospital's A Night At The Flexibition on 5th December.