Published on
June 8, 2015
Category
Vinyl Factory Events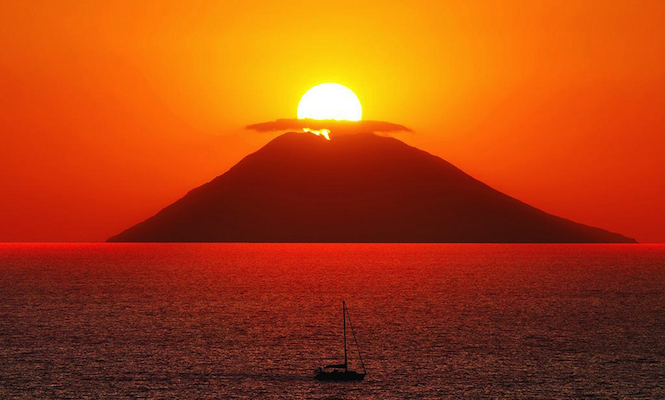 We're returning to the Sicilian island of Stromboli for the next instalment of Volcano Extravaganza, Europe's most explosive arts and music festival.
Staged in the shadow of the island's active volcano, The Vinyl Factory have invited legendary cosmic disco DJ Danielle Baldelli to headline an intimate party under the stars in the great balearic tradition.
Recalling his timeless residencies at Cosmic on the shores of Lake Garda, Baldelli joins the exciting, international line-up of artists and performances programmed across two weeks on the island, that includes Adriano Costa, Raphael Hefti, Goshka Macuga and Thomas Zipp. This year's Volcana Extravaganza takes its inspiration from the phenomenon of the total solar eclipse and formed around Milovan Farronato's adaptation of the mysterious prophetic manuscript 
In Favour of a Total Eclipse.
As if that wasn't enough astral inspiration, the festival will also be scheduled around the peak of an asteroid shower, an environment that will doubtless suit Baldelli's heady mix of pitch-shifted afro disco.
The involvement of Daniele Baldelli this time around segues nicely from last year's festival Forget Amnesia, which was based on iconic Ibiza club Amnesia and featured a host of The Vinyl Factory's collaborators James Lavelle, Haroon Mirza, Factory Floor and Eddie Peake among others.
Broadcast in collaboration with NTS, Volcano Extravaganza 2015: 
In Favour of a Total Eclipse will take place on Stromboli between the 17th and 27th July with a full programme of events due in the coming months. Click here for more information.
In the mean time, remind yourself of the genre that Baldelli fathered with his 50 definitive cosmic disco records.