Published on
January 18, 2019
Category
Exhibitions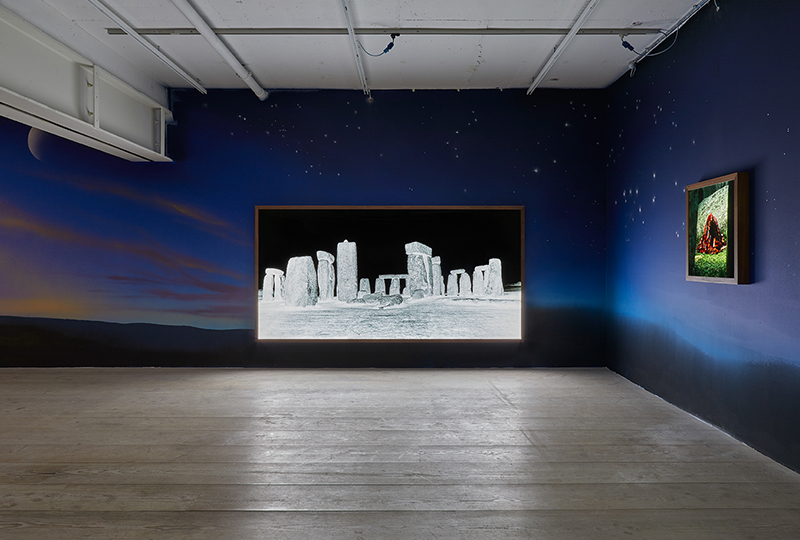 An exploration of mysticism, pagan symbolism and British identity. 
Turner Prize-winning artist Jeremy Deller, photographer David Sims and fashion brand Aries' new immersive exhibition WILTSHIRE B4 CHRIST has opened at The Store X.
Read more: Jeremy Deller explores the illegal raves and pagan rituals of Stonehenge
Centred around Stonehenge and shot at various Neolithic sites around the UK, WILTSHIRE B4 CHRIST explores notions of mysticism, pagan symbolism and British identity, manifested as large scale lighboxes, neon sculptures, painted murals and a new film by Jeremy Deller
The exhibition continues Deller's fascination with Stonehenge, which follows the installation of his inflatable, life-sized replica, called Sacrilege – installed on the site as part of its centenary celebrations.
WILTSHIRE B4 CHRIST is accompanied by a book and a 30-piece capsule collection featuring unique artworks by Deller and Aries. Tees, sweats, shirting, socks, blankets, stickers and other items will be available for the duration of the show at The Store X, 180 The Strand,as well as exclusively via Dover Street Market worldwide from Friday 18th January.
Published by The Store X, the book acts as a guide to the Neolithic sites of Great Britain, framed in an academic style, alongside over 50 images shot at these sites by David Sims and styled by Jane How.
WILTSHIRE B4 CHRIST is open at The Store X, 180 The Strand, London from Wednesday 16th January through Sunday 27th January.
Entry is free, running daily from 12pm-7pm.
Photos by Jack Hems.