Soundwalk Collective
What We Leave Behind: Jean-Luc Godard Archives
The Vinyl Factory
SOLD OUT
What We Leave Behind: Jean-Luc Godard Archives
Out of stock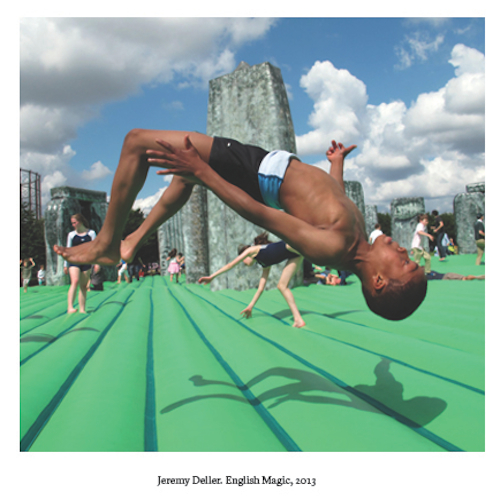 JEREMY DELLER
English Magic
Records
The Vinyl Factory's latest collaboration with Jeremy Deller is the musical soundtrack to a new film exhibited in the British Pavilion at the 2013 Venice Biennale. The soundtrack is a composition of three classic British songs; Symphony in D Minor by Ralph Vaughan Williams, Voodoo Ray by A Guy Called Gerald and The Man Who Sold The World by David Bowie covered by the Melodians Steel Orchestra, an English/Trinidadian steel band.
£

20.00
* Released on the 50th anniversary of Jean-Luc Godard's revolutionary stand with protesters at the 1968 Cannes Film Festival.
* Soundwalk Collective access Godard's personal archive of film rolls and reel-to-reels to craft their new LP.
* Pressed on 180g heavyweight vinyl
* 1-sided insert of a conversation between Stephan Crasneanscki, of Soundwalk Collective, and François Musy, Jean-Luc Godard's sound engineer. Printed on 240gsm translucent stock
* All imagery is of the archives taken by Crasneanscki
* Inner and outer sleeves printed with both gloss and matt UV varnishes
* Edition of 500
* Release date: 18th May 2018
Invited to explore the archive of the seminal French director Jean-Luc Godard, NYC and Berlin-based group Soundwalk Collective release their new album, What We Leave Behind. Drawing on Godard's personal collection of shot film, reel-to-reels and historical ephemera, the recordings reveal the moments before and after the camera rolls, from stage directions and on-set asides to rehearsals, false stars and outtakes.
"There are boxes filled with sounds, words, chaos, and also silence. For Godard sound is a musical composition and when I began listening to the tapes and heard his voice between takes, it was like little bits of life…each sound has its own value. It has always been part of our working practice to venture into untapped sonic territories, discover the poetics behind them, and explore how we (as humans) relate to it, as part of a larger discourse."
– Stephan Crasneanscki, Soundwalk Collective
An insight into to the director's process and personality, the 6-track album will be followed by a remix EP, featuring unique reworks from Ricardo Villalobos, Jan Jelinek and Petre Inspirescu.
What We Leave Behind, and the subsequent remix EP, arrive 50 years since Jean-Luc Godard, Francois Truffaut and Claude Lelouche publicly announced the closing of the 1968 Cannes Film Festival in solidarity with workers and students protesting across the country.
An international genre-bending group of artist-musicians with studios in New York City and Berlin, the three members of Soundwalk Collective (Stephan Crasneanscki, Simone Merli, and Kamran Sadeghi) formed in Manhattan to produce concept albums, sound installations, and live performances, and have worked with a diverse range of collaborators, from Nan Goldin and Patti Smith to Berghain and Zaha Hadid.
Additional Information
| | |
| --- | --- |
| Weight | 0.3 kg |
| Dimensions | 12 x 1 x 12 cm |
| Artist | Soundwalk Collective |
| Label | The Vinyl Factory |