Published on
December 5, 2013
Category
News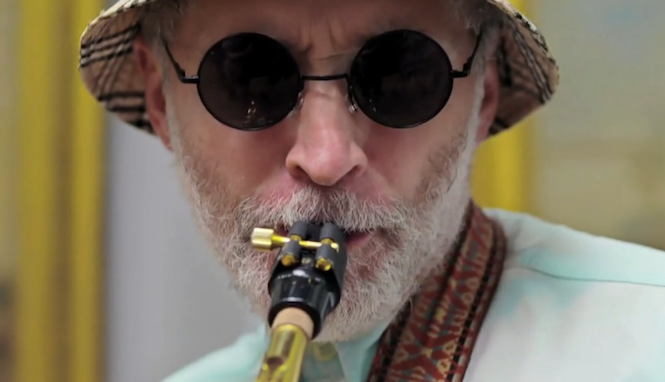 Tate Britain braced for Warp Records takeover as producers respond to Jeremy Deller's acid house history.
"A History Of The World", Jeremy Deller's 1997 mindmap connecting the cultural histories of working class brass bands and acid house, is experiencing the kind of pop recycling usually reserved for music. Where modern art, in its relentless pursuit of the new, is on the whole less interested in its own past (when it does glance over its shoulder its often with a deprecating, ironic eye), Deller's work is riding the 20-year curve described by music writer and cultural theorist Simon Reynolds which has seen early 90's rave culture infiltrate music, fashion and culture of the early 2010's.
Celebrated in an evening of audio/visual performances at Tate Britain in which Warp Records have put forward four of their brightest producers to respond to the work, "A History Of The World" has now been processed by a new generation. Acknowledging that post-everything sentiment of which YouTube is the driving force, Deller's own repsonse to the triple-threat commission has been to weave together YouTube clips of iconic parties (spot A Guy Called Gerald's 1988 Victoria Baths pool party) with video recordings from his personal archive into an almost reverential audio/visual collage.
While Deller's montage may be dripping in fluorescent nostalgia, there's a keen sense of irony and anachronism in the offerings from Warp's younger stock. Rustie, who wasn't even close to being born when Gerald was splashing about in Manchester in '88 perhaps captures the spirit of Acid Brass most keenly with "Rave: A History of British Dance", which features a performance of day-glo Morris dancing (glow sticks for hankies) filmed in the the Tate's Turner Gallery.
Hudson Mohwake too delves into the nature of his surroundings for his piece "Summers of Love" to set a series of gurning aboriginal masks to a soundtrack of 90's pirate radio hype and scathing news reports.
With a live performance of Deller's brass-band covers of acid house classics Acid Brass set to be the centre-piece of the Warp x Tate evening on Friday 6th December, several rooms across the Tate Britain will be transformed by Rustie, Hudson Mohawke, Oneohtrix Point Never, and newest Warp acquisition patten, who will also perform live.
Warp x Jeremy Deller x Tate takes place at Tate Britain on Friday 6th December from 6.30pm. Click here for more details. All three videos were premiered on Dazed & Confused earlier this week.
Limited signed editions of Jeremy Deller's brass band cover of "Voodoo Ray", remixed by Optimo, are available now from The Vinyl Factory shop.