Published on
April 18, 2016
Category
News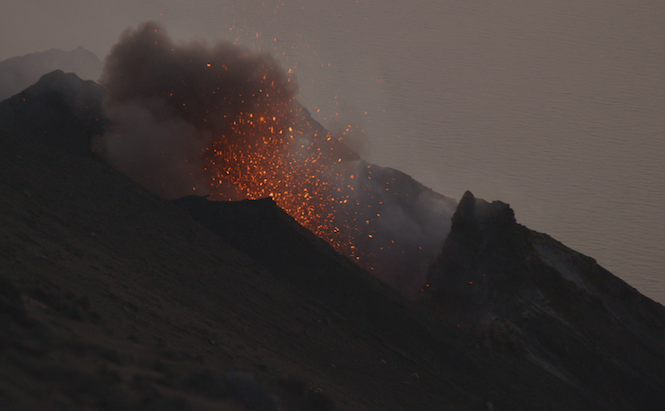 Juliana Huxtable and Tempers lined up for Volcano Extravaganza 2016.
Now on to its sixth edition, arts and music festival Volcano Extravaganza harnesses the raw power of nature, each year inviting artists and musicians to perform works on the dramatic, volcanic island of Stromboli.
Last year The Vinyl Factory curated the festival's music programme, which featured a disco under the stars, headlined by cosmic pioneer Danielle Baldelli. Alongside Baldelli, Turner Prize winner Goshka Macuga, Mathilde Rosier and Raphael Hefti created site-specific pieces in unforeseen locations, from sea caves to summit craters.
We're returning to the Silician island this July with another special music programme, including a DJ set by artist and poet Juliana Huxtable and a concert by electronic duo Tempers, who have written lyrics inspired by the island.
Conceived by Camille Henrot, and co-curated with the Fiorucci Art Trust's Milovan Farronato, this year's festival I Will Go Where I Don't Belong seeks to create "an intimate landscape" on the island. The exciting line-up programmed across two weeks includes performances and pieces by Anna Boghiguian, Joana Escoval, Yona Friedman, David Horvitz and VF collaborator Rachel Rose.
An exhibition on the catastrophe of shipwrecks will remain open throughout the festival, backed by satellite events including film screenings, concerts and performances taking places in the houses of the Strombolians that are scattered across the island.
Volcano Extravaganza 2016: I Will Go Where I Don't Belong takes place from 15 to 21 July 2016, with a full calendar of events released in June.
Meanwhile watch Juliana Huxtable's NYC Boiler Room set.
Watch our mini-doc on Volcano Extravaganza.