Published on
December 7, 2016
Category
News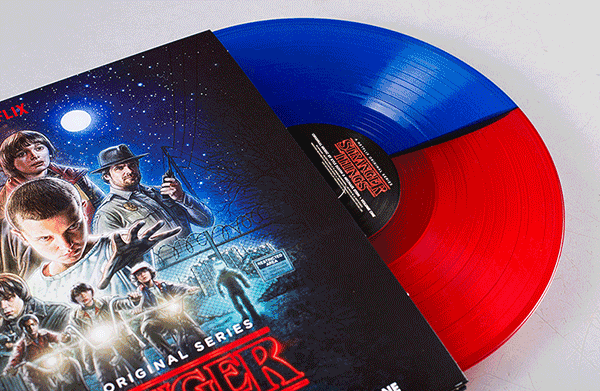 The best soundtrack of 2016.
S U R V I V E's Kyle Dixon and Michael Stein's score for Stranger Things was yesterday crowned best New Release in The Vinyl Factory's 2016 soundtrack round-up, which also gave Data Disc's Streets of Rage 2 the number one spot in the Reissues award.
Our justification was that little else this year, in the world of soundtracks anyway, became classic as instantly as Stranger Things.
"One of the biggest challenges of scoring television is creating a title theme that hooks and hooks. Not since Twin Peaks and 'Laura Palmer's Theme', can we recall a main sequence that has commanded such a strong presence, been so versatile in its application and also just sounded so damn addictive to the ear," reads our review.
The score comprises of over 70 themes and cues, which have been split over two volumes. A dozen or so vinyl variants of Vol. 1 have been lined up, with Vol. 2 hitting shelves next year, along with a 4xLP limited edition, collecting both volumes.
We got hold of Invada's split red and blue vinyl edition for a closer look:
Tracklist:
Side A
Stranger Things
Kids
Nancy and Barb
This Isn't You
Lay-Z-Boy
Friendship
Eleven
A Kiss
Castle Byers
Side B
Hawkins
The Upside Down
After Sarah
One Blink For Yes
Photos In The Woods
Side C
Fresh Blood
Lamps
Hallucinations
Hanging Lights
Biking To School
Are You Sure?
Agents
Papa
Cops Are Good At Finding
No Weapons
Side D
Walking Through the Upside Down
She'll Kill You
Run Away
No Autopsy
Dispatch
Joyce and Lonnie Fighting
Lights Out
Hazmat Suits
Theoretically
You Can Talk To Me
What Else Is There To Do?
Hawkins Lab