Published on
October 18, 2018
Category
News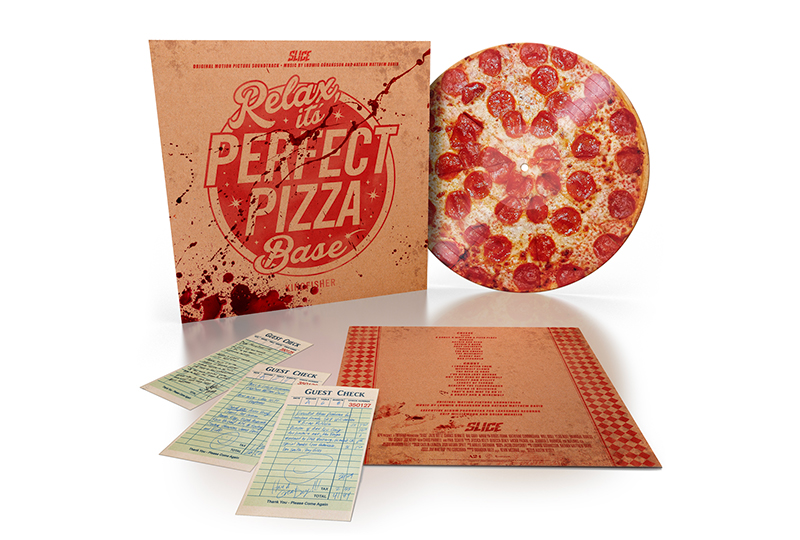 The 12″ special.
The soundtrack to A24 horror comedy film Slice is being released on a pizza picture disc, via Lakeshore Records in early 2019.
Read more: From fish heads to Barry Manilow: The strangest shaped records ever made
Slice tells the story of a string of pizza delivery boy murders across a small town and of two survivors – played by Atlanta's Zazie Beetz and Chance the Rapper in his film debut – who set out to solve the mystery.
Slice is the first feature film directed by Austin Vesely, who has previously worked on videos for the Chance the Rapper tracks 'Sunday Candy' and 'Angels'.
Its original soundtrack was composed by Ludwig Göransson who recently created the score for Black Panther, and Nathan Mathew David who has crafted scores for Deadly Class and The Last Word.
Slice's music was inspired by '80s horror films and analogue synths:
Pre-order the limited-edition 12″ here ahead of its early 2019 release and check out the track list below.
Tracklist
Side A
1. Slice
2. A Ghost, A Wolf and a Pizza Place
3. Murder
4. Astrid and Sean
5. Astrid's Back
6. Past Incidents
7. Finding Sean
8. The Big Cheese
9. The Werewolf
10. Bloody Hat
11. Dax Lycander
Side B
12. I Looked After Them
13. Werewolf Claws
14. The Deed Is Done
15. I've Never Lost Anyone
16. Not That Kind of Werewolf
17. Loyalty and Utility
18. Legacy of Terror
19. Beneath The Floorboards
20. Seeing Is Believing
21. That's One Way To Do It
22. A Ghost and a Werewolf