Published on
April 15, 2015
Category
News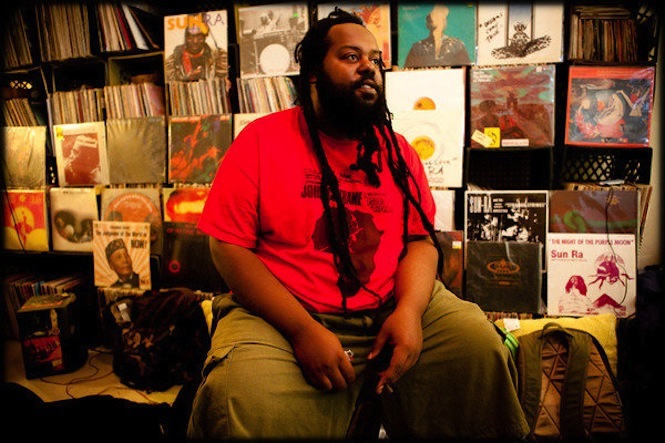 Soho record store Sounds Of The Universe round off series of curated 12″s.
Over the last three years, Sounds Of THe Universe have invited producers and musicians from around the world to contribute to their ongoing Art + Sound series, each instalment of which was pressed in a micro-edition of just 250, hand-numbered 12″s, with an etching on the b-side.
Previously only available at the shop's and via its parent label Soul Jazz Records, the series included some of the most active contemporary producers on an afro-futurist tip including Kassem Mosse, Hieroglyphic Being, Ras G and Andres all of which are collected on the release.
They will now be joined by a series of new commissions, released for the very first time, including Seven Davis Jr., Detroit legend Mike Huckaby and Glaswegian outfit Golden Teacher. Available on double CD, the whole lot will also be pressed to two limited edition double pack LPs with a download code.
Art + Sound 2012-15 – Vol.1 will be released on Soul Jazz records on 25th May. Check out the artwork and tracklist below: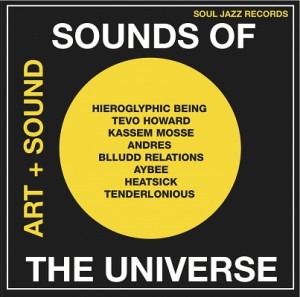 Tracklisting
1. Hieroglyphic Being — Shikaakwa
2. Tevo Howard — Summer Romance
3. Kassem Mosse — Staat Aus Glas
4. Andres — Ribena
5. Blludd Relations — Cold Like The Baron
6. AYBEE — Return To The Underground
7. Heatsick — Snakes And Ladders
8. Tenderlonious — Caramel
9. DJ Stingray — Cytokines
10. Mike Huckaby — Circles
11. Seven Davis Jr — Come And Go
12. Golden Teacher — Maladroit
13. Reginald Omas Mamode IV — Rare Love
14. Africans With Mainframes — Vibrations From The Serengeti II
15. Capracara — Hard Ticket To Hawaii
16. Lord Tusk — Average Cats
17. Ras G — Deep Space Nine
18. Ras G — Gloom Steez
19. Ras G — Taste This