Published on
December 16, 2013
Category
News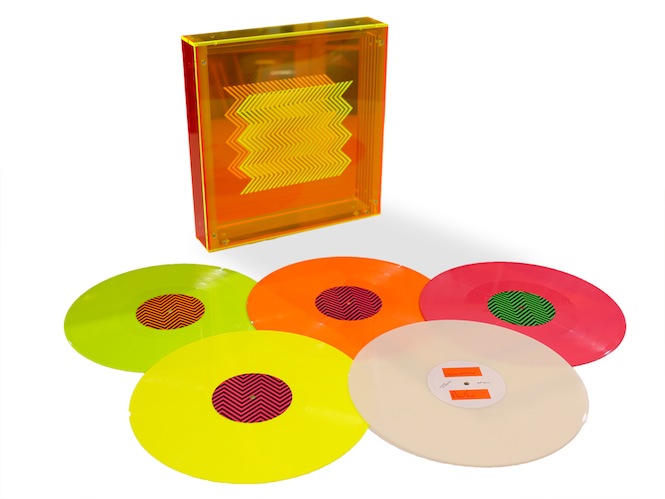 A first look at Pet Shop Boys' stunning 5LP limited edition box set their 2013 album Electric.
The second time that Pet Shop Boys have teamed up with The Vinyl Factory and designer Farrow to upgrade their new material to exhibition standard, the transformation of their 12th studio album Electric, released on the duo's X2 label this year has been the stuff of myth and hearsay since the Electric box was announced in July.
With the previous collaboration on 2009's Yes going on to be showcased in the Design Museum and be Record Collector's 'Most Collectible Product of the 21st Century' (an accolade its successor may well also have claim to), the Electric box was sold on the promise of a "5x fluorescent heavyweight vinyl edition housed in an astonishing custom-made, fluorescent-edged, multi-coloured acrylic box" as we described it at the time, and a simple design mock-up. All 350 of the bespoke items sold out in under 48 hours, a day faster than Yes.
The box itself sees Electric's nine tracks split over 5 LP's for the duo's first record with producer Stuart Price. With the box hand-signed by Neil Tennant and Chris Lowe, the duo describe Electric as "very much set on the dance floor" – although anyone planning on playing the Electric Box out might want to think twice about laying their hands on the fluorescent wax. "Our latest album often evolves as a response to our previous album and, whereas Elysium had a reflective mood, Electric is pretty banging! And working with Stuart Price on a studio album is something we have wanted to do for a very long time".
Now, having reached 10th spot in our rundown of the top 100 vinyl releases of 2013, we are very excited to reveal a full set of photos of the elusive box set in all its acrylic glory: