Published on
July 1, 2016
Category
News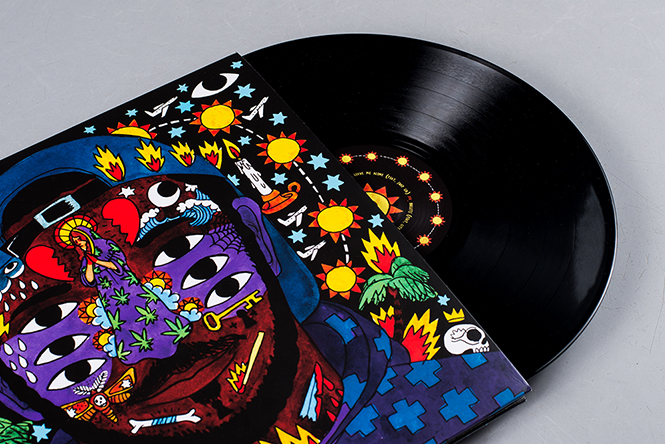 Ricardo Cavolo's psychic funk illustrations come to life on 12″.
From the moment it was released in May, it was clear that Kaytranada's debut album for XL would be up there as one of the year's best albums. Darting from collaborations with Anderson .Paak and Little Dragon to samples from Brazilian legends Gal Costa, much ink has already been spilt on the album's colourful multitude.
Less however has been said about the artist behind the record's unmistakable sleeve design, whose name appears nowhere in the online discussion of the album (or even on its Wikipedia page). Born in his father's painting studio in the north of Spain, that artist is Ricardo Cavolo.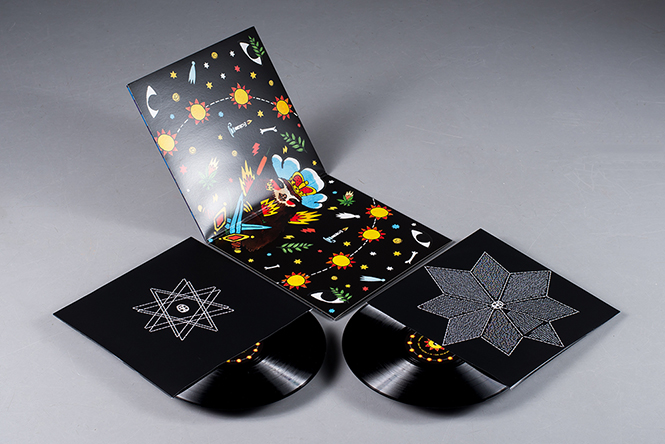 Interested in using portraits to anchor narratives (he has been quoted as saying "I use illustration for telling stories"), Cavolo often centres his work around the "hero" of his story, who in this case is Kaytranada. As with much his work, this hero has many eyes, a trait which he has put down to expressing a sense of wisdom and knowledge in the protagonist:
"I love to use symbolic details and I thought that with more than two eyes the person becomes different from the rest," he told Amadeus magazine earlier this year. "And at the same time, as they are heroes in my stories, a hero is wise and intelligent, and I thought that the more you see, the more you know, the wiser. So more eyes, means you are able to see more than normal."
Inspired by psychic imagery, tarot cards, and tribal symbols ("I love the sense of colour from tribal arts"), his sleeve design for 99.9% is a perfect analogue for the music's vibrant influences, transposing the tracklist into a fifteen sided wheel of fortune, where each track has its own symbol or playful spirit animal.
Given that the devil is very much in the detail, the artwork shines brightest on the gatefold 12″ vinyl release of 99.9%, which only dropped last month. As one of our favourite record sleeves of the year so far, it seemed only right to give Cavolo some much-needed recognition.
Check out the vinyl artwork up close in the gallery below and order your copy from XL here.
Photos: Michael Wilkin