Published on
February 10, 2016
Category
News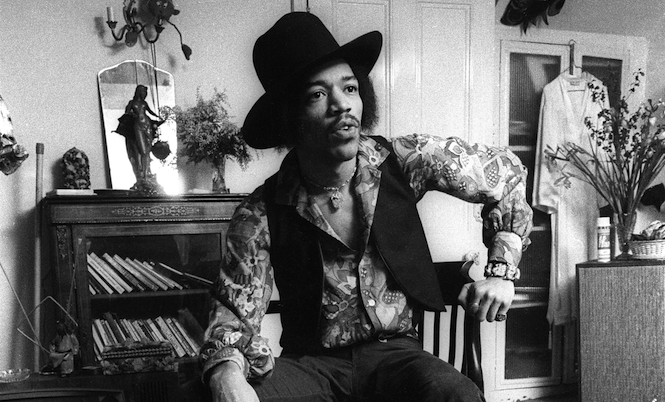 Hendrix's London flat opens to the public.
Jimi Hendrix's London home will open to the public this week, his bedroom restored as it was when he lived there in 1968 and 1969.
Located on the upper floors of 23 Brook Street in Mayfair, the address Hendrix called home during the release of his third and final studio album Electric Ladyland, the room has been recreated down to the last detail with the help of Hendrix's then girlfriend Kathy Etchingham, from bed-spreads to fruit bowls, and of course, Hendrix's personal record collection.
Explored in the room next door, the collection gives a first-hand insight into the tastes and influences of one of the greatest guitarists of all time.
Alongside classics of the decade from The Beatles, Bob Dylan and Cream (and Hendrix's previous two recordings) is a modest collection of blues legends, with Lightnin' Hopkins, Muddy Waters and Howlin' Wolf all represented.
As you'd expect, other great guitarists who found a place on his record shelf include Wes Montgomery, Django Rheinhardt, Johnny Cash and Frank Zappa.
There are however a handful of surprises in there too, including records from sitar master Ravi Shankar and French concrète pioneer Pierre Henry, disco forerunners the Bee Gees, psych outfit Red Krayola and a copy of Handel's Messiah performed by the English Chamber Orchestra, snatches of which he re-interpreted at a gig in San Francisco in 1968. The German composer had lived next door at 25 Brook Street for thirty six years before his death in 1759.
Check out a gallery of Hendrix's records below:
As well as both the restored room (which includes Hendrix's old Epiphone FT79 acoustic guitar, used to devise his cover of Bob Dylan's 'All Along the Watchtower') and record collection, a permanent exhibition will chart the guitarist's life in London, which saw him use the Mayfair pad as a base for exploring the music and arts scene in neighbouring Soho.

Open seven days a week you can find out more about how to visit the Hendrix flat on the Handel & Hendrix In London website. [via The Spaces]
Photos: Barrie Wentzell / Michael Bowles courtesy of Handel & Hendrix in London; Album sleeves courtesy of EMP Museum