Published on
March 28, 2013
Category
News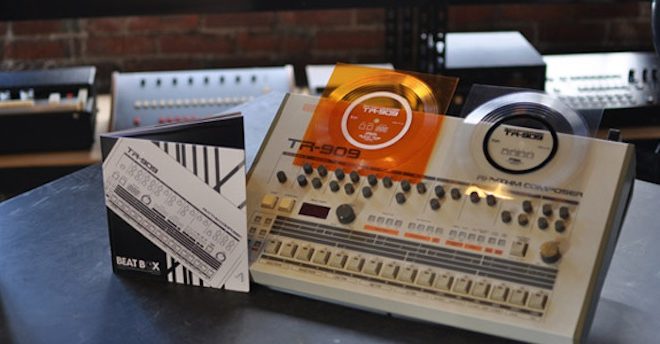 Hip hop reissue specialistic Get On Down – the guys behind the recent Illmatic release – have announced they will pay homage to the Roland TR-909 drum machine with a new release that includes a dual flexi-disc and 20 page booklet.
It's no coincidence that vinyl enthusiasts have a weakness for analogue equipment. To coincide with Record Store Day on April 20th, Get On Down will tap into this soft spot by combining the two into a deluxe package that previews label co-founder Joe Mansfield's book Beat Box: A Drum Machine Obsession to be published in the summer.
The release will include two 7″ flexi-discs, one that chronicles the iconic sounds of the 909, accompanied by narration from one of the machine's early masters, the Philly rapper Schoolly D. The second will feature instrumental remakes of the drum tracks from two of Schoolly's debut cuts from 1986.
the release will accompany two other Get On Down projects, GZA's Liquid Swords Chess Box vinyl set and Non-Phixion's "I Shot Reagan" 7-inch vinyl.
Here are a few more pics to get your spine tingling.