Published on
November 11, 2013
Category
News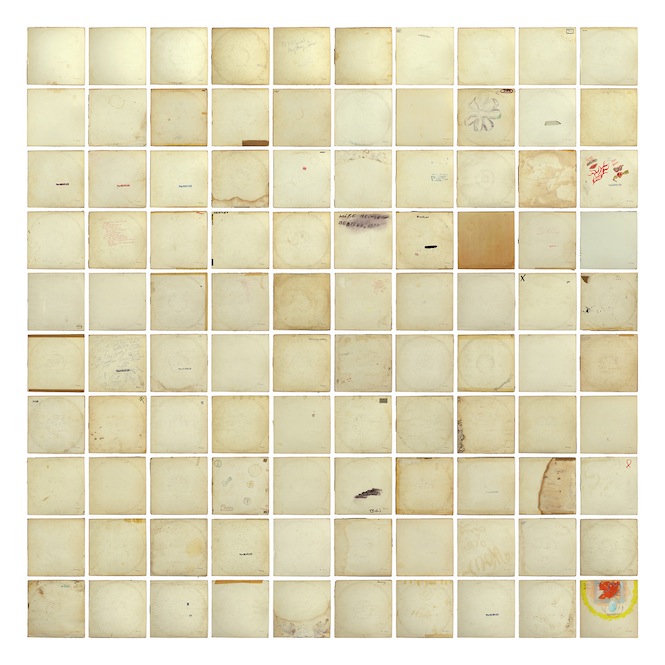 Rutherford Chang's meditation on the material deterioration of mass-produced records finally sees limited edition release.
Not one to fret about the odd duplicate, earlier this year Houston-born Californian artist Rutherford Chang displayed his staggering collection of 693 discrete second hand copies of The Beatles' self-titled 1968 LP, more commonly known as The White Album, at New York's Recess Gallery. Fascinated in the differing organic and man-made ways in which the virgin sleeves aged or were deformed over time, Chang has since amassed close to 800 copies of the record, unique for their embossed "The Beatles" title and serial number, giving the impression that the album was itself limited. As it is, almost three million are thought to be in circulation.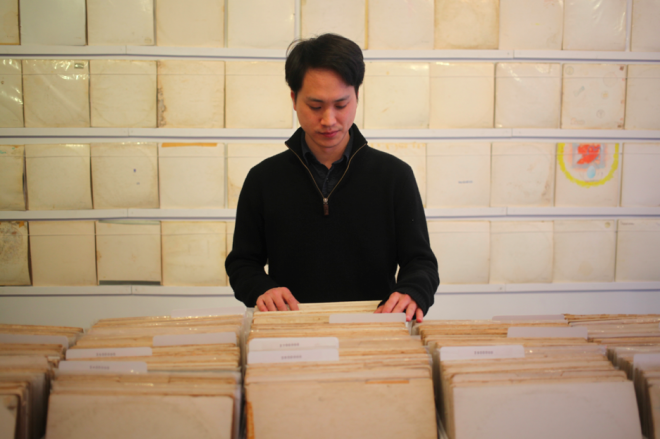 Rutherford Chang at "We Buy White Albums" in February, 2013.
As Chang told the New York Times in February of this year: "Being an all-white cover, the changes are apparent. The serial numbers made collecting them seem natural, and the more I got, the more interesting it became. As you see, many of them are written on, and each has a story. The accumulation of the stories is part of it."
Slated as the final work in the exhibition, Chang has electronically overlaid 100 discrete copies of the album to create one densely layered 96-minute double LP on which each version of the iconic original brings its own sonic history to the final recording. The physical imperfections of the 45 year old records pop, skip and crackle to create an eerie heterophony as the record gradually drifts out of sync with itself over the course of each side.
At the clearer end you've got 'Back In The USSR' which sounds like it's being played from a fishtank on a Dansette Junior, while at the other 'While My Guitar Gently Weeps' has deconstructed itself into an industrial noise dirge of static feedback and distortion, Harrison's voice struggling in vein beneath a fog of deteriorating polyvinyl chloride. Imagine a Phil Spector-produced jam between William Basinski and John Lennon and you're probably on the right track.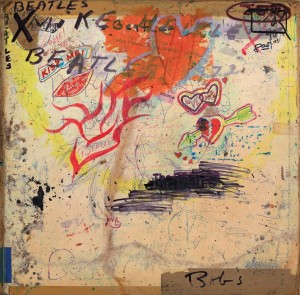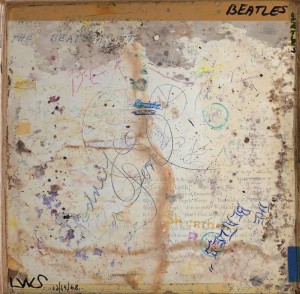 Front and back covers of Rutherford Chang's White Album.
Accompanying the release, the gatefold cover and labels are comprised of composite overlays of the weathered and defaced originals, many of which were doctored by their young owners who used the pristine surface as a canvas for messages and doodles. Others, stashed in the damp attics and basements of American town houses simply carry the organic patterns of rot and mildew.
Originally designed by British pop artist Richard Hamilton, the spartan White Album sleeve was conceived as a minimalist response to the chaos of Sgt. Pepper's Lonely Hearts Club Band and with a degree of clairvoyance, Hamilton even toyed with artificially ageing the white sleeve with a ringed coffee stain, although this idea was dropped when it was deemed to complicated to reproduce.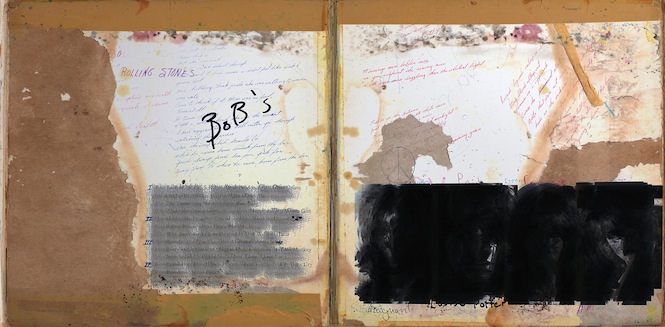 Inner gatefold sleeve.
Rutherford Chang's The White Album is being released in a limited edition of 800 copies, each of which will also include a 24″x24″ poster featuring images of the original covers. Listen to the first side below and check out our friend Dust & Grooves' photo gallery and interview from Chang's "We Buy White Albums" exhibition earlier this year. Find out more and order a copy HERE.