Published on
October 14, 2017
Category
Features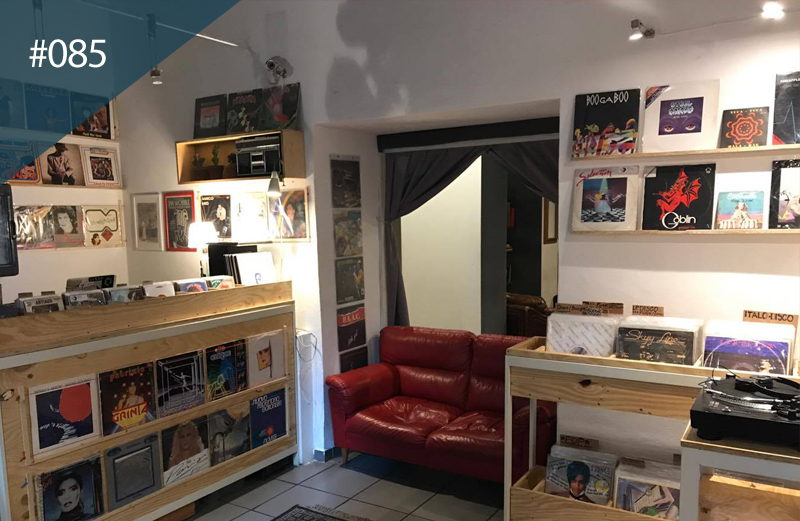 The Neapolitan source.
Every week, we pick out one must-visit spot from a different city around the world with photos and a little bit of history. Think of it as a kind of 1000 places to see before you die for record shops.
Rightly admonished recently for our lack of Italian shops in this series, we're beginning to set the record straight, with a visit to one of Naples' newest spots, and a hub for the city's fresh and febrile sound.
---
Futuribile
Location: Via Vincenzo Bellini 44A, 80138 Napoli
Go for: Cold beers, comfy sofas and the Napoli sound
What's the story?
Found a five minute walk away from the central Dante station on a bustling side-street sits one of Napoli's newest record shops. Opened just six months ago by Dario Di Pace (of the Neapolitan band The Mystic Jungle Tribe) and Cristiano Cesarano, and rapidly becoming one of the city's most beloved too, Futuribile is the unofficial headquarters of Napoli label Periodica Records, servicing a growing community of DJs, producers, promoters and music heads keeping 'the Napoli sound' alive in 2017. It's also home to a vast collection of records that you could only ever get your hands on in Napoli.
While you'll find a handful of new releases and reissues from labels like Antinote and Music From Memory, with a killer house section of Chicago and Detroit favourites, the greatest finds are the records you've probably never heard of.
Italian boogie from Mike Francis, '80s pop with Iva Zanicchi and Mono Band's gloriously cheesy disco rarities all take pride of place on the stores racks. Their regular Sunday Disco Markets are a pretty ideal place to spend an evening too, and Di Pace and Cesarano are always keen to point you in the right direction. For under the counter obscurities, make sure to introduce yourself when you pay them a visit.