Published on
September 9, 2017
Category
Features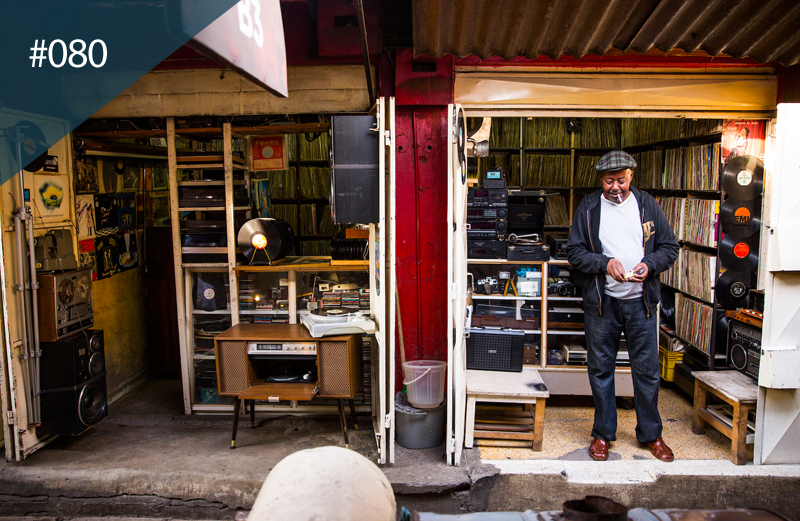 The vinyl man of Kenyatta market.
Every week, we pick out one must-visit spot from a different city around the world with photos and a little bit of history. Think of it as a kind of 1000 places to see before you die for record shops.
Our first visit to East Africa, and it had to be at the table of the inimitable Jimmy Rugami. Following last year's in-depth interview, we thought it was only right for the man at Stall 570 in Nairobi's bustling Kenyatta Market to join our global record shop journey.
---
Jimmy's, Stall 570, Kenyatta Market
Location: Shop No. 570, Kenyatta Market, Ngummo, Nairobi, Kenya
Go for: East African 7″s and local originals
What's the story? For close to twenty years, James 'Jimmy' Rugami has been selling music in between the stalls of beef and goat meat at Nairobi's Kenyatta Market. One of the few in the city who still deal in vinyl, Jimmy has weathered the decline in record sales with remarkable resourcefulness, often travelling to Dar es Salaam and Zanzibar to stock up on cassettes and wax.
His shop now almost exclusively sells vinyl, a combination of old Western music and a large collection of East African 7″s and some 12"s. One side is where the albums are kept, while the other houses a large collection of singles. Dive into one of the corners and you'll find Kenyan originals, divided into the various local languages: Swahili, Kikuyu, Kamba, Luo, and Luhya.
Something of a local legend, Jimmy has now gained an international following courtesy of initiatives like Santuri Safari and patronage from DJs and producers like Esa and Auntie Flo, who will invariably stop by when passing through. And earlier this year, the shop laid claim to being the first in East Africa to celebrate Record Store Day, bringing the city's record buying community to the market to celebrate the opening of Stall 570's new extension.
Business is booming and, needless to say, Jimmy's is a must-visit.