Published on
January 12, 2017
Category
Features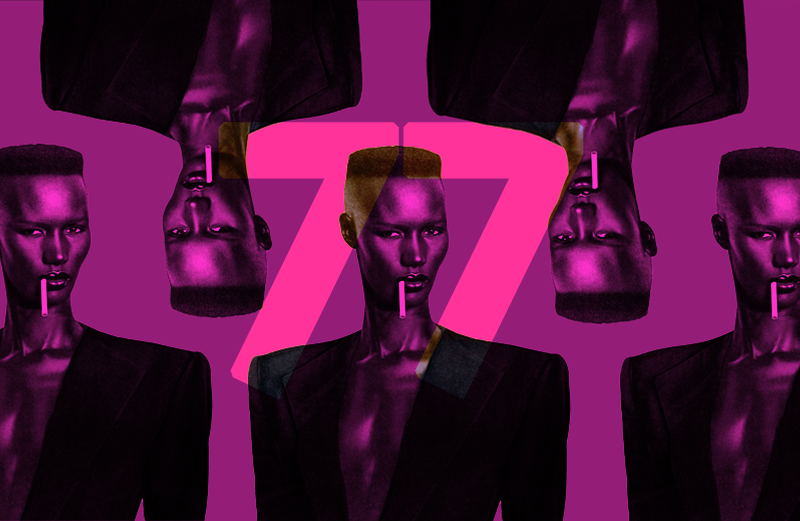 From gay disco Queen to badass Bond Girl, Grace Jones is one of the most outré and outrageous artists of our time. With a new BBC documentary on the slate for 2017, Wrongtom collates her unlimited capacity for dub with this one-hour tribute mix.
I think I was eleven when I came home from my local video shop with a massive cut-out advert for a film called Vamp. For the uninitiated, Vamp is a lurid slice of '80s schlock starring an entirely mute Grace Jones as the titular vampire who adorned the cut-out which soon sat at the foot of my bed. I'd doze off with a green-skinned Grace Jones, baring her bloody fangs and leaping at me.
My love affair with Miss Jones' music started later but I was already fascinated. Pop anomaly, dub chanteuse, go-go queen, and Zula out of Conan The Destroyer. Chart music has rarely been so good.
I'd later discover Sly & Robbie were behind so many of my favourite Jones moments, and as I delved into music production myself, I found the hidden depths to those Compass Point recordings an endless source of inspiration.
I often spin yarns and ponder my fantasy collaborations but top of my dream jobs list would be a crack at those tapes, I'd kill to get my dubby hands on tracks like 'Private Life' and 'My Jamaican Guy'. Grace Jones Meets Wrongtom? Just saying.
---
Tracklist
01. Grace Jones – 'Send In The Clowns' from Portfolio (1977)
02. Grace Jones – 'Nipple To The Bottle (Club Cut)' from 12″ (1982)
03. Grace Jones – 'Warm Leatherette' from Warm Leatherette (1980)
04. Compass Point Allstars – 'Peanut Butter' from 7″ (1981)
05. Grace Jones – 'Pull Up To The Bumper' from 12″ w/ Island's Genius Of Rap comp (1982)
06. Grace Jones – 'Party Girl (Extended Remix)' from Party Girl (1987)
07. Grace Jones – 'Pars' from Warm Leatherette (1980)
08. Grace Jones – 'Feel Up (Extended Version)' from 12″ (1981)
09. Grace Jones – 'My Jamaican Guy' from Living My Life (1982)
10. Grace Jones – 'Living My Life (Long Version)' from 12″ (1981)
11. Grace Jones – 'I've Seen That Face Before (Libertango)' from Nightclubbing (1981)
12. Grace Jones – 'Me, I Disconnect From You' from Nightclubbing (1981)