Published on
May 26, 2016
Category
Features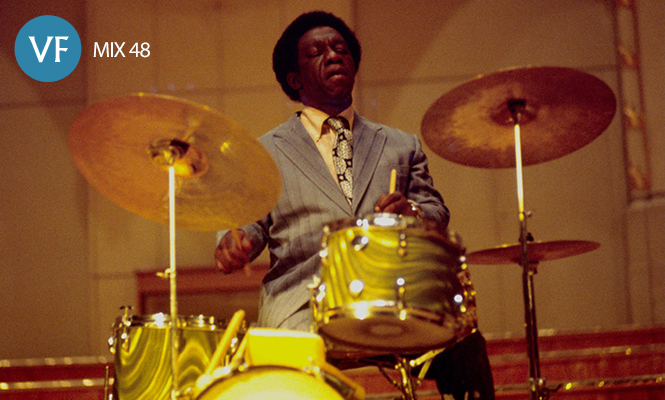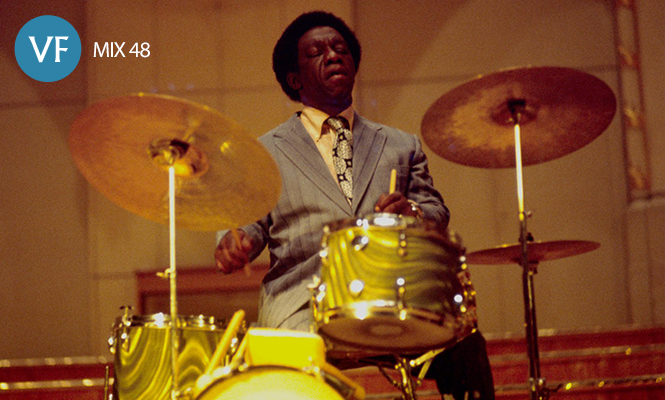 VF Mix 48 traces the work of Art Blakey and others.
We're chuffed to follow-up our recent mix tribute to legendary drummer Idris Muhammad with a brilliant vinyl-showcase of jazz drumming greats.
The mix has been put together to mark the forthcoming Moses Boyd show in East London, which sees the young drummer cover songs from the Art Blakey songbook. At just 24-years old, Boyd is one of the most striking jazz voices we've heard in some time. He just released his first 12″ featuring the absolutely electric afro-jazz explosion that is 'Rye Lane Shuffle' – a tantalising taste of what to expect from his forthcoming debut album, which has been mixed down by Four Tet & Floating Points.
Here, Moses jumps behind the decks with DJ Lexus Blondin to lay down an hour of records with exceptional jazz drum sections. From hard bop guru Art Blakey to the utterly prolific Steve Gadd to versatile rhythm master Norman Connors, lose yourself below and keep scrolling for the tracklist and artwork.
---
Tracklist:
Lexus Blondin
01. Pee Wee Marquette – 'Announcement' from Meet You At the Jazz Corner of the World (Blue Note, 1959)
02. Kenny Dorham – 'Afrodesia' from Afro Cuban (Blue Note, 1955)
03. Art Blakey – 'Ping Pong' from Thermo (Milestone Records, 1973)
04. Art Blakey & the Jazz Messengers – 'Recuerdo' from Buttercorn Lady (Limelight, 1966)
05. The Art Blakey Percussion Ensemble – 'Cubano Chant' from Drum Suite (Columbia, 1957)
Moses Boyd
06. Art Blakey & Buddy Defranco Sextet – 'Kush' from Blue Bag (VeeJay, 1964)
07. Bruce Ditmas – 'Side Looking Radar Image' (Chiaroscuro, 1977)
08. Herbie Hancock – 'Ostinato (Suite For Angela)' from Mwandishi (Warner, 1971)
09. Norman Connors – 'Morning Change' from Dance Of Magic (Cobblestone, 1972)
10. Chick Corea – 'Night Sprite' from The Leprechaun (Polydor, 1976)