Published on
October 24, 2014
Category
Features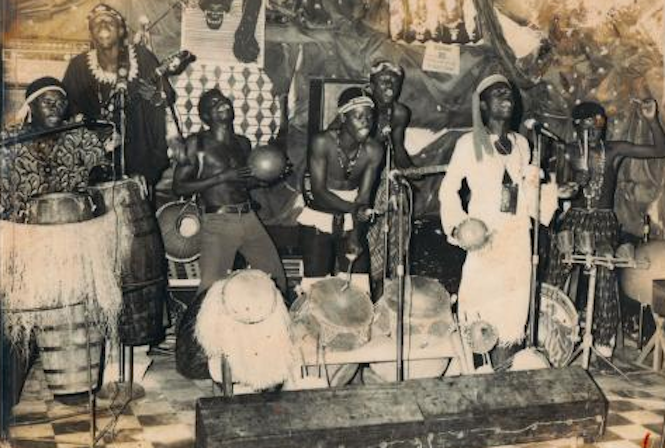 ---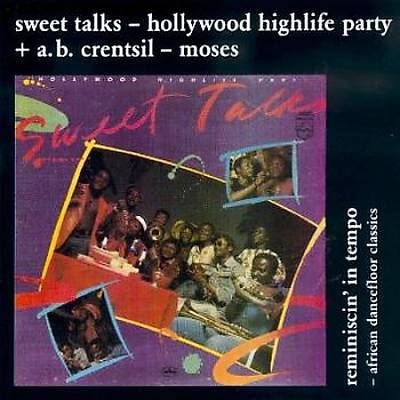 Sweet Talks
'Only Your Voice, Juliana' from Hollywood Highlife Party
(Philips, 1978)
Sweet Talks deserve a mention in any highlife list. They are one of the most popular bands to come out of Ghana during the Golden Age. Formed by A.B. Crenstil, Smart Nkansah and Pope Flynn the band started out playing at the Talk of the Town Hotel in Tema and quickly gained considerable fame with their albums the Kusum Beat and Spiritual Ghana. The track 'Juliana' is from the Hollywood Highlife Party LP which was recorded in Los Angeles at the height of the bands fame. Undoubtedly one of the highlights, the sweet guitar licks on 'Juliana' combine with love- inspired melodies to make for an emotional but catchy number. Sadly, the band broke up shortly after making the album.
Listen HERE
---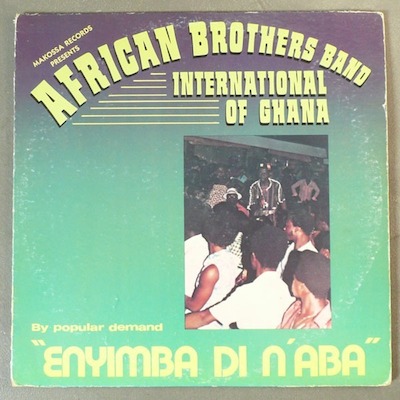 African Brothers Band
'Kofi Nkrabea' from Enyimba Di N'aba
(Makossa)

African Brothers Band were, without doubt, top of the league of the electric guitar-bands. Formed in the early 1960's by lead singer Nana Ampadu in the hilly Kwahu region of Ghana. Over the course of their career the band released over sixty albums. During this period Ampadu still had time to be General Secretary of the Musicians' Union of Ghana! 'Kofi Nkrabea' is quite slow-tempo and exhibits both the full breadth of the bands rhythm section; trap-drums, congas, maracas and clips and also the four guitars that blend to create a deep network of sound.
Listen HERE
---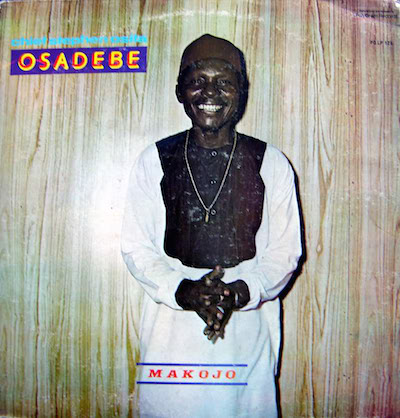 Chief Stephen Osita Osadebe & His Nigeria Sound Makers International
'Egwu Ogolo' from Makojo
(Polydor, 1985)
Chief Stephen Osita Osadebe was one Nigeria's biggest and most successful Highlife musicians. However, his road to fame was not traditional by any means. His parents pushed him to study in the Soviet Union and it was not until he returned to Nigeria, at 23, that he began to properly pursue his musical calling. He had several supporting roles playing in bands in various hotels around Lagos and other Nigerian cities and eventually formed his own band the Nigeria Sound Makers International in 1964. Chief Stephen's musical talent was undeniable and he went on to record over 500 records. The biggest 'Osondi Owendi', which translates as one man's meat is another man's poison, has sold millions of copies. Chief Stephen's lyrics are sung in the Igbo language so the meaning of his songs is sadly lost on the majority of his listeners beyond South-Eastern Nigeria. Nonetheless, his powerful voice has still found admiration across Africa, Europe and America. The concerned track is an excellent example of his outstanding vocal delivery.
---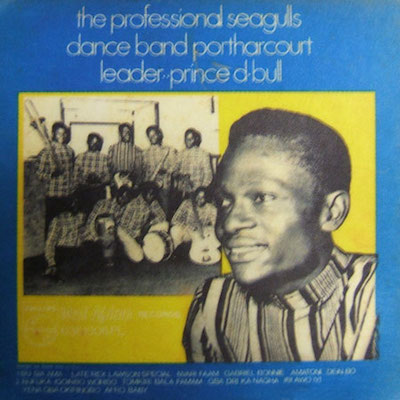 The Professional Seagulls Dance Band of Port Harcourt
'Afro Baby' from The Professional Seagulls Dance Band Port Harcourt
(Philips-West African-Records, 1971)
Despite the fantastic name, not that much is known of the Professional Seagulls Dance Band of Port Harcourt. Another Nigerian highlife band, they originally started as Rex Lawson's backing group the River Men. The unfortunate early death of Rex Lawson, who died in a car accident aged 36, led them to form their own band. The group enjoyed several hits as The Seagulls, one of which is the track below, 'Afro Baby'. Undeniably catchy, I've found the chorus stuck in my head days after listening to it. It's also a wonderful example of the more bluesy melancholic highlife with its sombre horns replacing what I imagine is normally the guitar section.
Listen HERE
---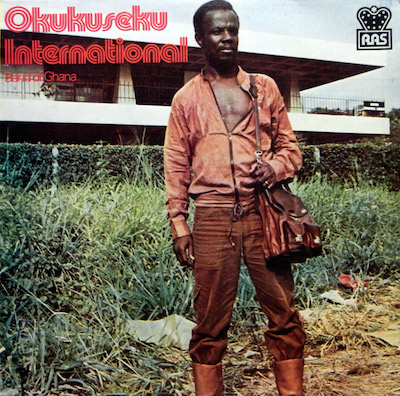 Okukuseku International Band of Ghana
'Wiase Ne Obra' from Band Of Ghana
(Rogers All Stars 1981)
Formed in Accra in 1969 by Kofi Sammy and Water Proof, the band moved to Nigeria during economic downtimes and introduced songs in Pidgen and Ibo to appeal to their Nigerian audience. Okukuseku International's artwork is perhaps one of the duller of LPs from the Highlife era, but don't judge an album by its cover, this is a great piece of work. There is even a drum break on the track 'Ode ama ne mm'! You don't often hear the lead guitarist launching into their own solo right from the off, yet, that's what happens on the concerned track Wiase Ne Obra. Not often mentioned Okukuseku International are definitely a band to explore.