Published on
February 9, 2019
Category
Features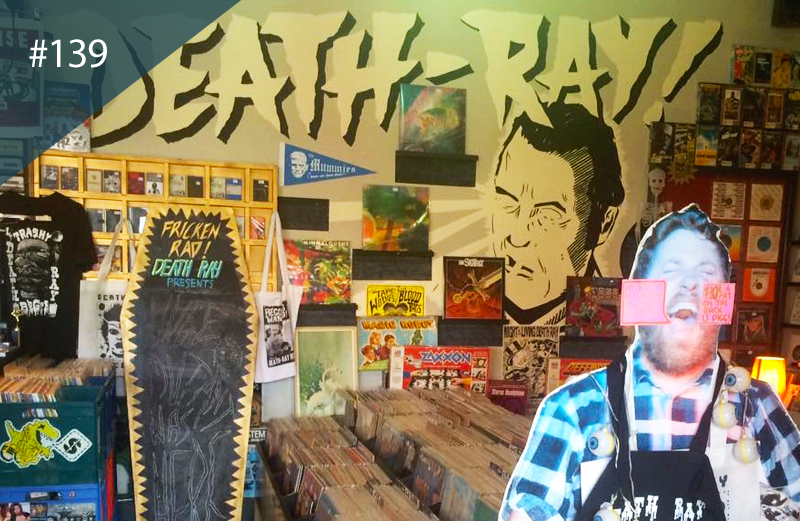 Psych and soundtracks for the city's underground scene.
Every week, we pick out one must-visit spot from a different city around the world with photos and a little bit of history. Think of it as a kind of 1000 places to see before you die for record shops.
Having taken the slow boat to Wellington first time around, we're back in New Zealand's capital for an altogether different experience.
---
Death Ray Records
Location: Wilson St, Newtown, Wellington 6021, New Zealand
Go for: Psych-rock, kraut and soundtracks
What's the story?
Entering Death Ray is like setting foot in the B-movie universe of Attack of the 50 Foot Woman. Opened by Boss Dude (aka Apa Hutt, as he's affectionately called), Death Ray has been central to Wellington's fiercely independent punk rock underground since 2011 – somewhere the leather-clad clientele go to get their fix of '60s garage, rock 'n' roll trash, psych and krautrock. Not to mention the "records, tapes, zines and rad local shit from the Newtown and Wellington underground scene," as Apa Hutt puts it.
"Our country is so small that most record stores stock most styles of music, and we do too. But this is what we do best," he exclaims. With bands rolling through on any given weekend, and a constant rotation of fuzzed out, lo-fi goodness on the shelves, Death Ray is a must visit.