Published on
December 24, 2015
Category
Features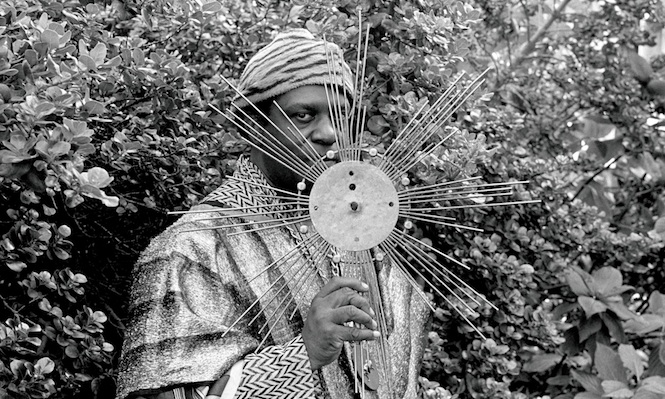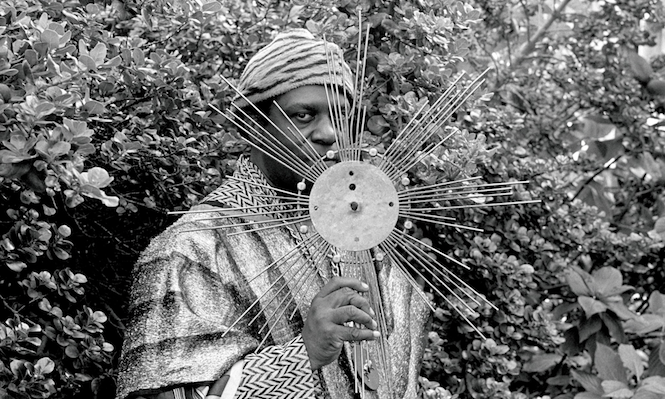 Enjoy Christmas on Saturn with this cosmic seasonal 7″.
In a discography that spans over 125 albums and 750 compositions there are bound to be a few outliers. None perhaps more so that the truly bizarre, wonderfully catchy doo-wop Christmas single written by Ra for an unidentified male vocal quartet called The Qualities and released on his El Saturn record label in 1960. Here's how one of the strangest Christmas singles of all time came to pass.
Cutting his teeth on the swing band circuit in Alabama when he was still Herman Poole Blount, Ra was no stranger to popular music and it was this tension between the mundane and the inter-planetary that that remained central to everything he did. As Robert L. Campbell writes in the liner notes to Strut records' recent compilation begin, "What do you make of a man who claimed to the be the last of the swing band leaders, yet dosed classic arrangements with LSD?"
At no point was this tension more brilliantly and unexpectedly realised as in the decade when Herman Blount became Le Sony'r Ra or Sun Ra. Assembling a Space Trio of Laurdine "Pat" Patrick and Tommy Hunter to play the strip clubs in Calumet City, it was in Chicago in the early '50s that the Arkestra found their humble beginnings.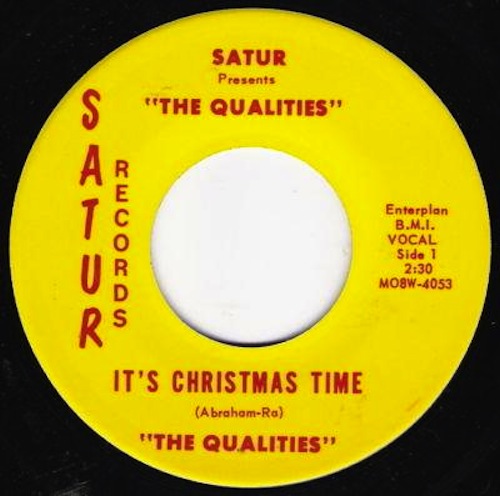 Original 'Satur presents "The Qualities"' 45 on Satur Records (not a typo)
Taking his initial inspiration from meeting with a secret society on the South side of Chicago, who found commonality between the occult, Black Nationalism and outer space, Ra was able to form an outlet for his own creativity in El Saturn Records, the label he set up with Alton Abraham in 1957.
Fascinated by recording equipment – it seems Ra was something of an audiophile in his own way – the label allowed him to record indiscriminately, documenting the different avenues down which his voracious appetite for music and creativity would take him. (From as early as the 1930s he was using a wire recorder to get popular arrangements off the radio ahead of rival bands.)
Dovetailing with his own performances alongside RnB and doo-wop vocalists in Chicago throughout the '50s, the recordings he made in this period are among the first known El Saturn releases. Featuring a skeletal Arkestra, they showcased local RnB vocal groups like the Lintels, the Clock Stoppers, the Metros and Ra's favourite, the fantastically named Cosmic Rays – four teenagers from rough neighbourhoods who worked in a barbershop. (The Cosmic Rays feature on 'Dreaming', which is included on Strut's new compilation.)
Then there was The Qualities, an unidentified male vocal group with whom Ra cut a single 7″ in November of 1957 (although some sources have it recorded as late as 1960). Not released until 1960, the single featured two festive numbers 'It's Christmas Time' and 'Happy New Year To You', recorded at home, with Sun Ra on harmonium and sparse backing from unknown players of guitar, bells and wood block.
Written by Abraham and Ra, 'It's Christmas Time' is catchy – Ra knew how to pen a pop tune for sure – and deeply strange. On the one hand a fairly straight forward doo-wop vocal arrangement, it is, to borrow the earlier analogy "dosed with LSD", the mouth clicks and off-kilter instrumentation taking the Christmas theme to another planet in the way only Ra knew how.

Norton reissue, 2011
As his infamous marathon rehearsal and performances schedules of the early '60s would testify, Ra was a musician for whom working process was as important as finished product, and as such very little concrete information has ever emerged about the recordings, although the 7″ was reissued in 2011 and has been comped in recent years on Interplanetary Melodies and an Early Singles collection released on Rooster this year. Ra devotees Yo La Tengo even recorded a cover a few years back.
In the Sun Ra canon it feels like an artefact fallen from outer space, a slab of evidence pressed in wax that life on Saturn is not too dissimilar to our own, where the music is both familiar and uncannily other. There really is nothing like it in the universe.