Published on
September 30, 2015
Category
Features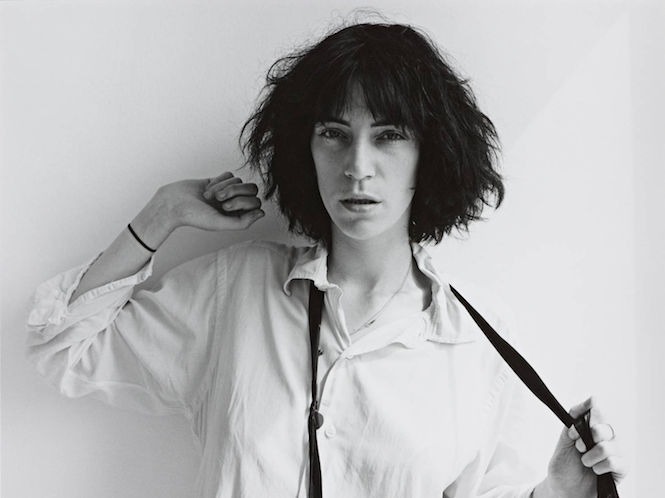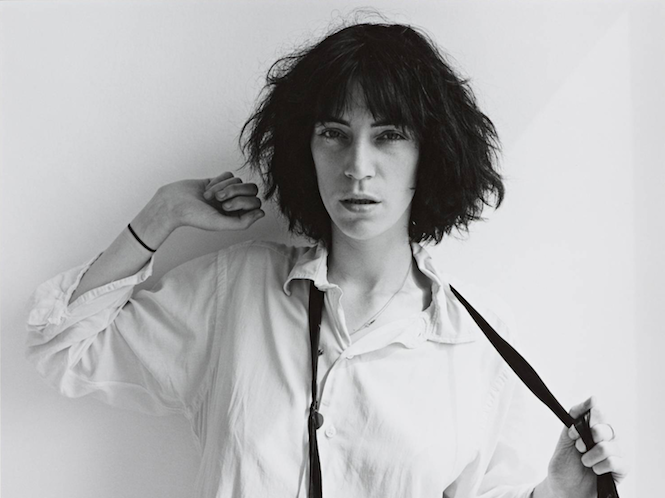 In the year that her raw debut Horses turns 40, we reflect on Patti Smith's unconventional, energised and challenging blend of rock and poetry.
---
Words: Martin Aston
---
The impact of the Patti Smith Group's debut UK show, at London's Roundhouse on May 16th, 1976, still stays with me. It was as if someone in the crowd had suddenly jumped up on stage, grabbed the microphone, and sang the songs that she'd needed to share her whole life. It felt spontaneous and energised, a visceral expression of unencumbered youth, and no other concert I've attended has matched that sensation.
The concert brought alive the raw, melodic and freeform qualities bound up in Smith's incendiary debut album, Horses, which had been released six months earlier. Alongside The Ramones' debut, Horses was the first recorded evidence of American punk; its blend of poetry and rock'n'roll wasn't unprecedented – The Doors had got there first, in 1967 – but the shape it took was unprecedented. And nothing else I've ever heard sounds like Horses.
In the year of the album's 40th anniversary, Smith and her Group – which still includes guitarist Lenny Kaye and drummer Jay Dee Dougherty – are touring Horses, including two Roundhouse shows at the end of October. Of course, Horses isn't the entire Smith story; beside her trials and tribulations – abandoning music for nine years to raise a family, then prematurely losing husband Fred 'Sonic' Smith, her brother Todd, PSG keyboardist Richard Sohl and close friend Robert Mapplethorpe (who took Horses' iconic cover photo) – there have been nine more studio albums (discounting 2007's covers set Twelve). As I found when choosing 10 essential songs by Kate Bush, the option of choosing one from each of Smith's ten is much easier.
Listen to all 10 songs in the playlist below and scroll down for the individual records.
---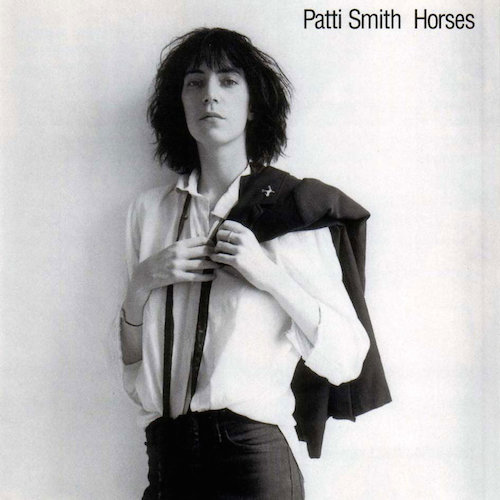 Patti Smith
'Gloria' from Horses
(Arista, 1975)
'Land' and 'Birdland' are Horses' two extended (around 10 minutes apiece) studio improvisations, without which the album would be a more conventional proto-punk merging of rickety garage rock and slower incantations. But the album's opening salvo, 'Gloria' demands inclusion, with arguably the most arresting first line of any album – "Jesus died for somebody's sins but not mine." It came from 'Oath', an older poem of Smith's that she stuck the first verse of to kick off a cover of Them's 'Gloria', "the national anthem of garage rock" according to Lenny Kaye. The PSG version starts slow, then slowly winds up the tension and pace, absorbing the original's lusty, wired libido, adding her own take ("humpin' on a parking meter") but retaining the "G-L-O-R-I-A… Gloria!" chorus that rages hard by the time the song is ending.
---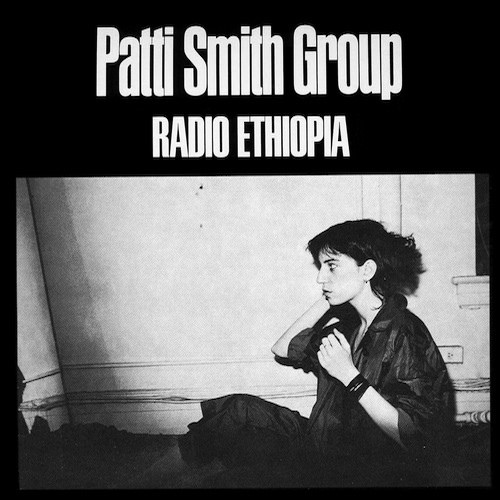 Patti Smith Group
'Ain't It Strange' from Radio Ethiopia
(Arista, 1976)
Smith fought hard with Horses producer John Cale, who had the tricky task of harnessing the Group's improvisation-based elasticity that they'd mastered in a live setting. Her choice of hard rock specialist Jack Douglas, who'd helmed Aerosmith among others, for Horses' follow-up showed a change of tack, and Radio Ethiopia (ironically, a phrase uttered by Cale on a road trip with the band) was a tougher, rockier proposition. Yet the standout track is 'Ain't It Strange', a long, slow, mesmeric spiral that obeys Smith's plea to, "transcend, transcend", with Smith at her most soulful on the chorus. It was a feature of the PSG's live set through 1976, and was to play a crucial role in the band's progress; during a rendition of the song in Tampa, Florida, Smith was spinning around, and lost her balance, falling 15 feet off the stage and breaking several vertebrae in her neck.
---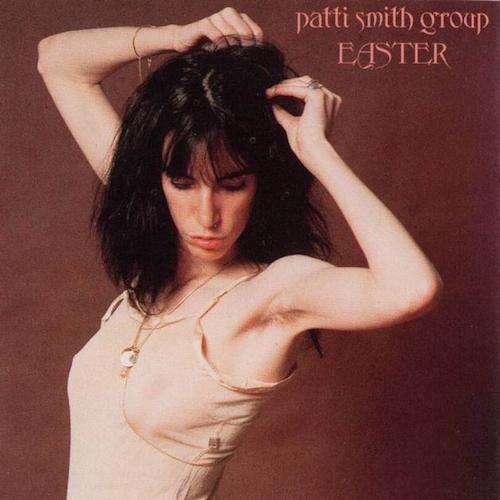 Patti Smith Group
'Because The Night' from Easter
(Arista, 1978)
Smith's injury came as she was singing "hand of God, I feel the finger" which she took as a message from above (namely, "you keep battering against my door and I'm gonna open that door and you'll fall in" she explained). Easter was a kind of rising, then, yet a relatively calmer and more conventional record, again reflected in its producer, Bruce Springsteen associate Jimmy Iovine. Springsteen was part of Easter's commercial rising, donating 'Because The Night': Smith retained the chorus "Because the night belongs to lovers" but otherwise added new lyrics. The song severs the PSG from any punk – or even new wave – association, siding more with Great American Pop-Rock, with a rousing chorus and a structure that had something of Phil Spector/Girl Group drama to it. 'Because The Night' reached number five in the UK and 13 in the US; job done.
---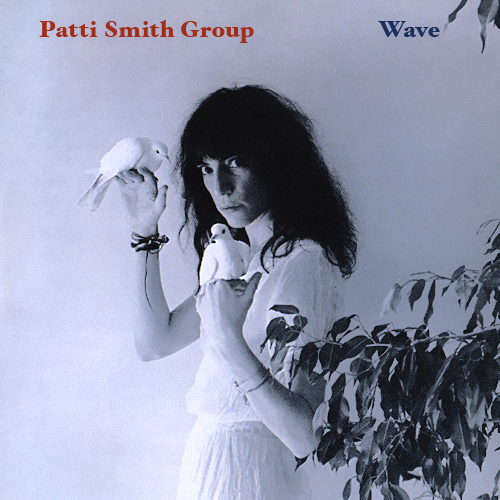 Patti Smith Group
'Dancing Barefoot' from Wave
(Arista, 1979)
Sandwiched between two tributes – the opening 'Frederick' for future husband Fred and the closing title track for Pope John Paul I (this, coming after an album named Easter!), Wave further streamlined the PSG mode, with the longest track at 5.09 minutes, and Todd 'Bat Out Of Hell' Rundgren producing. 'Frederick' resembled 'Because The Night' (but only reached no.63), but it's effortlessly outshone by the album's second single 'Dancing Barefoot', also inspired by Fred ("She is benediction / She is addicted to thee / She is the root connection / She is connecting with he") but a more simmering, serene ballad that you couldn't imagine Horses-era PSG being able to master – though a link to Smith's past is provided by the spoken-word poem over the chorus fade-out. Its Smith's most covered song (by U2, The Mission, Simple Minds and First Aid Kit among others), though she wasn't looking to maximise her popularity; Fred asked her to move to Detroit, and she was off, leaving New York and her band for a new beginning.
---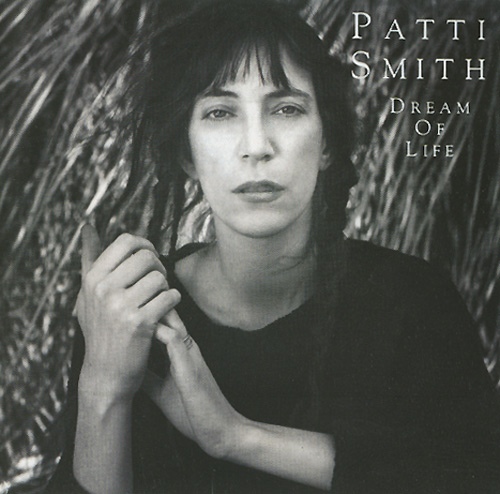 Patti Smith
'Going Under' from Dream Of Life
(Arista, 1988)
Smith had been absent for nine years when she and Fred made a collective comeback, the latter co-producing (with Jimmy Iovine), co-writing (with his wife) and playing the guitars. No Lenny Kaye, in other words, which is part of the album's un-PSG-like, more keyboard-heavy AOR feel that was part of Fred's plan to get Patti a gold record on her return. Lead single 'People Got The Power' has an anthemic propulsion, but, sorry, it doesn't hold a candle to most of its 45rpm predecessors. 'Up There Down There' has the requisite power, 'The Jackson Song's is a very touching lullaby to the couple's first-born, but for me the best song is 'Going Under', like a threadbare 'Dancing Barefoot', endearing warm and yet vulnerable, and she's singing as if she's never been away. That said, it pains me to choose a track from Dream Of Life when I could have another essential chapter from Horses.
---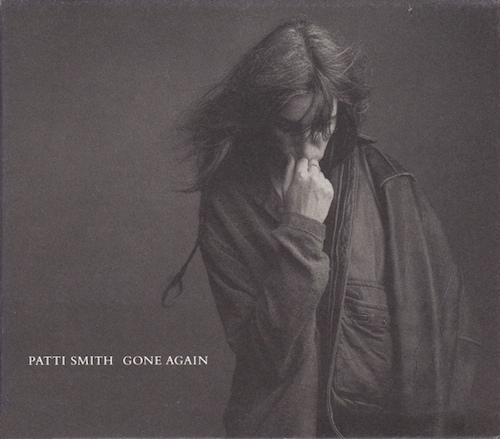 Patti Smith
'About A Boy' from Gone Again
(Arista, 1996)
This was so much more like it! But the reason is so sad, as after another musical break of eight years, a bereaved Patti returned to New York and a reunited PSG, albeit one missing Sohl. New blood was injected via young guitarist Oliver Ray, and with no gold-record mission in mind, Gone Again smouldered with direct grief, rage and wisdom on an album of elegies to match Horses' finale 'Elegie', which had been inspired by the premature loss of Smith's spiritual angels Jimi Hendrix and Jim Morrison. A more recent loss keenly felt by Smith had been Kurt Cobain, who she addressed in 'About A Boy', pitched halfway between a scorched ballad and an improvised meditation that seemed to draw on the lyric "from a chaos raging sweet".
---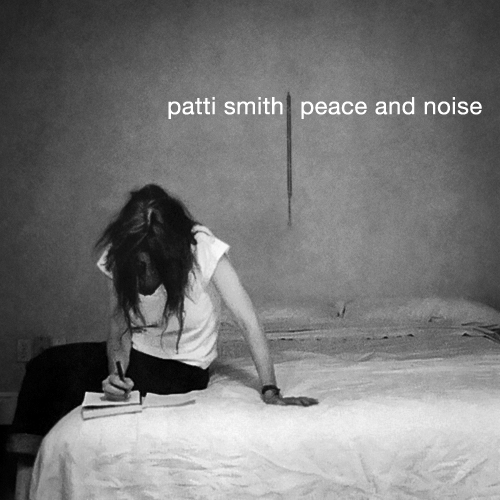 Patti Smith
'Death Singing' from Peace And Noise
(Arista, 1997)
After two albums in 19 years, Smith now had two in two children more grown up and her creative focus revitalised. Like its predecessor, Peace And Noise had no iconic cover image, with Smith again avoiding the camera's gaze, lost here in the writing process. Given what's past, it's no surprise she's named a track 'Death Singing', and invested it with a stripped-back, swaying arrangement, like a Native American spiritual, but what's unusual is it's anything but downbeat, as if Smith was not going to be defeated by her tragedies. For fans of her length freeform improvs, there was 'Memento Mori', and a guest backing vocal from Michael Stipe, returning the favour of Smith's guest role on R.E.M.'s 'E-Bow The Letter'.
---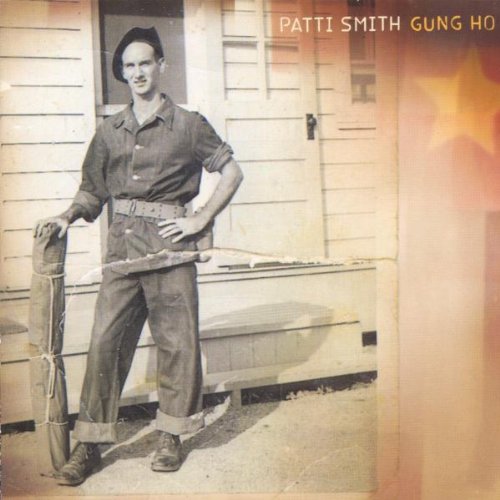 Patti Smith
'Glitter In Their Eyes' from Gung Ho
(Arista, 2000)
That the focus of Gung Ho was less Smith than before is mirrored by being the first album without her image on the cover (it's a picture of her father Grant as a young soldier). The lyrics are directed at political, environmental and all-round utopian issues, like a series of wound-up 'People Have The Power' missives, with titles such as 'New Party' (adopted as the official song for independent candidate Ralph Nader's presidential campaign that year), 'One Voice' and 'Upright Come'. Its Mother Earth urgency was still predominantly slow-paced (as was its two predecessors), which serves to highlight the speedy 'Glitter In Their Eyes', a sharp anti-materialist rant ("Genius stalking in new shoes / Have you got WTO blues / Dust of diamonds / Making you sneeze") with an echo of the adrenalin-soaked PSG of old, albeit polished up by producer Gil 'Pixies' Norton. Another guest Michael Stipe vocal reinforces the feeling that 'Glitter In Their Eyes' sounds rather like R.E.M., down to its title.
---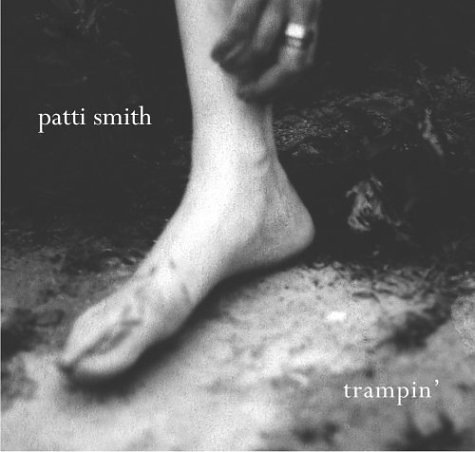 Patti Smith
'Trampin'' from Trampin'
(Columbia, 2004)
Smith's first album for Columbia, Trampin' doesn't have the same sense of renewal; not only is the cover her fifth consecutive monochrome shot (I'm discounting Gung Ho's sepia edges), this time of a foot that's clearly been, yes, trampin', but it ticks most PSG boxes without adding anything. But having ignored it for a decade, getting reacquainted with Trampin' reveals a shift into ballads, such as 'Mother Rose', 'Cash', 'Peaceable Kingdom', 'Cartwheels' and the title track, which I've singled out because a) it's gorgeous, b) Smith's daughter Jesse plays simplistic piano beneath her mother's vocals melody that's part lullaby, part blues, and c) because in some way, it resembles a dream of life as opposed to the feeling of loss that had dominated Smith's work for years.
---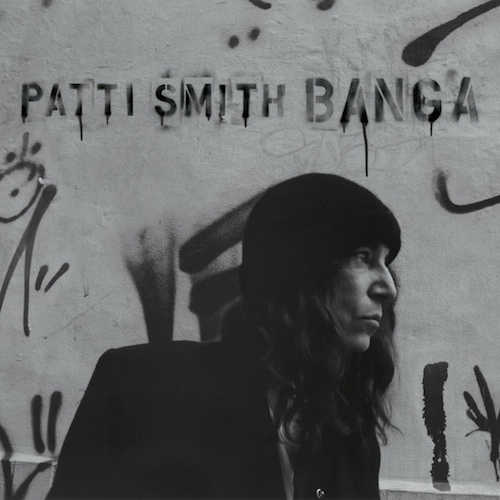 Patti Smith
'Constantine's Dream' from Banga
(Columbia, 2012)
The covers album Twelve (2007) was a bigger shift, especially with unexpected choices ('Everybody Wants To Rule The World') among Hendrix, Doors, Dylan and Nirvana. The Coral Sea concert (2008), with Smith reading an extended poem about Mapplethorpe over Kevin Shields' improvised guitar, was another unexpected turn. Then came a spot of acting, publishing a book of photos and her exquisite Mapplethorpe memoir Just Kids. After all that, Smith's first album of originals in eight years sounded truly refreshed, continuing the restraint and tenderness of Trampin', like she'd truly found a resting place rather than all that rage and grief. That said, 'This Is The Girl' and 'Maria' are two sombre elegies for Amy Winehouse and (actress) Maria Schneider respectively. But this album's requisite marathon, the 11-minute 'Constantine's Dream', epitomises Smith's questing ruminations, but recast in a quieter, sober setting. After all, Smith is now nearer 70 than 30, but the essence of what she does hasn't changed.