Published on
October 9, 2015
Category
Features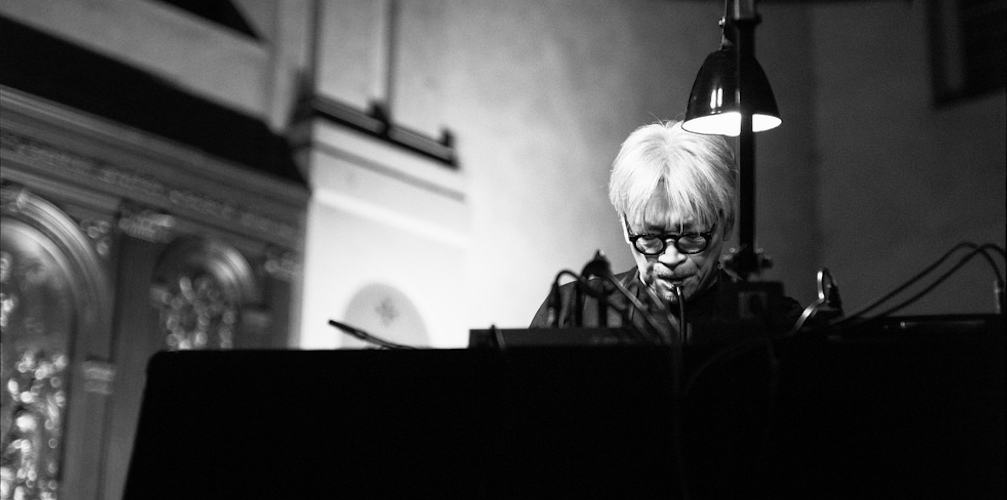 From the synth funk mastery of Yellow Magic Orchestra to minimal collaborations with Alva Noto, James Hammond unpicks ten milestones from the extraordinary career of Ryuichi Sakamoto.
Whilst adventurous music can often have a polarizing effect, the emails and feedback St John Sessions received following Ryuichi Sakamoto and Taylor Deupree's performance at St John at Hackney church in February 2014 were amusingly pronounced. For some Sakamoto's unconventional engagement with the piano was a sublime exercise in subtlety, texture and atmosphere, and for others a supposed "non-event"- alarming in its absence of the Satie-like melodies that are commonly expected of him. Such reactions are hardly surprising given Sakamoto's expansive fan-base, accumulated through a vast discography and a 40-year career, which has covered innumerable styles and sought to actively defy genre-specifics. Here is a musician who is also an actor, soundtrack composer, producer environmental activist, model, a prolific collaborator and who could release back-to-back albums of surreal, easy-listening inflected pop music next to a dissonant orchestral lament on famine. His musical and career boundaries are decidedly on a map of his own making.
Growing up amidst the post-war Westernization of Japan, Sakamoto's first musical loves were The Beatles, alongside Bach and Chopin. It was whilst studying at Tokyo's University of Art that he became versed in the avant-garde and free improvisation, and also discovered the music of Claude Debussy, which has proved to be an enduring influence on his piano playing. So from an education in the conventional and non-conventional, a love of pop, rock and exotic sounds, the foundations of this vast discography were set. In celebration of the LP release of his and Taylor's performance at St John's, the list below serves to explore some key works from the start of his career up to the present, and join some of the dots of a rich and multi-faceted body of work.
---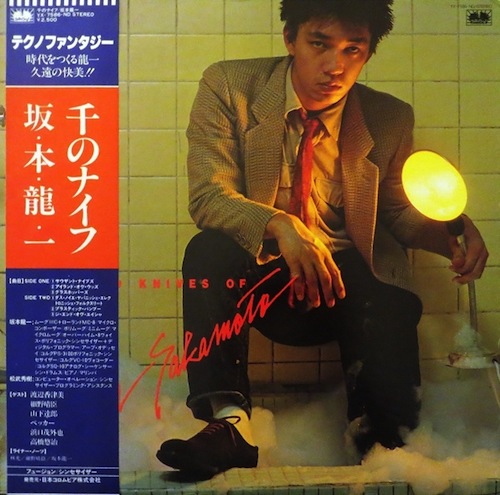 Ryuichi Sakamoto
Thousand Knives Of
(Better Days, 1978)
Opening with a vocoded rendition of a Mao Zedong poem, before launching into a drum programmed synth panoply with guitar shred in tow, and all named after Henri Michaux's description of the mescaline experience – Thousand Knives was quite a way to kick off a solo recording debut. Informed by his diverse musical education and considerable experience within the developing age of Moog, Buchla and ARP synthesizers, the seeds of Sakamoto's genre-blurring craft can be found in this one. Playful yet shying away from the atonal and questing to find new forms of expression through technology, this record would also impact his future production approach with the records of the recently formed Yellow Magic Orchestra. Sakamoto's prowess on the piano also makes its first appearance amongst the electronics on Grasshoppers.
---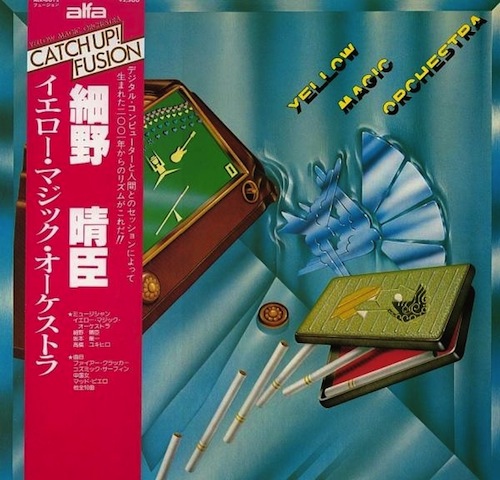 Yellow Magic Orchestra
Yellow Magic Orchestra
(Alfa, 1978)
One of Sakamoto's most influential and well known projects, as keyboardist for Yellow Magic Orchestra his work was projected onto the world stage, and inspired a generation of electronic musicians in its wake (check out Ken Ishii and Tesuo Inoue for a couple of fine examples). Whilst indelibly on the group's musical radar, just referencing them as Japan's answer to Kraftwerk is an injustice given the genres they explored album by album and their unique and oft humorous take on "Asianness" and its exotic perceptions. That they were shooting for a mass international audience is no secret as group founder Haruomi Hosono targeted US listeners hoping the rest would follow suit, but the popularity they subsequently achieved didn't always rest easy with Sakamoto, and in part instigated his move onto further solo projects. Check out this live performance of 'Firecracker' on US variety show Soul Train for a blast of YMO at its best.
---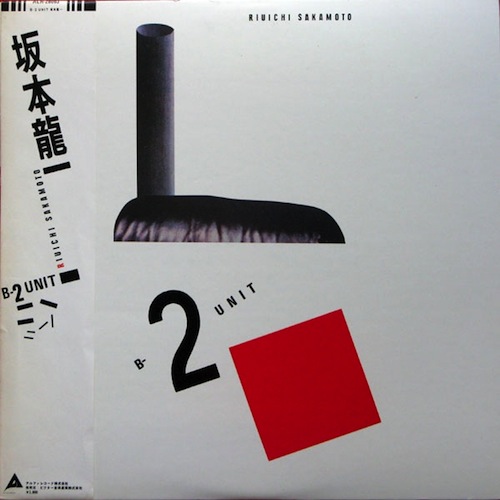 Riuichi Sakamoto
B-2 Unit
(Alfa, 1980)
B2-Unit contains one of Sakamoto's most seminal tracks – the years ahead of its time, funked-up electronic odyssey 'Riot in Lagos'. A staple in any worthwhile list of '80s electronica, it's no mistake of the imagination to hear some of the ground covered here, as the footholds that Aphex Twin and Boards of Canada would further launch from in the '90s. Recorded in London with XTC's Andy Partridge, as a whole it's Sakamoto at his most adventurous, and marks a clear branching out from the populism of his work with YMO. A good place to start with Sakamoto if you're a fan of experiments for the dance-floor.
---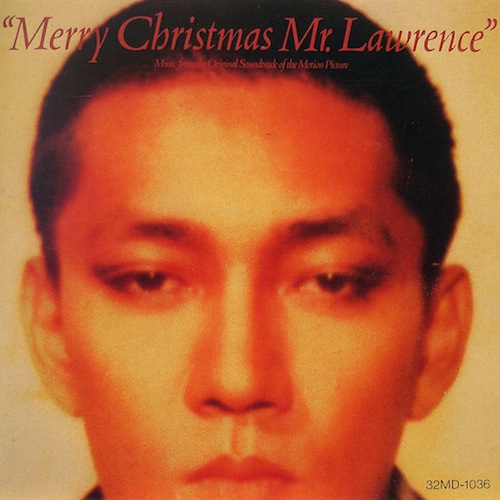 Ryuichi Sakamoto
Merry Christmas, Mr. Lawrence
(Virgin, 1983)
Sakamoto's first foray into film soundtracks and one that oddly enough took him onto the screen alongside David Bowie, as director Nagisa Oshima insisted he was the man for the part despite his complete lack of experience as an actor. A fan favourite (no surprise to see a queue of fans at the St John's show wanting their LP copy signed), Sakamoto himself has criticized it for being too sentimental, whilst the main theme has been a companion of his live show throughout his career – whether stripped down to piano basics or processed through the sonic lens of Alva Noto. It also surfaces again on the soundtrack LP as lyrical version 'Forbidden Colours' with key collaborator David Sylvian, and is one of the finest examples of their mutual abilities to make enduring and affecting pop music.
---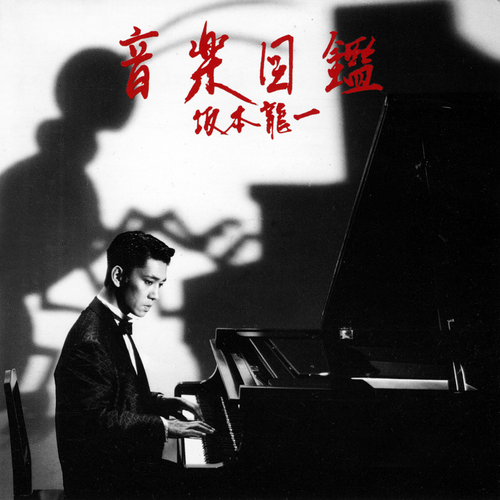 Ryuichi Sakamoto
Illustrated Musical Encyclopedia
(10 records/ Virgin 1986)
As you might expect from the title, with Illustrated Musical Encyclopedia Sakamoto was painting from a particularly broad palette of genres. Sure there's elements of the production that are cloyingly of its time, but it's hard not to be charmed by something as suave and unabashedly ebullient as 'Etude'. Jazz-funk-fusion that verges on easy listening sounds like a nightmare on paper but like many of his genre-defying concoctions the allure is in the listening.
---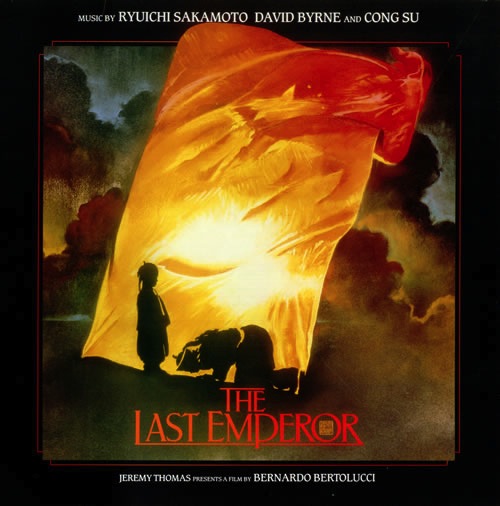 Ryuichi Sakamoto / David Byrne / Cong Su
The Last Emperor OST
(Virgin, 1987)
With an extensive list of film scores to his name, it's an area that's birthed many classics of Sakamoto's repertoire and his themes here are amongst his most lauded. His first of three works for Bernardo Bertolucci- who apparently prowled around the studio demanding more emotion from the recording- it's a flexing of Sakamoto's compositional muscles that in turn was awarded the Oscar for best original score, as well a Golden Globe and Grammy amongst other accolades.
---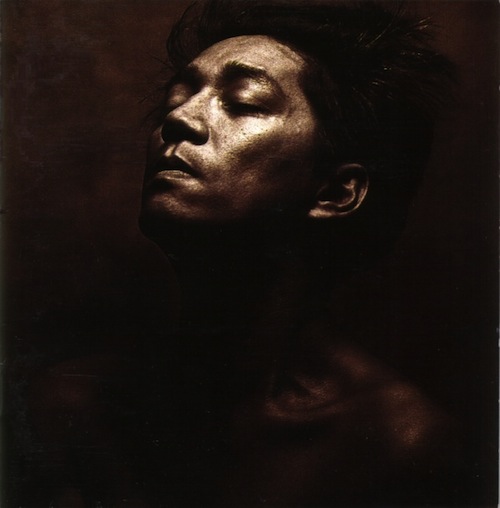 Ryuichi Sakamoto
Beauty
(Virgin, 1990)
Beauty shares a commonality with Jon Hassell's notion of a "Fourth World" music in its vast absorption and cross-pollination of numerous global music styles, to create something that sounds "geographically promiscuous". Bossa Nova, traditional Okinawan folk song, funk, punk, soukous, techno, with countless pop inflections, and that's just a few starting points for the ground covered within this beguiling blend, that also features the likes of Brian Wilson and Youssou N'Dor. In an amusing mirroring of Sakamoto's outer-national explorations of different musics, this record reached number 1 in his native Japan – but in the "foreign" chart.
---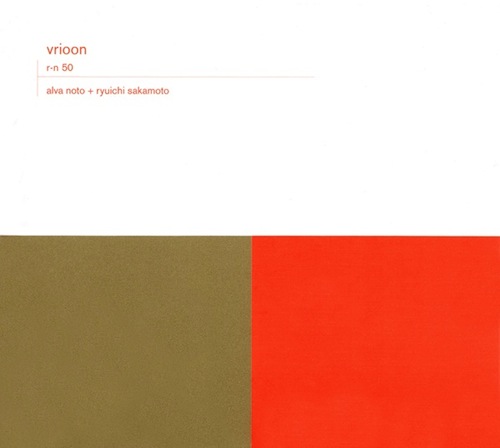 Ryuichi Sakamoto + Alva Noto
Vrioon
(Raster-Noton 2003)
Sakamoto stated in a past interview with The Quietus: "I like collaborating with people who have something I don't have – a skill, an idea… I'm always looking for something surprising – like everyone else, I need inspiration and triggers." Carsten Nicolai aka. Alva Noto was one of these key triggers and the recording dialog between the two (often via email) has produced some remarkable work. Vrioon is their first effort, and a unique blend of piano eddies and filigree electronics, that marks an adventurous expansion of Sakamoto's piano vocabulary.
---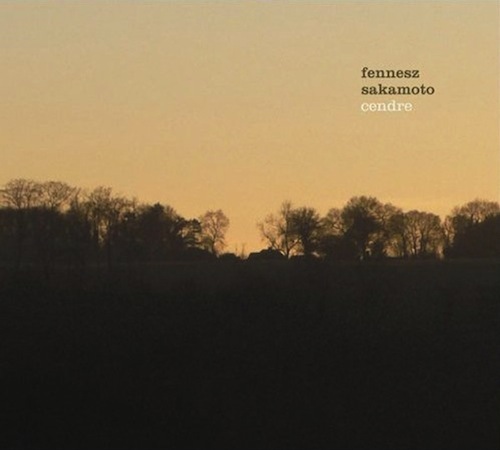 Ryuichi Sakamoto + Fennesz
Cendre
(Touch, 2007)
Furthering some of the ambient inroads made with Alva Noto, Sakamoto's collaborations with laptop-guitar maestro Christian Fennesz forms another key part of his back-catalogue. In Fennesz he found a kindred spirit in exploring noise and sound- terms that in Japanese are not differentiated by the word Oto, which is the title track to this warmly textured voyage. Recalls the ambient works of Brian Eno and Harold Budd.
---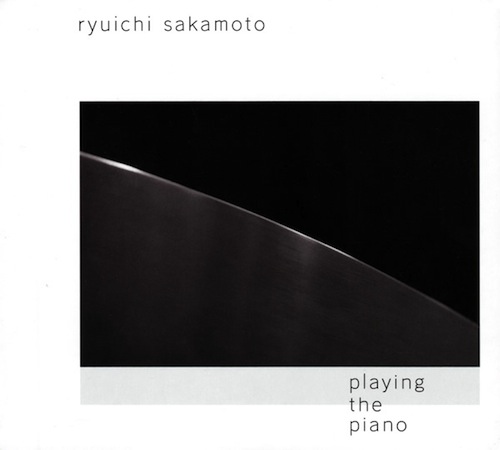 Ryuichi Sakamoto
Playing the Piano
(Decca, 2009)
A Ryuichi Sakamoto greatest hits of sorts, the immense variety of his back-catalogue is condensed and stripped back here through his primary voice – that of the piano. Whereas previous release 1996 had a similar concept with a piano trio, here it's a solo performance, and as a career retrospective it's testament to the number of remarkable melodies he's written, with his love of Debussy, Ravel, Satie and French impressionism is in full flourish. It seems telling that France awarded him the Ordre De Artes et Lettres for his contributions to cultural exchange in the same year.
---
Ryuichi Sakamoto & Taylor Deupree Live is out now on ThirtyThree ThirtyThree in collaboration with The Vinyl Factory. Click here to order your copy.