Published on
May 22, 2014
Category
Features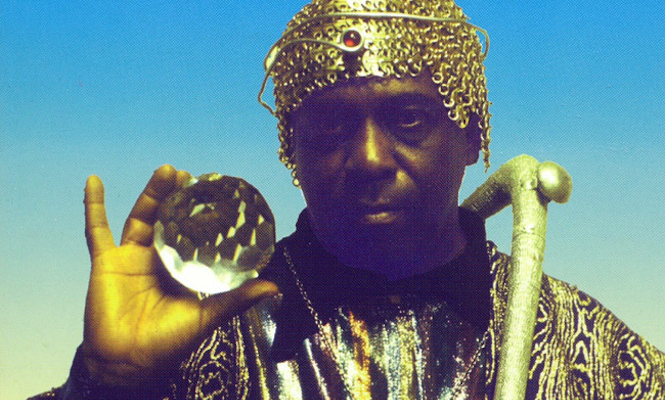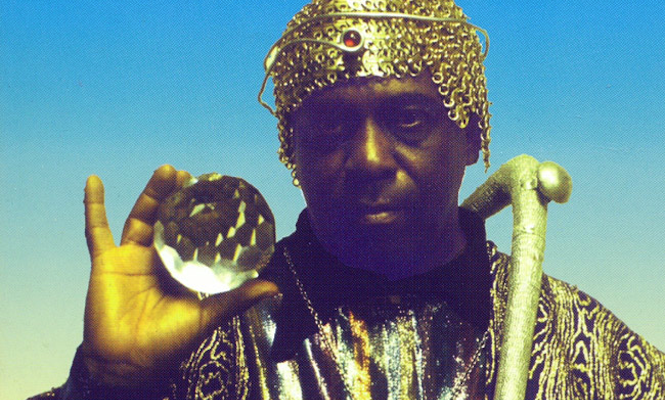 A broad selection of musicians, producers and collectors share their extraordinary personal experiences of the music of Sun Ra. 
As far as anybody knows, Sun Ra was born Herman Poole Blount on 22nd May 1914, making 22nd May 2014 the day that would have marked his 100th birthday. While there's something curious and slightly arbitrary about these milestones, Sun Ra is a musician for whom a posthumous celebration perhaps makes most sense, given that birth and death weren't really concepts he bought in to. For in the narrative he spun for himself, he was never born (and therefore, presumably, would never die), but instead was delivered to Earth from Saturn in order to spread universal truths from the cosmos.
If you've got this far you'll be at least vaguely familiar with the story. Pianist and band-leader Sun Ra was a colossus, a visionary, teacher, poet and thinker whose revolutionary approach to form in the arts pushed the limits of human creativity to the brink, a man who constructed a myth around himself that shone celestial light on the day to day experience of black Americans and sought to reconnect that identity with its roots on the Ancient Egyptian banks of the Nile. In the words of pianist Lonnie Liston Smith "Sun Ra was Sun Ra, the name alone was enough".
The resonance of that name and its significance for contemporary music is by no means restricted to the esoteric or strictly jazz-minded. He is the source for a stream of afro-futurist aesthetics that runs through George Clinton's P-funk and Afrika Bambaataa's Zulu Nation, through hip hop, house and techno to modern exponents like Madlib, Flying Lotus and Janelle Monae.
Furthermore, overflowing from this central stream, his collateral influence has been huge. More a teeming river that has burst its banks, extending itself into the surrounding areas, the reach of Ra's influence, whether in teaching, music, art and even politics has saturated the roots of contemporary music more than we could ever begin to document.
To give you an impression of this fertile breadth, we've gathered testimonies from across the spectrum of musicians, producers DJ's and collectors. From the likes of jazz legend Lonnie Liston Smith, who witnessed Ra first hand as he was forging his own career in the creative furnace of 60's New York, to Brainfeeder beat man Ras G and Detroit techno ambassador Mike Huckaby, whose own work most directly reflects the ethic and feeling of the myth of Ra.
Our brief was intentionally vague, accompanied, when requested by a few prompts and the responses were varied and idiosyncratic in the extreme, their myriad styles as much a testament to the liberated legacy of Ra as the music itself. Sun Ra undeniably evokes in people the urge to be expressive and we hope this has been captured.
Finally, before we begin, as our friends at FACT alerted us to, Mr Beatnick, in his infinite wisdom, dedicated his most recent show on NTS Radio to Sun Ra. We strongly advise you accompany the reading below with his superb 2-hour selection.
Mr Beatnik, 100 years of Sun Ra – 20th May 2014 by Nts Radio on Mixcloud
---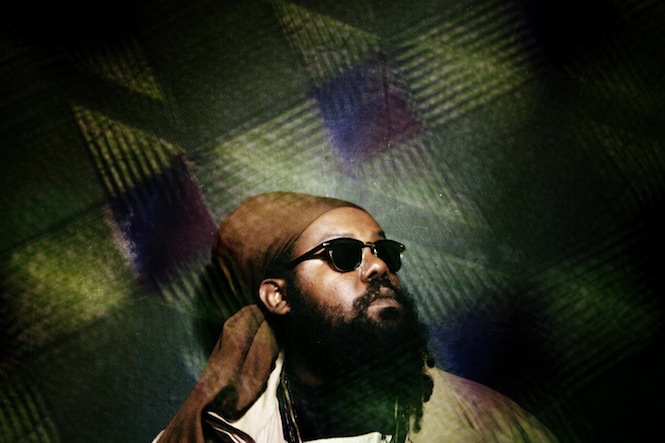 Ras G
Few musicians working today can claim to be more directly influenced by the afro-futurist teaching of Sun Ra than Ras G. Brainfeeder beats head and leader of the 'Afrikan Space Program', Ras G's 2011 and 2013 LP's Space Base Is The Place and Back On The Planet channel Ra's extra-planetary rhetoric and are peppered with oblique and explicit references to his music and poetry. Rumour has it (and as this photo suggests), he also owns an unprecedented collection of Sun Ra rarities.
---
When did you first hear the music of Sun Ra and what were your first impressions?
Well, it started like this… I used to shop all the time at Aron's Records and there would be the first place I ever seen a Sun Ra album. The album covers with the crazy song titles used to catch my eye and interest, so without listening I just grabbed My Brother The Wind (orange joint) because it looked more musically accessible to my sampling taste at the time. I took that record home had a listen and it literally had me on some edge-of-seat shit. I never heard a record like it before, it was spiritual, bluesy, and cosmic all at the same time. It made me go back and buy more Sun Ra, but none of the others hit me like that one did. That album was the spark to my Sun Ra addiction.
In what ways has his music influenced your own work?
His discipline and precision – which is what I am stern on in my own creative life. It kind of made me feel not so alone on this planet. His work ethic made me feel like I wasn't doing enough, it made me reach in that same endless reservoir of creativity to channel the music that I make.
I strive to go in every creative direction in my music like how when I buy a Sun Ra El Saturn record the style of music Sunny and The Arkestra present is always everywhere, all over the planet and at the same time all off the planet. You can never really have an expectation sound-wise as to what they will sound like, you just know that your buying an exciting musical experience.
What is your all time favourite Sun Ra record and why?
Hard to say a favourite of all time but my favourite this is week is Antique Black.
---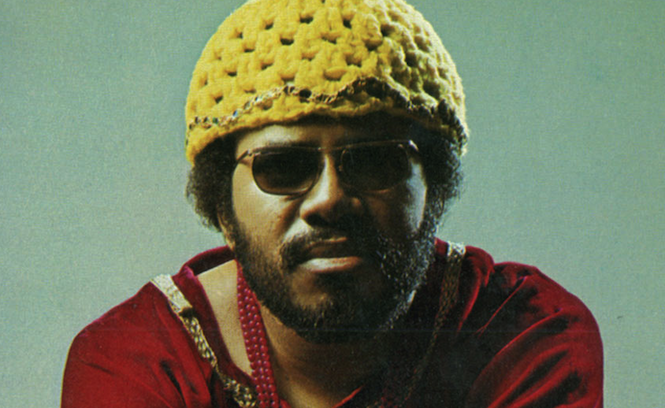 Lonnie Liston Smith
A bona fide legend, Lonnie Liston Smith made it big in the 70's with his own Cosmic Echoes band and jazz funk classic Expansions. That said, he cut his teeth in the bars of 60's New York, alongside 'Trane and Ra, with whom he would hang out and go book shopping. With stories to burn, this is just a snippet taken from our full interview with Lonnie to be published soon, in which he discusses the influence of Sun Ra in more detail and reveals what is was like to work with Miles Davis.
---
When did you first encounter the music of Sun Ra and what was it like learning in that same musical environment?
Well I got to New York in the early 60's, because I wasn't aware of Sun Ra until I got to New York. I used to go hear him play with the Arkestra.
Just by being around Sun Ra and the band and listening to Sun Ra, that automatically opens up your mind. So for me 'to see him' didn't mean anything because my whole thing is being based on the hearing, that's the most important thing, because most of the things you see are illusions anyway.
But even the costumes were way ahead of the time. You have to give Sun Ra credit because he was really ahead of his time with all the different sounds, so he was definitely the pioneer. The main thing that you could learn from Sun Ra was that you could just keep going, so far as experimentation was concerned… because what he was doing no-one had thought of.
What's your favourite Sun Ra record?
Well, that's a hard one. I didn't really buy any of Sun Ra's records because I could just go and hang out when they were performing, or go to one of their rehearsals, so I didn't need the record! Sun Ra, his music was so open and creative, and his creativity was spontaneous and in the moment, so [with] Sun Ra's records, there was nothing you could really hold on to, you just had to experience it, just like you experience the concert. I didn't have to buy the records because I was in the midst of it.
---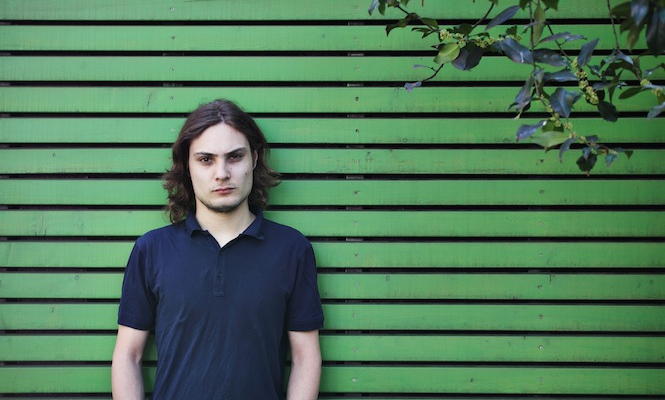 Motor City Drum Ensemble
Danilo Plessow aka Motor City Drum Ensemble is another of the young guard of producers whose own output is the product of a voracious appetite for music way beyond his chosen genre, as evinced in his fantastic DJ Kicks compilation from 2011 opens with Sun Ra's 'Door To the Cosmos'.
---
What's your favourite Sun Ra record and why?
My favourite Sun Ra LP has got to be one of his later efforts entitled Sleeping Beauty. While I'm also very fond of his early, more hard-bop adventures in sound, Sleeping Beauty just moves me like few other albums out there. The delicate, out-of-tune and lo-fi aesthetic of the record hits a soft spot for me and in the right moment it will make me feel either full of joy or really really sad. The power of music I guess!
I foolishly passed on an original copy with a hand-drawn cover by Sun Ra himself a few years ago simply because I was strapped for cash. I regret it to this day and the reissue is really just a placeholder until I get the real deal. Better start saving as it's one of those elusive $300+ records…
---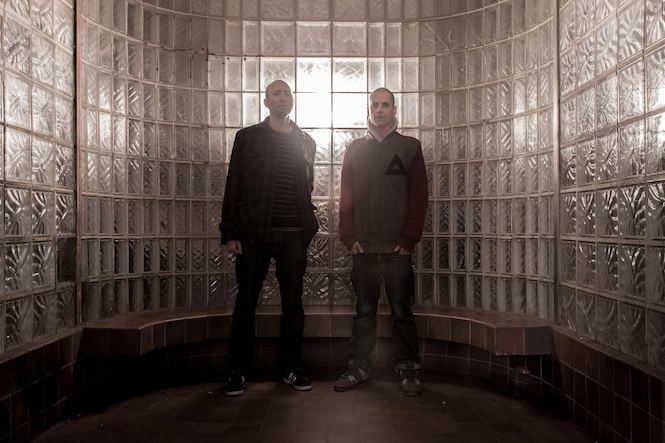 LV (Will Horrocks)
South London production duo LV have made a name for themselves as purveyors of eclectic bass music, one minute bringing South African vocalist Okmalumkoolkat to the fore on their superb 2011 Hypedub LP Sebenza, then next working with jazz/Gnawa experimentalists Fawda Trio. With remix work for everyone from Nitin Sawney to Portico Quartet, it's no surprise there's more than a bit of Sun Ra hidden away within their record collections.
---
When did you first hear the music of Sun Ra and what were your first impressions?
My stepdad Paul has been a huge influence on my musical life and Sun Ra is one of his great loves. I can remember listening to 'Space Is The Place' with him on car journeys when I was younger and he still gets me a Sun Ra album pretty much every Christmas, something which I now do for him in return if I can find a record he doesn't have.
What is your all time favourite Sun Ra record and why?
My favourite Sun Ra record would be different each time you'd ask. Today it's My Brother The Wind by Sun Ra and his Astro-Solar Infinity Orchestra Featuring John Gilmore on percussion. It's from 1970 and features a tiny band of only four players including Sun Ra, who is credited as playing "two Moog Synthesizers". The sound of the record, particularly the drums, is incredible. But moreover, it is a beautiful example of the playfulness and absurdity that makes Sun Ra records such fun and exuberant celebrations of music and life.
---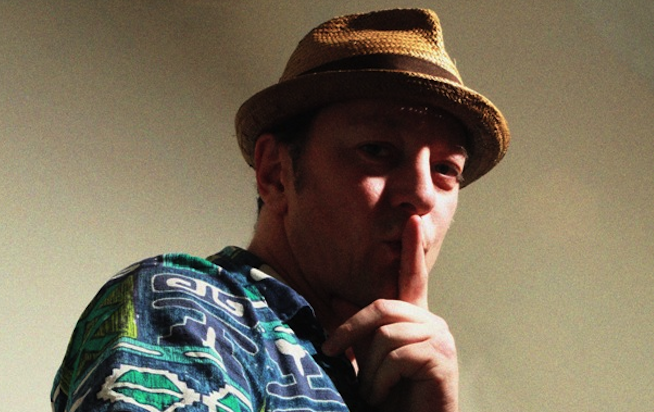 Jazzman Gerald (Jazzman Records)
The man behind legendary deep digging reissue label Jazzman Records, Gerald Short aka Jazzman Gerald is a veritable authority on all things jazz, funk soul and beyond. Alongside countless lost essentials, Jazzman released two hugely popular limited edition triple 7″ Sun Ra box sets in 2010 and 2011.
---
When did you first hear the music of Sun Ra and what were your first impressions?
It was probably in the early 90s when notorious record hustler Brian 'The Jazz Doctor' approached me at my record stall in Camden to ask me to get him some Sun Ra LPs on my US buying trips. He was asking for the rare ones, such as When Sun Comes Out or Supersonic Jazz etc, and I managed to get him a few of them, which we traded for other records. Upon listening, I didn't get it at all. The music was way too far out and crazy for my liking. I was glad to hand them over in trade for something else. However, curiosity got the better of me, so I started at the shallow end like most people with Space is the Place and Strange Celestial Road etc, before moving on to the more esoteric stuff. Ra's music was – and some still is – way over my head, but as the years go by, like with all music, some things come into favour, tastes and interests develop, while others are left behind.
In what ways has his music influenced your own work with Jazzman?
Many of his LPs were home made, that is to say hand-drawn covers, personalised and abstract – so far removed from the usual commercialised record products conjured up by the marketing departments of record companies. Musically it was the same, Ra did what he did, he didn't really pay too much attention to fashion or what everyone else was doing. He has his thing, his vision, and he followed it through without looking back, right to the end, never selling out. I'd love to be in that kind of position, and I try and run my business along those lines to a certain extent, but there is only one Ra.
What, in your opinion, has been his most important legacy?
With 5 billion people on this planet it is not easy to be a one-off, yet Ra was and always will be. His legacy, in that sense, is that he showed it's possible to live your life along your own terms, so long as you have something special to offer. And what he offered was amazing, innovative, unique music, the likes of which will never happen again.
What is your all time favourite Sun Ra record and why?
I have the Fireside Chat with Lucifer LP simply because I like the title, it's the best title! But musically it has to be the one where he plays with Salah Ragab and the Cairo Jazz Ensemble in Egypt. Where two masters meet on one record, what more can you want?
---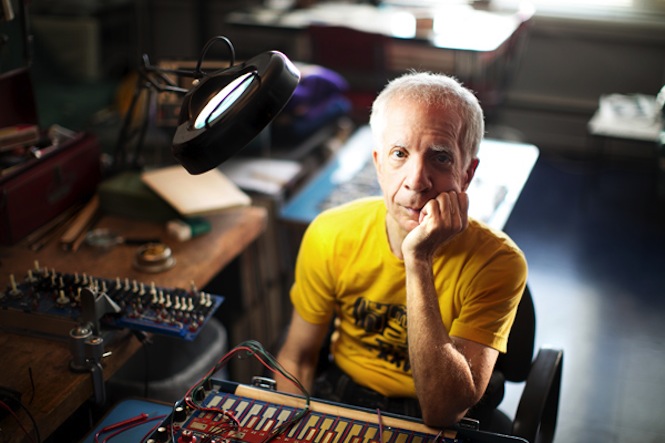 Charles Cohen
Only recently getting the wider recognition his work deserves, Charles Cohen has spent the last 30 years manipulating the Buchla Music Easel – an experimental synthesizer manufactured in eye-wateringly small quantities in the 70's. With a retrospective of his early works now out on Morphine Records, Charles's free-jazz, avant-disco synth experiments have finally reached a wider (albeit still specialist) audience. (For this feature, Charles has allowed us to publish a portion of a recent interview he gave to NTS Radio.)
---
He [Sun Ra] was a big influence. One example is that I'd always considered, at that time, synthesizers as a studio instrument only. I'd already had experience with synthesizers – big Moogs and what not – and it seemed appropriate for studio work but not really for live performance, but, I finally saw Sun Ra play a mini-Moog in a performance and that was like one of those 'Ah ha' moments, you know.
He always used electronic instruments. Hid early instruments were electric keyboards like Clavinets and Rhodes and organs and that sort of thing, but when the synthesizers became available he switched.
---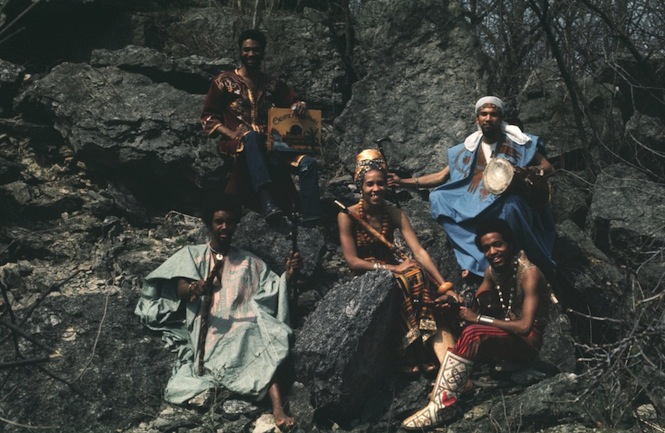 Idris Ackamoor
Co-founder and artistic director of spiritual jazz outfit The Pyramids, who self-released a trio of legendary albums in the 70's, there are few musicians who have been so visibly tied to the work of Sun Ra as Idris Ackamoor. Emerging out of the "same breath", as he likes to say, Ackamoor merged ancient teaching with free jazz and a penchant for extrovert costumes, making The Pyramids instantly recognisable as of Ra's ilk. Having reunited to release a brand new album Otherworldly in 2012, The Pyramids have begun touring again, and their live shows are simply spectacular. For this feature, Ackamoor remembers the epiphany of seeing Sun Ra live for the first time.
---
I first encountered the Artistic Being, Sun Ra, at the 1971 UC Berkeley Jazz Festival. Ra and his Arkestra had beamed down from the cosmos to materialize in the ancient looking Greek Theater on the campus of UC Berkeley before a thousand devotees in the audience. I had never experienced a "live" Sun Ra concert and to this day I can see flashes of color, sun bursts of notes and sounds rising and circulating in my minds eye. I ask myself, "was I there? Did I really see Sun Ra on the same stage as Alice Coltrane… on the same night?" Or was it something I experienced on another planet… in another time? After a brief internet search, yes, it happened those many years ago and I was not imagining it.
The evening was a transformative experience. The melodic sounds… the otherworldly sounds… the cacophonous sounds fed my soul and spirit. It was like a musical three ringed circus on the planet Venus with Sun Ra being the ring master conducting the proceedings with a wave of his hand, the bend of a finger, the movement of his cape as John Gilmore unleashed a sonorous gut wrenching barrage of cascading notes. Marshall Allen playing his alto like a golden serpent that had to be stroked… flailing his fingers across the scales and coaxing unheard of sounds… screeches… howls… human cries of unmitigated freedom and expression.
I was 18 months away from co-founding my own Afro psychedelic cosmic band of sound, The Pyramids. I was enrolled studying music at Antioch College performing with my pre – Pyramids band, The Collective, with my future wife, Margo Simmons, and a professor in the music department at Antioch named Lester Knibbs. Margo and myself took a journey to the San Francisco Bay Area on a Spring break and was baptized in the mystical revelation of Sun Ra and his intergalactic posse. I was transformed by the theatricality of the Arkestra and that night will always be seared in my primary memory as an epiphany in my musical development. I returned to Antioch so fired up that my "soul was bursting out of my body! Three months later another "Artistic Being" entered my life in the person of Cecil Taylor who arrived at Antioch with Jimmy Lyons, Andrew Cyrille, and posse and the baptism began once again!
"If you find Earth boring. Just the same ole same thang. Come on sign up with outer spaceways incorporated." And I did!
---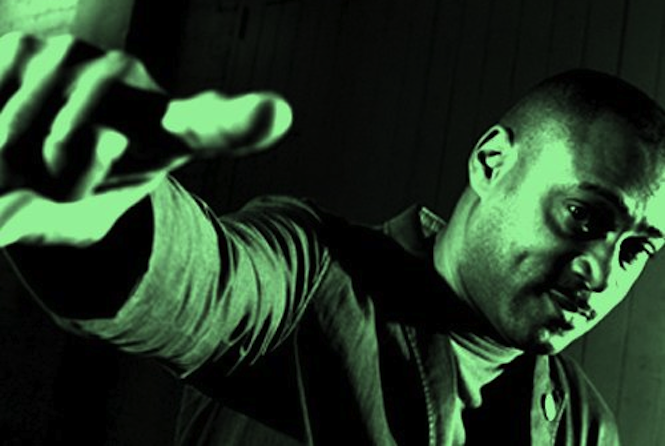 Mike Huckaby
Few can claim to have successfully remixed Sun Ra like Mike Huckaby. While there's something in Ra that's inherently resistant to being regulated by a 4/4 beat, Huckaby's 2011 Reel To Reel edits (split across two highly desirable 12″ volumes) capture the spaced out madness of Ra within a more dancefloor-ready context. A long time fan, Huckaby here represents a Detroit techno scene that has been obliquely indebted to Sun Ra since the beginning.
---
Sun Ra's orientation to the scale and music theory was unparalleled. He knew music theory like no other. He could introduce a sense of tension or calamity within a chord progression, and easily resolved it with a sense of beauty in mind any way he wanted. That's really what Sun Ra was good at.
---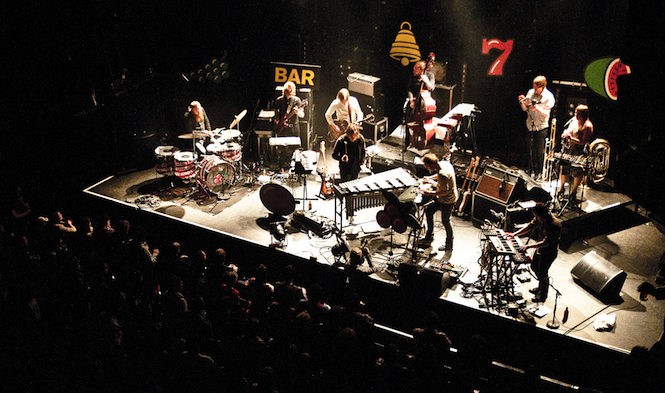 Jaga Jazzist
Lars Horntveth of Norwegian outift Jaga Jazzist struggled, like many have done, to get into Sun Ra when he first encountered his music, but with Don Cherry and John Coltrane regularly touted as inspirations, it's not too great a leap of faith to imagine Sun Ra would be in the mix sooner or later. Associated with labels like Ninja Tune and Smalltown Supersound, their elaborate stage set ups evoke the collective spirit of Sun Ra's Arkestra.
---
When did you first hear the music of Sun Ra and what were your first impressions?
I first heard Sun Ra when I worked with the Norwegian psychedelig-rock band Motorpsycho around 2001. They were huge fans. I didn´t catch it at first and thought it was a joke almost, but after a while the music took me and I´ve been listening a lot to it afterwards. On the tour we did with the Jaga Jazzist horn section and Motorpsycho we did a cover of 'Space is the Place'. Great fun and not bad musically either.
I had the pleasure of playing a split show with the Sun Ra Arkestra in Belgium a few years back. They still wore costumes and did a great show. I still didn´t get it though. A few years after I had the pleasure of meeting John Schwed, the author of Sun Ra´s biography, I got the book from him and read it with enthusiasm. I really like Sun Ra´s concepts and how he didn´t go with the flow. Very interesting reading and also very funny. After reading the book, it was also more interesting for me to listen to the music.
In what ways has his music influenced your own work?
I enjoy his music as a listener first and foremost. That said, once in a while he´s used as a reference when we want to do something more left field or "out". A great reference.
That said, he did keep his band together for many, many years and it was hugely idealistic work for the musicians. Not much money going through that band. Jaga Jazzist has been together for 20 years now. Hadn´t it been for the idealism and love for the music, we could never have been together this long. So Sun Ra is absolutely someone to look up to.
What is your all time favourite Sun Ra record and why?
For some reason I first got into Atlantis and that record is still a favourite of mine. It´s not necessarily the most "out there" stuff that I like the most. This album reminds me a lot of Moondog who is another favourite artist of mine.
---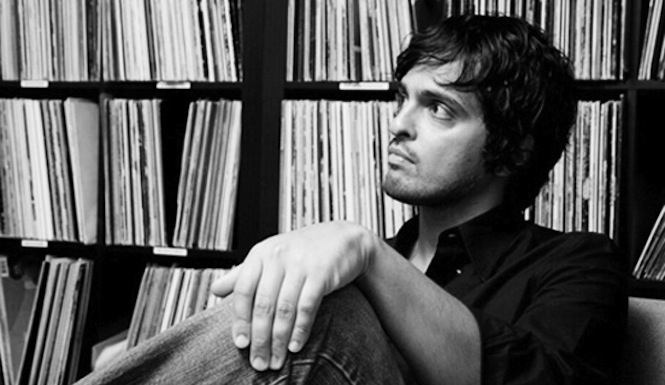 Eothen 'Egon' Alapatt (Now Again Records)
Head honcho at California's inestimable Now Again Records, Egon was general manager at Stones Throw for the best part of a decade, where he worked alongside Madlib and Jeff Jank to build the label into the global force it is today. With Now Again Records, he satisfies his love for funk and soul, reissuing forgotten classics and developing new talent like polyrhythmic afro-psych ensemble Karl Hector and the Malcouns. His collection is second to none, and his Ra records once belonged to David Axelrod.
---
I'm sure that I first heard Sun Ra while in college, doing college radio at WRVU, which was then a rather powerful, rather large station in Nashville, and with eclectic programming that rivaled that in greater metropolises. This would have been in around 1996. There were a couple jazz shows on the station – but that's not where you'd hear Sun Ra. You'd either hear a cut from Languidity on the funk show that Doyle Davis did on Friday nights or something altogether weirder and deeper the psychedelic show that Brain Boling did on Saturdays.
But I don't remember much from that era – and though I still have Sun Ra albums (the Impulse ones) at my parents' home that I bought while I was in college I didn't pay much attention to Sun Ra until I moved to LA and met Madlib. He was, and is, a Sun Ra obsessive and he showed me all of the Sun Ra facets that still intrigue me to this day: the funk, the cosmic, the straight-ahead, the indescribable. His breadth was so great, and his catalog so vast, it seemed to be too much. So I focused on the records that really spoke to me: Disco 3000, Sleeping Beauty (my favourite of his, can't really explain why, maybe because I still don't have it and only listen to it at friends' houses), that really funky one with Space Is The Place on it (the late 70s one). Once I brought David Axelrod to the dentist and, instead of taking the gas money he offered me, I asked him if he'd just give me his Sun Ra records. He gave me all of them (including that funky Space Is The Place one) with the exception of one – his copy of Languidity had been promised to the photographer B+, who had taken him to the dentist more times than I had.
Sun Ra is my reference point for every (usually young) musician who craves to be on the cutting edge, in the avant garde. Of course all of us who know anything about Sun Ra know that first he played straight – as straight as they come – and he went intergalactic after he'd proven that he could do what mere mortals do. It was that groundwork he laid that made everyone – even if they couldn't tolerate his music (and let's be honest – there are a lot of people out there that cannot take a run through the average Saturn album) – accord him respect. I'll never forget Axelrod commenting, while we were playing some really out piece, "he was such a great arranger. That was his biggest talent." That always stuck with me.
---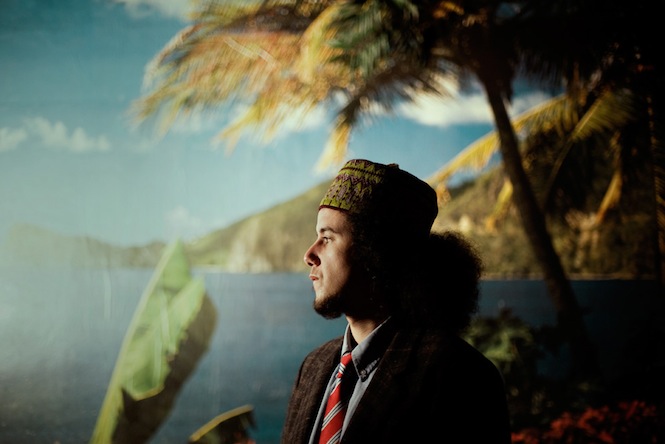 Mo Kolours
With his debut LP out on One Handed Music this year, London producer Mo Kolours' patchwork sketches reflect a huge breadth of influences, many of which dovetail with Sun Ra's afro-futurist legacy. Lee Scratch Perry and A Tribe Called Quest are often cited, while Mo Kolours sound also retains an exoticism born of his Mauritian heritage. He's another whose record collection holds untold gems.
---
When did you first hear the music of Sun Ra and what were your first impressions?
My first contact with Sun-Ra, a friend was like "I have this weird record, you can have". It was Monorails and Satellites by Ra and this led me on to look for more!
What is your all time favourite Sun Ra record and why?
I think my most frequented record is We Travel the Spaceways. A track called 'Interplanetary Music' is really inspiring and I think has Phil Cohran on his frankiphone! It's weirdly short for a jazz record too… I love its abruptness and fun.
---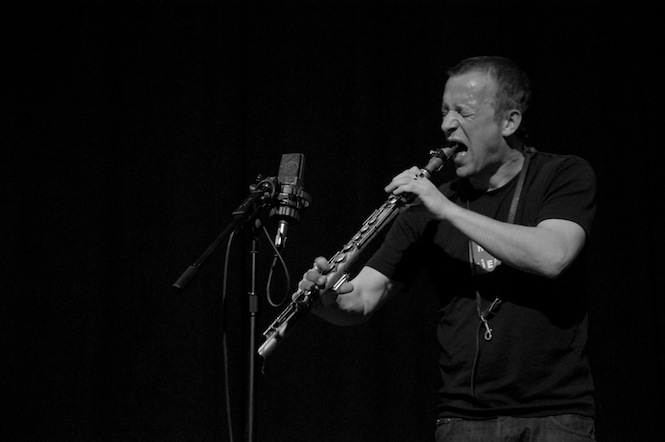 Mats Gustaffson
Saxophonist of free jazz outfit The Thing and a mainstay of the European jazz scene, Gustaffson has worked with everyone from Neneh Cherry to Sonic Youth and Evan Parker. His record collection is renowned and he runs a blog called Discaholic Corner that acts as a forum for similar addicts. When called upon for this feature, Mats penned a moving tribute to the legacy of Sun Ra, in typically free flowing and often improvised syntax that begins with one of Ra's trademark aphorisms: "History is his story; my story is mystery!"
---
sun ra
his story
my story
mystery
One of the first musicians that became, was and practiced DIY. Sun Ra. Sonny. Sunny. Le Ra, Herman Blount. With his Saturn Records. With his Arkestra. With his Arkistra. The only other company doing something similar, back in the 50´s was perhaps Debut records, founded by Charlie Mingus and Max Roach.
But the music and the visions that Herman Sonny Blount was aiming for, that is a music that came to rewrite music history as we know it. The music that is synonomous with Sun Ra starts off in the history. His-story. The history of jazz. The history of a utopian Afro-American dream and vision. The history of mankind, often via ancient Egyptian metaphors and terminologies as well as black magic and visions from outer space. This unique mix became a reality for the members of the Arkestra.
Most of all it is the DIY attitude we have to learn from. You need to do things yourself, if something's going to change. That is perhaps what has inspired me the most with Sun Ra! You can't sit and wait for things to happen. You need to grab the bull by its horns and let your creativity lead the bull in the right direction(s).
For a discaholic such as myself, his discography is a nightmare and a wet dream. The vinyl records and the poetry books that were published back in the day make my knees soft, my breathing irregular and starts making my sweat gush out in large quantaties. Releases with silkscreen printed and hand painted covers and handmade labels. Small editions that were only for sale at concerts or at the home base of the Arkestra, be it Chicago, New York or Philadelphia.
Some of the editions only exist in a handful of copies. Especially the early EPs. The first ever release by the Arkistra is 'Saturn'. A 7" EP, of which there are only 2 copies in existance. One is in a private collection in Sweden and the other in the Discaholic archives in Nickesldorf, Austria. In comparison, the 'Super Blonde' EP that was released straight after is a very common piece of vinyl. 5 copies are known to exists worldwide. Dream or nightmare? Mystery or history?
His actions and doings were special, with their deep social pathos and dedication, locally as well as globally. It is easy to be misled by the spectacular aesthetics and the wild space symbolism of Ra, with its connections to black magic and mysticism. But if you listen, between the grooves of the vinyl, between the layers of poetry – you will find an attitude towards life that effects us as musicians, artists and human beings in every possible way.
We have a lot to learn.
---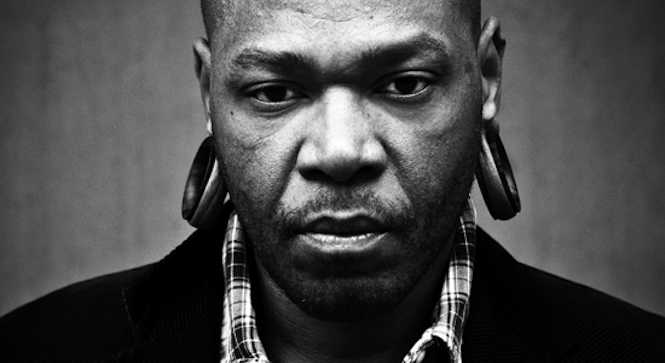 Osunlade
American musician, producer and Yoruba priest Osunlade shares much of Ra's astral rhetoric, his music and record label drenched in Yoruba spirituality and afro-futurist titling (most prevalent on his 2013 LP A Man With No Past Originating The Future). Sun Ra is a regular fixture on his Yoruba Soul Radio podcasts.
---
When did you first hear the music of Sun Ra and what were your first impressions?
It wasn't until around 2002 when I first heard Sun Ra. It was via his movie A Joyful Noise and my first impression was "wow, this guy is really something else", not only musically but his theory of life here and beyond.
In what ways has his music influenced your own work?
I think mostly just to simply not be afraid to be yourself. This was what I found most important. Also the importance and organization of creating a tight knit group of musicians that are your family. These two things are what I take.
What is your all time favorite Sun Ra record and why?
There are many but I like Lanquidity as a full piece, but Venus and Rocket Number 9 are very dear to me, simply because they are unique in everyday, separate from the norm of what was happening during those times.
---
If you want more, you can read our list of the 10 rarest Sun Ra records here.