Published on
April 14, 2015
Category
Features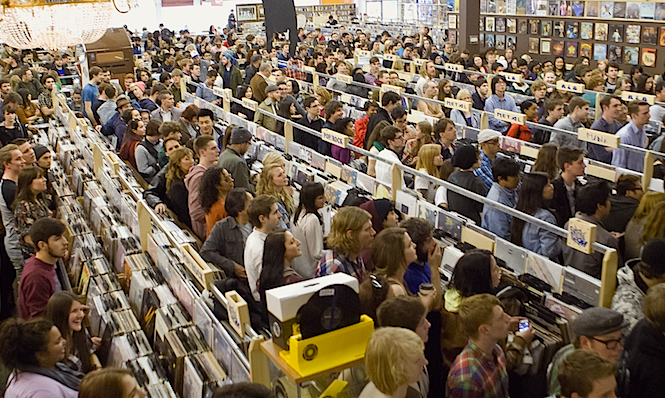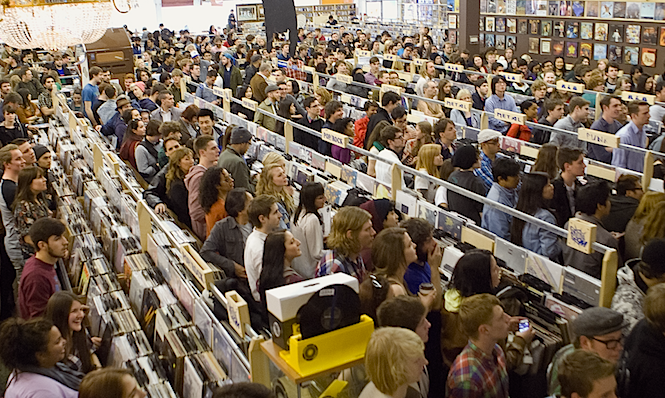 Originally posted on FACT.
---
Words: Josh Hall
---
Record Store Day has become fraught with controversy.
Since its inception in 2007 the event has grown into the most important date in the record-buying calendar, but this year it has been heavily criticised by labels who suggest that they have been left behind.
Last month, independent imprints Howling Owl and Sonic Cathedral launched the website recordstoredayisdying.com. The idea is a simple one: they are pressing 365 copies of a new split single, with only one for sale on each day of the coming year – including just one on Record Store Day. The stunt was accompanied by a scathing open letter, suggesting that the event has betrayed its original purpose.
"Record Store Day has become just another event in the annual music industry circus that begins with the BBC Sound Of… list and ends with the Mercury Prize," they wrote, "co-opted by major labels and used as another marketing stepping stone. U2 have already shat their album into our iTunes, why should they constipate the world's pressing plants with it too?"
The statement sums up many of the problems that independent labels have with Record Store Day, with vinyl turnaround times top of the list. Johnny Brocklehurst works for Because Music, and he believes that while the event is "an incredibly positive thing," it has a knock-on effect. "In the last two years the turnaround times have become insane," he says. "It makes it very difficult, especially when you've got a successful record, or a record coming out in Q1 or Q2 which, for indie labels, is a more popular time because you're away from major releases, it's a quieter time for press, and that's when the new band pieces come through. When you start dealing with those turnaround times it makes it so hard to be reactive on sales."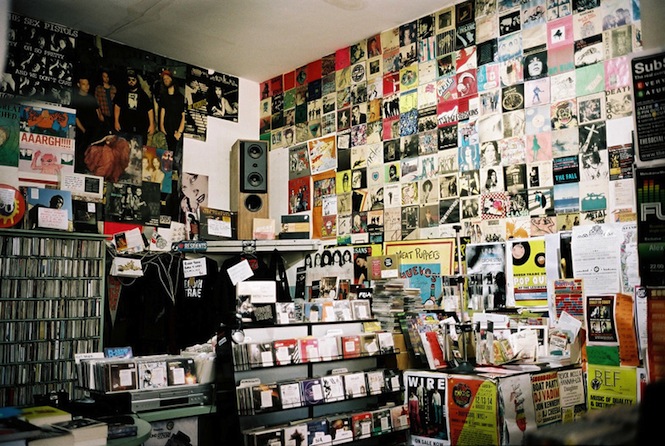 Photo by: Dominik Morbitzer
---
And it's not just small releases that are being hit. The War On Drugs, whose album Lost In The Dream is one of the 10 best-selling vinyl releases of the year so far, also suffered at the hands of over-booked pressing plants. Tom Davies works for Secretly, the label responsible for the release. "We knew that release was going to do well, but it spiralled," he says. "We got a stock repress order in for vinyl in what would have been a tight but normally reasonable amount of time. But Record Store Day meant that we were out of stock on this massive new release for about seven weeks.
"There are so many records that come out where you get a big buzz the week of release, and it's very hard to maintain that momentum. If you don't have stock in the shop, you cannot guarantee that people are going to come back."
Luke Younger, who records as Helm and runs the Alter label, agrees. "With Christmas and Record Store Day now being the two main manufacturing and selling times for the industry," he says, "it means that small labels realistically have one window in the year where they can get a record out without experiencing any delays. I can't schedule anything anymore, it's pointless, and when you have to sync digital release dates in advance as well to make sure everything comes out at the same time it's extremely problematic. It almost forces you to stop running a record label in the traditional sense."
Younger also sees problems on the distribution side. "I worked for a big independent distributor for almost five years," he says. "It's also fucked because in the weeks leading up to Record Store Day shops are reluctant to buy new releases because they are saving up for Record Store Day stock. Then the month afterwards they are hit with Record Store Day fatigue and can't place orders with distributors because they've maxed out their credit limits. You'd also have record shop owners sending returns for general stock and then asking if they can keep their credit on hold and use it to buy RSD releases eight months into the future."
Minimum pressing requirements are another bone of contention. The Entertainment Retailers Association (ERA), which runs the event, broadly demands that records must be pressed in runs of at least 500 in order to be included on the official list, although some releases are admitted with smaller runs at their discretion. Kim Bayley, chief executive of ERA, says the minimum pressing criteria exist "because that's what we believe you need in order to make a release available to all the shops. There are always exceptions, and we try to be realistic, but the point of Record Store Day is that it's about a celebration of the shops and it's trying to make sure that customers are satisfied when they go into those shops."
But Brocklehurst believes that this ignores the realities of music retail, in which different shops cater for different markets. "You can't tell me that there are 220 stores that all buy the same records," he says. "That's the beauty of independent retail. One of the downfalls in HMV was that they got rid of regional buyers and brought in a centralised stock system. It's not unfair to say that's essentially what's happening with Record Store Day."
Along with minimum pressing requirements, this year ERA have placed a much clearer focus on 'quality'. Certainly, some (Sonic Cathedral included) have suggested that this has not been borne out by the stock list which, amongst other gems, includes an A-ha picture disc and four separate Hawkwind reissues. According to Davies, the ERA has an unrealistic view of what should be included. "I've heard a few stories from other labels of releases they wanted included in the official list that were turned down for not being high profile enough," he says. "That suggests to me that if that continues, the only things that are going to end up in Record Store Day are more Foo Fighters. It should be about giving customers a choice, and that means including some smaller, lower profile things."
Bayley, however, says that ERA do not judge the music on its quality. "We rely on labels to judge that," she says. "Our criteria are about making enough volume to service all the shops. If it's capable of selling 500 units, it's probably capable of being a RSD product."
Bayley's response to Howling Owl and Sonic Cathedral's joint statement was blunt. "To make it clear," she wrote, "the purpose of Record Store Day is not to promote independent labels. It's to promote independent record shops (the clue is in the name)." Younger, however, says that this is "misguided, deluded, and a completely baffling statement to make. Surely it's all part of the same picture? Without labels, shops wouldn't have anything to sell and it completely misinterprets the valid criticism that has been directed towards the event." Brocklehurst agrees: "I feel sad that [Howling Owl and Sonic Cathedral] are in a position where they feel they have to do that, and then get what is quite a condescending message back saying, 'well, if you manufacture 500 copies it makes it cheaper.' Of course they fucking know that. They're not stupid."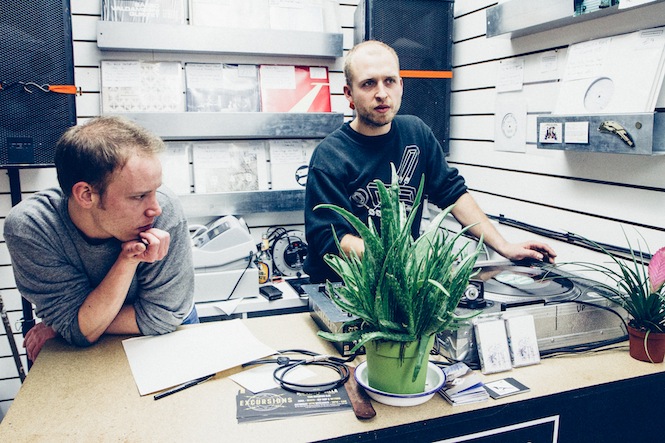 YAM Records, Photo by Arianna Power
---
But even if the day is just there to support shops, there remains disagreement amongst retailers about the value of the event. YAM, a new record shop in Peckham, is choosing not to stock Record Store Day exclusives, and is instead using the day "to focus on the wealth of homegrown talent available in the area." Tom Lawes, one of the shop's founders, says: "It's independent labels we want to be celebrating – the ones that have consistently contributed to the growth of the vinyl industry and have kept the format alive, not those pressing special releases destined to be bought for their novelty factor. Not long ago everyone thought the format had died a death, but the small guys were predominantly the ones keeping it afloat. If the majors want to start pressing lots of records again they're more than welcome to, but perhaps it would be better received if they invested some of their capital into building new pressing plants to lessen the strain."
Even without the support of some of the independent community, this week's Record Store Day will surely still see huge crowds gathering to buy vinyl, whether that's a "bootleg style" Mumford and Sons 7″ or a noise obscurity. But this year feels like a watershed moment for the event, from which Lawes says "a lot of the original intentions have been lost over the years." Record Store Day has certainly contributed to the supposed vinyl resurgence, but its future seems less than certain if it can no longer get buy-in from the labels. "This is about stores," Bayley says, "and it's about labels and retailers working together to create the best possible day." But if that cooperation is in jeopardy, Record Store Day runs the risk of becoming more of a problem than a solution.
---
Main photo by Corbin Smith/Torontoist