Published on
April 14, 2015
Category
News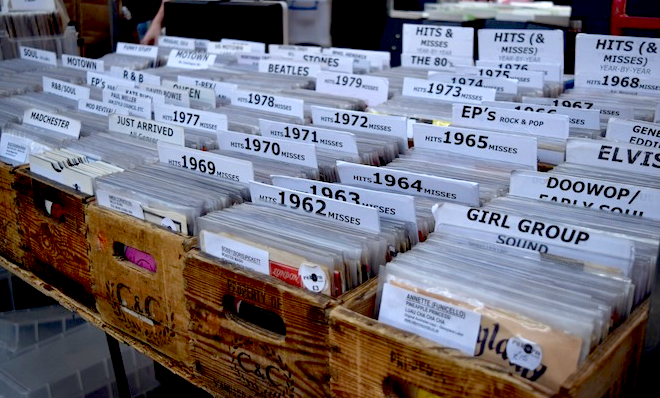 The Official Charts Company launched the UK's first vinyl chart yesterday.
And yet, despite the excitement, questions have been raised about whether the chart will reflect what's really going on in the vinyl industry. In an increasingly decentralised marketplace where small runs of records sold through independent retailers could make a big impact on the chart on a week by week basis, sales contributing to the chart are inevitably only going to reflect a portion of the new records changing hands.
Investigating this further, FACT spoke to a number of independent retailers to investigate the major points of contention with the new charts. Here's a summary:
1. It doesn't factor for small stores

Out of several dance/electronic-focused record stores that we asked, only one, Bleep, reports its sales to the Official Charts Company. They admit that they're "one of the few niche indie stores who do". "Anybody can report to chart", they tell us, "but you need to have systems in place and be able to geo-identify customers and integrate to a technical specification that sends xml reports. This has a cost, and most stores aren't prepared to swallow it."

We're not just talking local record shops, either: plenty of notable electronic stores we spoke to (including Rubadub and Boomkat) don't report their vinyl sales. The Official Charts Company's numbers, shops told us, are skewed towards bigger, more rock-focused retailers like Sister Ray, Fopp, HMV and Urban Outfitters.

2. It's inaccurate

For a record's sales to count towards the Official Vinyl Charts, they need to have a barcode to scan. That's an extra cost in a niche industry where every cost counts, so it's no surprise that countless indie labels don't bother (we actually spoke to one significant dance music store who told us that they don't even own a barcode scanner).

3. If the future of music is direct-to-fan, how does the Official Charts Company account for that?

Bandcamp and Big Cartel are big deals now, with the former especially growing at pace. Everyone from bedroom labels to significant indies such as XL are selling direct to fans, and so are the artists themselves, but who's expecting a Big Cartel user to scan a barcode every time they package up a 12″? Like half of the artists in the Official Charts Company's vinyl chart, their system already seems behind the times.

[It's been pointed out that Bandcamp can track sales for Nielsen SoundScan, the company behind North America's Billboard charts, if the relevant data is entered. This doesn't apply to the UK's vinyl charts, of course, but it's important to note]
Whether or not the chart ends up reflecting the diversity of vinyl sales more broadly (and the small labels that sustained them when vinyl wasn't so popular) remains to be seen. In the mean time, kudos to Underworld and All Time Low for their inaugural number ones. You can read the full article on FACT here.