Published on
April 16, 2016
Category
Features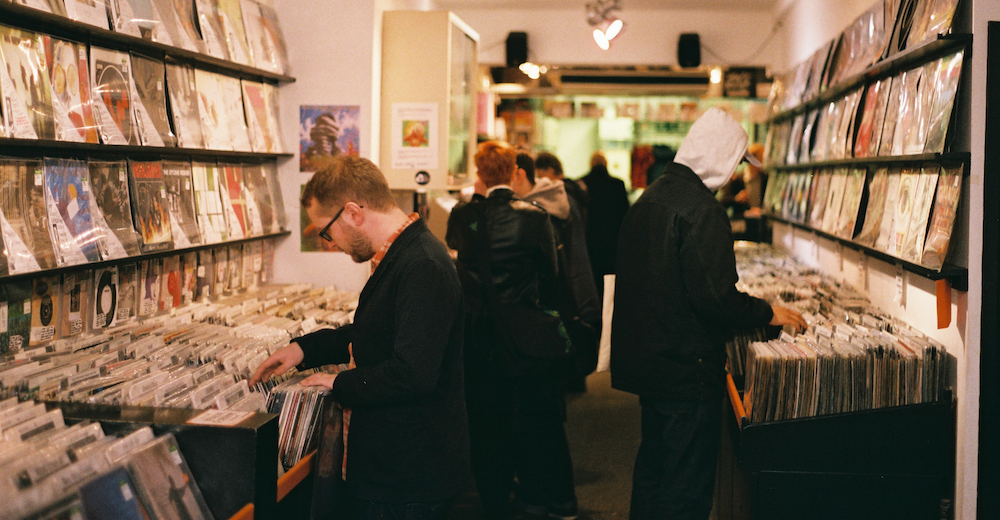 This feature is taken from VinylVirus, a new printed guide for record shops.
The historic quarter of Soho has always been London's central hub for vinyl culture. As Record Store Day rolls in, VinylVirus take the opportunity to profile Soho mainstay Reckless Records.
Having opened its doors in 1984 Reckless Records is the longest standing record shop on Berwick Street, famously known as 'The Golden Mile of Record Shops'. Seeing shops come and go due to rising rents in an area of London that has over 15 million tourists visiting each year, Reckless Records has an interesting past. Opening their first shop in Islington in 1983, they soon expanded to their second shop in Soho at 30 Berwick Street, where they still are today. As well as having a strong foothold in London they always had the desire to open shops in America. In 1989 they opened Reckless Records in Chicago and by the end of the 80's they had four shops, two on both sides of the Atlantic.
Every record shop has it's own personality, it's own set of rules and characteristics that separates it from the rest. Specialising in second hand records, Reckless have an extensively wide range of genres: Jazz, Blues, R&B, Rock, Electronic, House, Funk, Folk, Soul and more. Always looking to buy records, the staff are more than knowledgeable and will always make sure records are bought and sold at a fair price.
We were lucky enough to talk with the manager Duncan about the history and evolution of Reckless Records and Soho.
---
VinylVirus – How long have you been at Reckless?
Duncan – In 1984 the owner found the current location, and within no time he needed extra staff and I knew him personally. He asked me if I wanted to come and help out and I've been there ever since. I'm 64 now so I've been at it for a long time, I still enjoy it obviously.
VV – I'm guessing a lot has changed since you started?
D – Yeah, you can imagine with the technological changes, the arrival of CD's first of all in the mid 80's hammered a lot of record shops because vinyl went down in value. People were looking for CD's all the time. There weren't many CD's going second hand and people were building up their collections. Then the internet arrived in the 1990's, which obviously had its effect, so by the year 2000 people were downloading so much that the whole market in physical product, vinyl or CD's was effecting second hand record shops.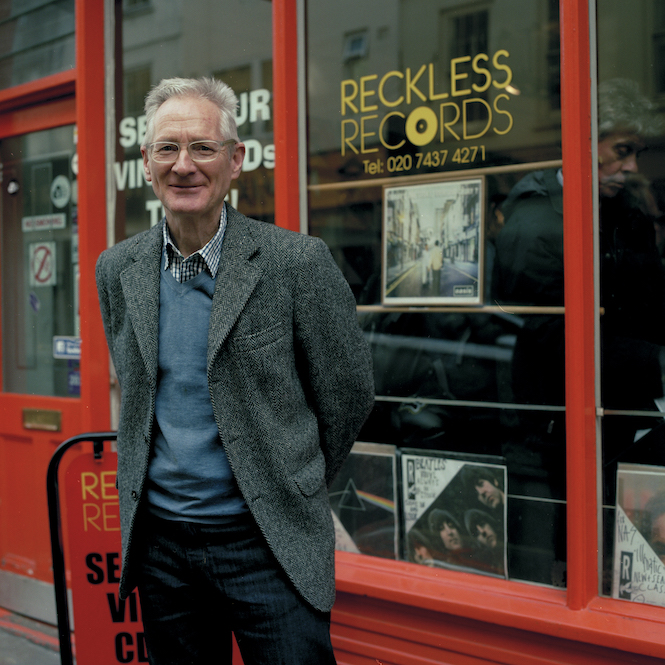 VV – Who shops at Reckless?
D – We get all kinds of customers. We do get young kids, not very frequently, but ones who are very enthusiastic as a result of their Dad's record collection. They're coming at it from a different point of view to an 18 or 20 year old who can sort it out for themselves. We don't get an awful lot of customers in that 18-20 age bracket. I suppose because it's an expensive thing for kids to get into when they can download, or stream. So buying vinyl is something that is generally for people that have money. But when you think the tables have turned so much, so drastically in price between CD's and vinyl. When CD's came out they were the expensive format and vinyl was half the price, now it's gone the other way – you pay £20 for a vinyl album and £8 for a CD.
VV – Do you think the new resurgence in popularity of vinyl is tasking both and artists and record sleeve designers to produce more than just the music itself, to create this kind of object?
D – Yes I hope so. I mean a vinyl LP really benefits from having a nice sleeve doesn't it? And CD's by their very nature are small in size and so offer small artwork. 12" records are just far more interesting to interact with than a CD.
VV – Online markets such as Discogs have recently created a new platform for record collectors and shops to buy and sell records. Do you see this as an example of new technology that is really helping record shops? And do you use it?
D – All the time. You have to be honest with customers when you're buying their records and say I can't offer you more than £5 because it only sells on Discogs for £10/£12 and we just can't do it. Everybody knows about Discogs if they are a collector of records or Popsike (which is just a kind of database of auction sites like eBay). They are very useful resources for us as a record shop to be fair with how we price things.
VV – You've been selling records in Soho for 33 years, do you think it's still a destination for record collectors?
D – It's incredible, it's obviously still a destination but it's much smaller, the whole market, the number of shops that you visit. I could probably list a dozen shops in Soho that have been and gone, if I scratch my brain I could think right the way through. I could certainly be reminded of them. There was the Music and Video Exchange the forerunner of Sister Ray, another dance music shop, Vinyl Junkies, Soul Jazz, Revival Records which was Reckless Records.
VV – What do you think of Record Store Day?
D – I think the big thing is that it is increasing people's awareness that the record shops still exist. In lots of ways it's a good thing. I mean I don't like the idea of people buying things to put straight on the net, but it's inevitable. It's like with concert tickets that are going to be sold out. If Prince came to town, you'd have somebody saying they're going to pay £1000 for a ticket to see him. For me in our shop, we don't order a lot of product because we are mainly second hand. We order some choice things, effectively the staff just go through the list and go, "Oh yeah, six copies of that Sonic Youth thing and six copies of this and six copies of that." We end up with about 30 items, that's all we sell, so it's not a big thing for us because we haven't got the space. Frankly it gets so crazy on Record Store Day that we wouldn't be able to cope with any more than that. Our shop gets cleared out of second hand stuff, we sell four times the amount on one Saturday than a normal Saturday. It's absolute mayhem.
VV – Do you find that there are genres that do better than others in Reckless, or do you seem to sell a healthy mix of most things?
D – There have been waves of what's been popular, and dance music, R&B, soul, two step, house all of these things, they've all moved through the years and customers have come and gone as they have moved on, which is bedrock of how big collections come to second hand shops. You get a guy and he's 40 odd and he hasn't played any of his drum & bass for 15 years and he just wants to sell it on. He comes to a second hand record shop and there is plenty of people looking for drum & bass and garage. Dance music has always been popular, in fact the shop that we have now was exclusively dance music up until 10 years ago. Some of the customers will come in regularly for five or six years and they'll never come in again, people go through waves of interest in their lives, don't they?
---
Lead photo by Joe Howard
Profile by Bridie Riley