Published on
May 25, 2016
Category
Features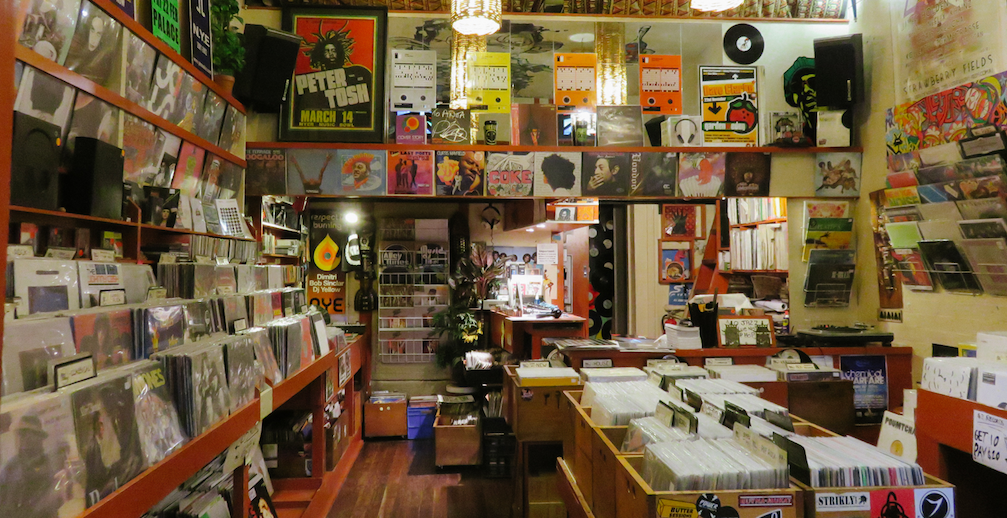 We profile the Victorian capital's ten best record shops.
---
Words: Inkswel
---
Melbourne is Australia's hotbed of culture, renowned for its fashion, coffee and cosmopolitan flair. So trendy is its reputation that the local government itself promotes Melbourne as the street art capital of Australia, yet ironically graffiti laws remain staunch in the Victorian capital.
All of this aside, most are unaware of Melbourne, the vinyl mecca – a title it effortlessly takes alongside the best caffè lattes and inner city laneways this side of the equator. The vinyl boom is not a new thing here, with the push for this culture being so significant that a yearly guide has been in production in both physical and online forms for several years now, curated by two stores Wax Museum Records and Northside Records.
The market isn't only centred around the latest imports or golden oldies but there's also a healthy focus on local music with producers, DJs, bands, musicians from across the genre spectrum opting to release their music on the format. Record Store Day is quite an event in Melbourne, as people pop into the local stores to grab exclusive titles. But even without RSD, Melbourne has a blossoming vinyl culture and people are keen to support artists directly. Outside of local stores, there's regular record fairs and many local pubs and clubs host vinyl-focused club nights – not just in the new house scene, but also covering the gamut of genres from punk to disco.
Our top ten shines the spotlight on the the best stores Melbourne has on offer, covering all bases and specialities. These stores are frequented by all walks, heads, fanatics, business people, lawyers, high school students, hipsters, High Fidelity-types and your Average Joe. Honourable mentions to a few that didn't make the top ten but are still worth a check include newer stores like Cry Baby and Gutterhype, and long established haunts such as Polyester, Missing Link, Skydiver records, Rerun and Round and Round.
Outside of this list exists more than twenty other record stores, so surveying the scene was no mean feat. Let us know your favourite record shops and record shopping experiences in the comments below and we'll add them to our map.
---
Northside Records
Location: 236 Gertrude St, Fitzroy VIC 3065, Australia
Go For: Funk, jazz and all things with a soulful twist
What's the story? One of Melbourne's golden lights, Northside has been burning the flame for the inner city suburb of Fitzroy for over 10 years since it opened doors back in 2002. Owned by DJ CHRIS GIL, an encyclopaedia of the local and international soul scene, the store is often referred to as Melbourne's home of new soul music. Chris also runs a weekly radio show on 3RRR pushing sounds stocked and supported via the store.
Hosting an expansive selection of second hand records, the store is well-stocked in funk, soul, library music, beats, disco, jazz, afrobeat, hip hop and the funkier side of electronica. Upon walking into the store a huge wall-to-wall section dedicated purely to local funk and soul releases, something the store and its staff take great pride in supporting.
Northside has also played host to some incredible in-store performances from Joe Bataan, Mayer Hawthorne, Hiatus Kaiyote, The Bamboos, George Clinton and countless others.
---
Wax Museum Records
Location: Campbell Arcade, 2 Degraves St, Melbourne VIC 3000, Australia
Go For: Hip-hop and all variations of beat based music
What's the story? Originally rooted in its owners' hip-hop foundations, Wax Museum's philosophy has always been rooted in the Bambataa-esque philosophy of "searching for the perfect beat".
Nestled in the heart of Melbourne's famous Flinders Street train station, Wax Museum Records stocks second hand vinyl with the beat-digger in mind, all hand-picked on the owners' digging missions to Tokyo. The store is also hot on the latest hip-hop, beats, house and techno. You're just as likely to cop the latest Madlib release on Stones Throw or an instrumental release on Melting Pot as you are some rare original jazz pressing or a second hand '90s hip-hop 12″.
The shop, which turned 10 this year, has been the backbone of the local scene, regularly hosting biggest beat parties with the likes of Mo Kolors, Shingo, Ig Culture, Little Brother, Tha Alcoholics and more.
---
Licorice Pie
Location: 249A High St., Prahran VIC 3181, Australia
Go For: Rare and nerdy finds for hardcore diggers
What's the story? Frequented by some of the world's most renowned crate diggers, Licorice Pie has an international reputation as the place for rare and hard to find releases in Melbourne. Not exclusively for the elitists, the store also has some great bargain finds in the dollar bins and the staff are impeccably friendly. The store has over 20,000 titles in stock and counting, with new second hand finds being carefully selected and curated for customers on a weekly basis.
'We stock all sorts' is the store's motto, which is evident from the vast and almost random selection, with oddball Detroit Techno rubbing shoulders with Australian garage rock, rockabilly, and fusion. Most stuff is modestly priced but there are also plenty of hard-to-get-pieces for those with fat pockets. Rarer items are also on offer on the store's Discogs account (ideal for those who can't get there geographically).
---
Alley Tunes
Location: 8/660A Glenferrie Rd, Hawthorn VIC 3122, Australia
Go For: Jazzy beats, second hand house and a delicious coffee
What's the story? Slightly off the beaten track in the suburban neighbourhood of Hawthorn – an area you'd be forgiven for thinking only soccer mums sipping lattes and dads drinking pints populate – is the amazing Alley Tunes Records. Tucked away near the main train station, the store front also doubles as a great coffee shop (so you can actually grab a latte here).
Stocking an extensive range of second hand records, the store specialises in ex-DJ collections, and is a great spot to dig for a bargain find or something slightly rarer. The store also recently started buying in new house, disco, edits and club-ready titles from the likes of Sofrito, Butter Sessions and Rush Hour.
---
Plug 7
Location: 313A Smith St, Fitzroy VIC 3065, Australia
Go For: Hand-picked jazz, dub and disco
What's the story? Initially operating on an appointment-only basis or appearing at pop-up events and record fairs, Plug Seven now has a permanent location and public trading hours.
The store is a specialised digger's paradise with owner, collector and musician Ari Rose handpicking the stock from whole collections shipped in from the US. The selection is random but always exciting. With a tight focus on original pressings, the store features a whopping 5000 LPs and 5000 45s encompassing the rarest funk, soul, boogaloo, Brasilian, punk, jazz, and the many dots in between.
Also come here for bespoke handmade vinyl accessories, furniture for your collection, collectable posters and T- shirts, plus a top selection of Hi-Fi equipment and vintage turntables.
---
Obese Records
Location: 211 Commercial Rd, South Yarra VIC 3141, Australia
Go For: Hip-hop and beats
What's the story? Located behind the famous Chapel Street shopping district, Obese is Melbourne's longest running hip-hop record store with over 15 years under its belt.
Stocking the latest beats from the US and UK as well as hip-hop apparel and graffiti-related material, the store has done wonders for promoting the local scene with its own Obese Records label. A diversified operation, Obese also runs one of the largest hip-hop distribution companies in Australia.
Note: This store recently closed
---
Greville Street Records
Location: 152 Greville Street, Prahran, Melbourne 3181
Go For: Getting the fingers dusty on all sorts
What's the story? Greville Street Records is bit of an institution in the once grungy but now cosmopolitan landscape of Prahran. Set amid the heavy bustle of foot traffic, shops and upscale boutiques, Greville was there before it was trendy and has been holding it down ever since.
The shop evokes that classic hoarder-friendly record store stereotype with its overloaded – some might say claustrophobic – shelves and a distinct lack of sunlight. Aside from the records playing over the sound system, there tends to be an eerie vibe in here as customers frantically (but patiently) dig for gold alone. All bases are covered at this store, hand picked and curated by the dedicated team, who are basically part of the furniture.
---
The Searchers
Location: 93 Smith St, Fitzroy VIC 3065, Australia
Go For: '80s music, classic pop and vintage books
What's the story? Established in 2008, Searchers initially specialized in second-hand books until a recent change in ownership marked a new direction for its vinyl game. Now the store buys in awesome collections of '80s disco, soul, pop and punk, as well as local classics by the likes of The Hoodo Gurus and ACDC as well as more obscure Australian titles by acts like disco band The Rockmelons and funk diva Rene Gayer.
The staff are super fanatics with expert knowledge of records and books, and a super friendly approach to customer service (not your stereotypical record store worker vibe). Located in the hip Fitzroy area, the store also doubles as a cafe and is a great place to lose yourself for a few hours.
---
Bounce Audio
Location: 37 Cato St, Prahran VIC 3181, Australia
Go For: Hottest club drops and underground house jams
What's the story? Relatively new to the Melbourne scene, Bounce Audio is a purveyor of all things dance-related.
Covering everything from Omar-S to boogie house goodness from the likes of Soul Clap and more dub-based stuff by DJ Sottofett et al, this place is consistently on top of the latest 12's and hottest drops. There's also usually items from second-hand DJ collections, and some nice funk and soul compilations to boot!
Elsewhere, the store is also the leading spot in the area for audio and DJ-based equipment, record bags and everything from turntable cartridges to monitor speakers to headphones and even beginner production setups. The staff are local DJs and audio nuts; worth a visit for their recommendations alone.
---
Heartland Records
Location: 420/422 Victoria St, North Melbourne VIC 3051, Australia
Go For: Heavy riffs, screaming and loud vibrations
What's the story? Supporting the heavier side of Melbourne music since 1992 (along with Missing Link), Heartland is the number one spot for underground sounds with that harder edge. Come here for straight up rock, hardcore, punk, screamo, grindcore, industrial and loud vibrations of all that variety.
A shop with more heart than most, Heartland has racked up a super loyal customer base over its storied 25 year history. Find this shop behind Queen Victoria Market, Melbourne's largest open air food market.
---
Photography: Mz.Rizk, DJ Benjamin Franklin & Richard Kelly