Published on
August 8, 2013
Category
Features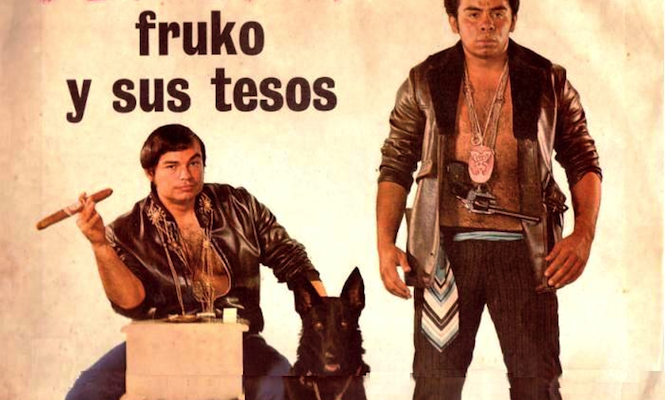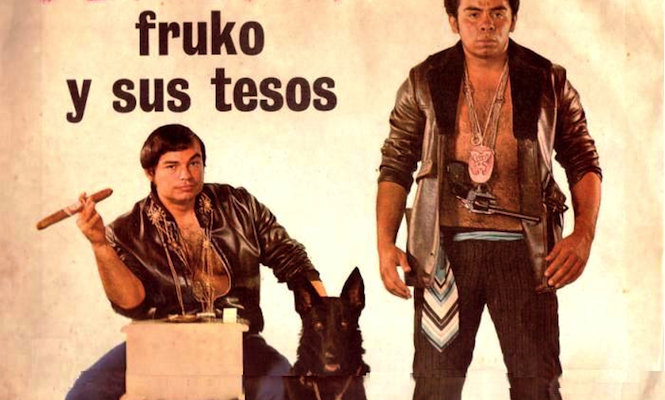 We've raided the FACT archives once more for Will "Quantic" Holland and Roberto 'Beto' Gyemant's guide to the 20 best Colombian records ever made. Originally published in Spring 2013, it's one of those lists that will never age. And how about those covers… Enjoy.
---
Words: Roberto 'Beto' Gyemant & William 'Quantic' Holland
Beto (B): I got into Colombian salsa when I found a bunch of Fruko, Michi Sarmiento and Alfredo Linares LPs and 45s in a damp bodega in Panama. After searching for nearly two years, I located Alfredo in Cali and went to visit him, falling in love with that city in the process. I prefer music that is heavy and raw, with stripped-down arrangements and huge basslines. Colombian music has some of the nastiest percussion I have ever heard, and tremendous swing. I have this image of sitting in a hotel room with Will listening to the records we found, our jaws hitting the floor as the notes leapt out of the portable turntable, just shaking our heads in disbelief, wondering how on earth these musicians got to be so funky.
Quantic (Q): It was like we'd been digging in black and white all these years and somebody hit the Technicolor switch. The depth and breadth of Colombian music never fails to astound me; just as you think you have it covered another sub-genre shows its face. Colombia has a musical history as multi-faceted as Brazil or India but so far, in my opinion, it's not been given the respect it deserves by the outside world. This is partly because the music rarely gets beyond the shores of Miami or the Caribbean, and partly because it's only now that the world is ready for the sheer heaviness and fire that Colombian music exudes.
Beto (B): The first six are in some kind of order of heat or brilliance, after that, it's all pretty much just amazing stuff.
---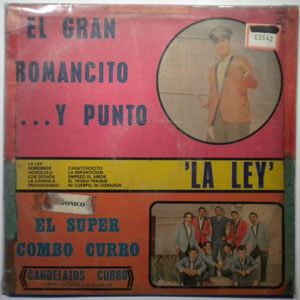 01. ROMANCITO Y SU COMBO
'HONOLULU'
(PHILIPS, 1970)
Q: Romancito was an artist produced by the legendary Barranquilla maestro Curro Fuentes. Most things Curro touches turn to gold and guarantee rich and rootsy cumbias, descargas and mapales with a solid quality of sound. Taken from the 'La Ley' LP, 'Honolulu' is a combination of boogaloo and calypso that makes for an incredible recording.
---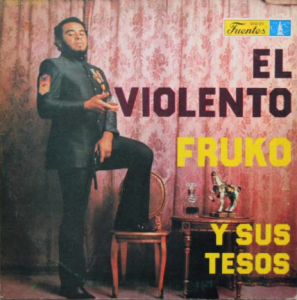 02. FRUKO Y SUS TESOS
'SALSA NA MA'
(FUENTES, 1973)
B: 'Salsa Na Ma' is just Latin thunder. Everything – piano, bass, percussion – gets pounded so hard and fast it's almost out of control. And there's this beautiful electric organ solo too. Future international superstar Joe Arroyo (of 'Rebelíon' fame) is heard in the coros.
---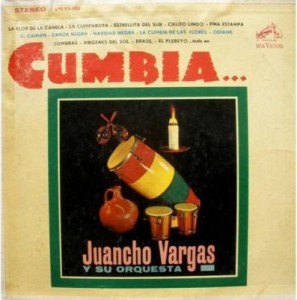 03. JUANCHO VARGAS
'VIRGENES DEL SOL'
(RCA 78, EARLY 1960s)
Q: Besides nearly getting run-down several times by horse-drawn carts carrying watermelons, fridges, goats and gas cylinders, we came up with some great 78s while record hunting in the dust filled streets of Palmira. Including this wondrous, almost celestial piece of music – written by talented composer and arranger Vargas, who remains a milestone in Colombian big band history.
---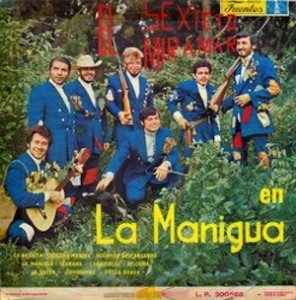 04. SEXTETO MIRAMAR
'LA CUMBIAMBA'
(FUENTES 78, MID-'60s)
Q: When the salsa wave hit the shores of Colombia, Sexteto Miramar rode it like nobody else. This 78 contains a super-heavy cumbia-salsa hybrid that shows how Colombians do it best. This Sextet was one of the few to use vibes, partly because of the expense and also because they were considered to have a more jazz sensibility.
---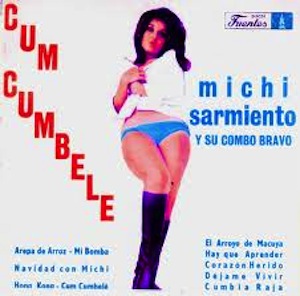 05. MICHI SARMIENTO Y SUS BRAVOS
'HONG KONG'
(FUENTES, 1969)
B: I found this LP in the crazy public Mercado in Cartagena. 'Hong Kong' is a Louie Ramirez composition and contains all that Michi does so well: fat bass line, swinging sax and trumpets, that raw feeling in the percussion, with cowbell and scraper. I love the mambo near the end – with the sax's blowing while the timbalero rides the cymbal. Hot!
---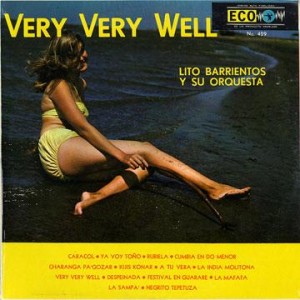 06. LITO BARRIENTOS
'CUMBIA EN DO MENOR'
(FUENTES, 1960s)
Q: The record that made me book a plane ticket to Colombia in the first place! Found while digging at the infamous Mercado record spot in Puerto Rico a few years ago. I remember sitting with Miles Cleret from Soundway with our mouths wide open! Hailing from El Salvador, Lito Barrientos brought a fresh new sound to the bustling Colombian tropical music scene. But nothing comes close to 'Cumbia in Do Menor'.
---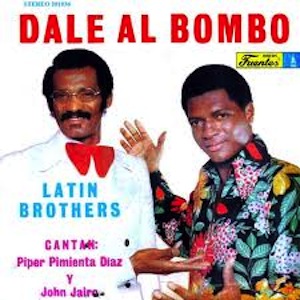 07. LATIN BROTHERS
'DALE AL BOMBO'
(FUENTES, 1975)
B: This LP contains 'Duelo de los Picoteros', a 10-minute-long mellow jazzy montuno descarga, and the beautiful 'Buscandote', with its tango piano intro and the gorgeous vocal melodies of Piper Diaz, whose delivery is squarely in the nasal Afro-Cuban style of Beny More, Miguelito Cuni and Monguito – a style I hear was very popular in West Africa.
---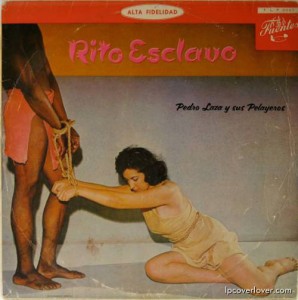 08. PEDRO LAZA Y SUS PELAVEROS
'RITO ESCLAVO'
(FUENTES, 1963)
Q: As always, Pedro serves up some near dub-style cumbia that takes no prisoners. This marvelous LP, recorded under the sound direction of Maestro Climaco Sarmiento, is one of his best. Both 'Linda Magdalena' and 'Rito Esclavo' possess a sense of operatic theatre, dominated with hard brass and folkloric drumming.
---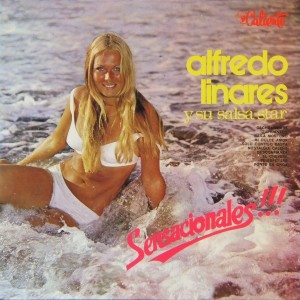 09. ALFREDO LINARES
'SENSACIONALES'
(CALIENTE, 1974)
B: Alfredito 'El Bravo' was already living in Cali but actually recorded this in his native Peru. It was a smash in salsa-hungry Colombia; 'Tiahuanaco' became, and still is, a Colombian salsa anthem. There are few pianists that combine elegance and swing like Alfredo Linares.
---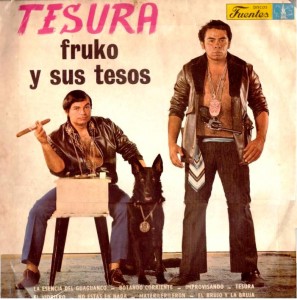 10. FRUKO Y SUS TESOS
'TESURA'
(FUENTES, 1970)
Q: While most record covers from this era illustrate smartly dressed band members in matching suits and ties, Fruko was pictured with machetes, German shepherds with medallions, shooting heroin and generally making his counterparts look like a bunch of schoolboys. The record itself, like the cover, is a masterpiece from start to finish. The opening track 'El Vidriero' is the only salsa track I've heard where the whole band stops and what sounds like a fight with broken bottles ensues.
---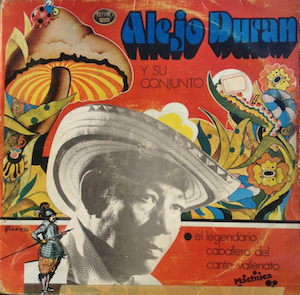 11. ALEJO DURAN Y SU CONJUNTO
(ORBE, 1969)
B: This LP features the 'black king of vallenato', Alejandro (Alejo) Duran. Classic Vallenato is a raw sound played on accordion, goatskin drum, and guacharaca (scraper) – later adding a single bass – that originated in the rural Caribbean coast region of Valledupar. According to local tradition, this black and mulato country music was born when a local troubadour challenged the devil in an accordion-playing contest, and won. I love the psychedelic cover with the little Monty Python guy at the bottom.
---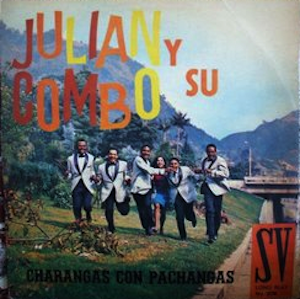 12. JULIAN Y SU COMBO
(VERGARA, 1968)
Q: In the midst of a sweaty day's record hunting in Cali suburbs, you occasionally come across a record that makes you break from your poker faced, mosquito-bitten state and let out a big smile. This record possesses the fuego I've come to expect from Julian with the addition of the heaviest near Benin highlife electric guitar, the standouts being the blazing Son Montuno 'Bailare' and self-explanatory 'Descarga Con Swing'.
---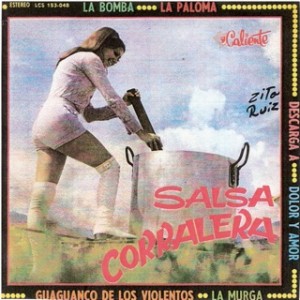 13. SALSA CORRALERA
(CALIENTE, 1973)
B: One of my favourite LPs – raw Colombian percussion. This is a different Corraleros than Los Corraleros de Majagual. And it's heavier than anything the latter ever produced. It's all classic salsa, mostly covers ('Abran Paso', 'Guaguanco de los Violentos', etc.), one beautiful descarga, really hot electric guitar work, full horn section with sax, trumpets and trombone.
---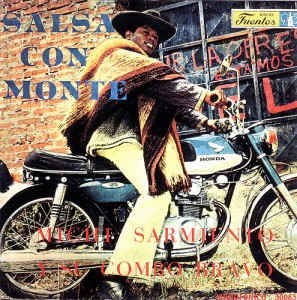 14. MICHI SARMIENTO Y SU COMBO BRAVO
SALSA CON MONTE
(FUENTES. 1973)
B: Michi and his bravos specialized in 'fusilando' (reworking) big salsa hits from New York. Thank god they did. Spare arrangements, raw percussion and tons of heat make for beautiful versions of Cheo's 'Anacaona' and Brooklyn sounds' Mirame San Miguel'. I always love Michi's cover art too.
---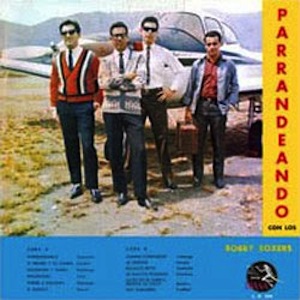 15. LOS BOBBY SOXERS
PARRANDEANDO
(DIANA, 1967)
Q: Bobby Soxers were part of the '60s Raspa movement, which tried to westernize Colombian music culture. Sporting thick-rim glasses and cardigans, heir output ranges from schoolboy twist and rock 'n' roll to more sophisticated cumbias, charangas and pachangas. This LP has several heavy cuts, 'El Dengue' being the heaviest.
---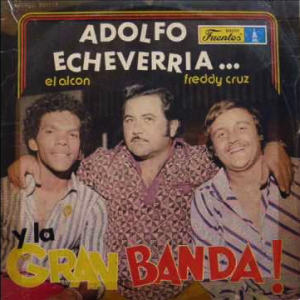 16. ADOLFO ECHEVERRIA
AMANCIENDO
(FUENTES, 1975)
B: Echeverria played a cumbia-salsa fusion that was very popular and highly danceable. All the hallmarks of the cumbia were there: the rasping guacharaca, the rolling timbal intros, the dueling horn lines. But what set him apart in my mind are his hard salsa piano lines: sometimes he'll just rip into a well-executed fast montuno to end a song.
---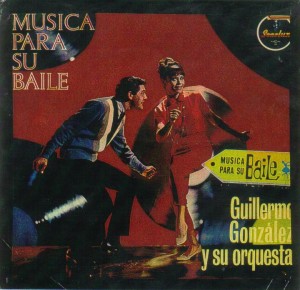 17. GUILLERMO GONZALEZ Y SU ORQESTA
LA MONUMENTAL
(PILSEN, 1964)
Q: For five days during late December, Cali holds the party of the year, La Feria De Cali. This heavy, brass-laden cumbia was released by Colombian beer company Pilsen and commemorates the Cali Feria of 1964. While samples lay dormant for beer loving MPC's, the singer invites all Caleñas to get dressed and come to the party.
---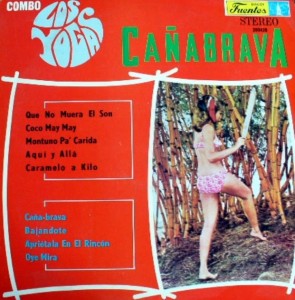 18. COMBO LOS YOGAS
CANABRAVA
(FUENTES, 1970)
B: This one is really hard to find, all raw salsa all the way through, montunos, guajiras and descargas. Los Yogas cover Harlow's 'Coco May May' (itself a cover of a Cuban classic) and 'Bajandote' as well as a great version of Joe Cotto's already wicked 'Montuno Pa Caridad'. And then there's the six minute long descarga 'Oye Mira'.
---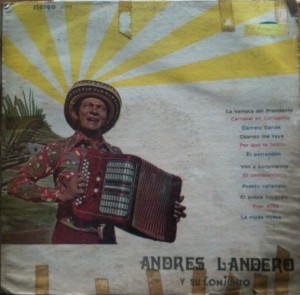 19. LO MEJOR DE ANDREW LANDERO Y SU CONJUNTO
(FUENTES, LATE-'60s)
B: More deep Vallenato from another master, Andres Landero. Look for the song "La Pava Congona", where the bass and accordion imitate a wild turkey in the mountains, and recognize that funk comes naturally to rural peoples, that it comes from the earth.
---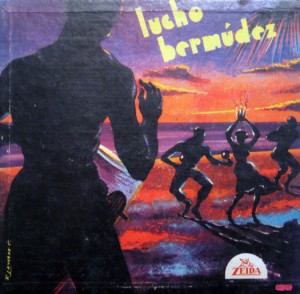 20. LUCHO BERMUDEZ
PLINJO GUZMAN
(ZEIDA, 1950s)
Q: There are times when listening to Cumbia records that I'm almost convinced Jamaicans were sitting in there. Cumbias and gaitas often have an unbelievable skank – which 'Plinio Guzman' exhibits. Together with Pacho Galan, Lucho Bermudez led the scene re-interpreting mostly black, costeño rhythms for the predominantly white high society.