Published on
May 26, 2015
Category
Features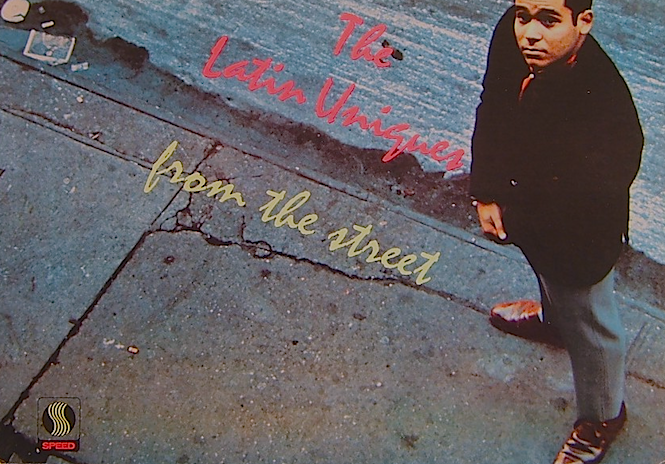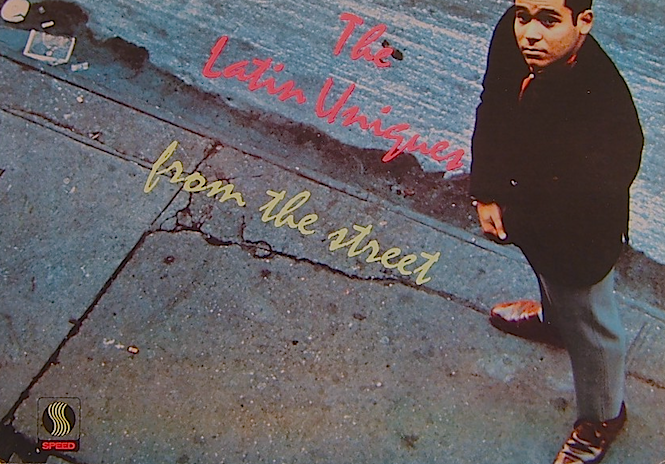 Labels don't come much speedier than Speed Records. In the space of one year – 1968 – the little label put out seven full lengths and a bunch of 45s before making a mysteriously swift exit. Oliver Wang picks out ten essential titles on Speed, many of which have matured into boogaloo and Latin soul holy grails. 
---
Words: Oliver Wang
---
I've long been fascinated by Speed Records, Stan Lewis and Morrty Craft's short-lived Latin soul label from the mid-1960s. There's the overall quality of the catalogue, featuring some of the best boogaloo talent of the era including Bobby Marin, Louie Ramirez and Bobby Matos. There's also the appealing compactness of Speed's LP catalogue: just seven official releases, all of which have been reissued at this point. In that sense, Speed feels both special yet accessible, a rare combination, especially in a collector's world. Here's ten key titles to help kick-start your own Speed addiction.
Listen to the playlist below, and scroll down to explore all ten tracks individually.
---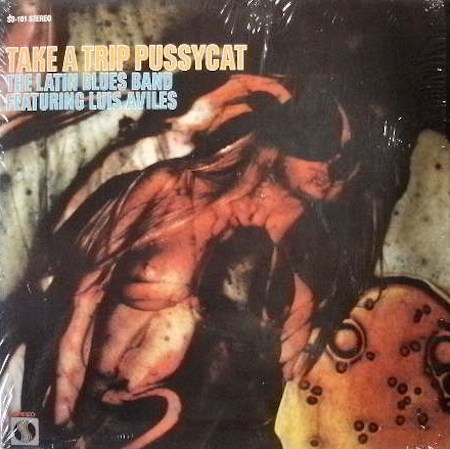 Latin Blues Band
"I'll Be a Happy Man" from Take A Trip Pussycat
(Speed Records, 1968)
Stan Lewis created Speed not longer after he and George Goldner parted ways on the Latin soul label Cotique. For his new venture, Lewis wanted to have veteran producer Morty Craft as a partner but arguably, Speed also belonged to a different pair of men, the polished songwriter and arranger duo of Bobby Marin and Louis Ramirez who had already cut their teeth by recording with Mercury and Fania. Those two men did much of the songwriting and arrangement work for this inaugural release, credited to The Latin Blues Band but it was, for all intents and purposes, a Marin and Ramirez album, with Luis Alvarez receiving nominal bandleader credit.
The Latin Blues Band was the most Craft-y of all the Speed titles since it was the producer's saucy sense of humor that explains the album's unsubtle sex-and-drugs innuendo. All puns aside though, the album also produced the memory "I'll Be a Happy Man," an unusually psychedelic and funky Latin soul cut that would go on to be "remixed" several times over (see below).
Trivia Note: The memorable drum break on the song? That's famed session drummer Bernard Purdie dropping his ghost notes on there.
---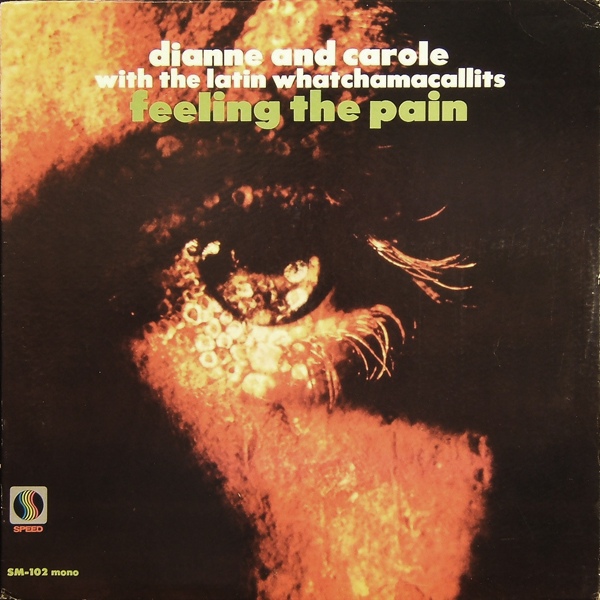 Dianne and Carole with the Latin Whatchamacallits
"The Fuzz" from Feeling The Pain
(Speed Records, 1968)
Until recently, I had no idea who Dianne and Carole were. Their full names are never credited on the album and even though Bobby Marin wrote songs for them, he didn't have any recollection who they were or where they came from. Dianne and Carole have always been an intriguing enigma since the Latin soul/boogaloo scene was so overwhelmingly male. Thanks to a lead from Richie Blondet, it may be that Dianne was Donna Lynton, best known for a series of disco recordings in Europe (attempts to reach Lynton for verification have been unsuccessful).
Trivia Note: Joe Simmons, perhaps best known for having co-written the novelty hit "Jack the Ripper," either wrote or arranged half of the songs on the album. It's unclear how or who tapped Simmons to work on the LP as he doesn't appear on any other Speed release but this one.
---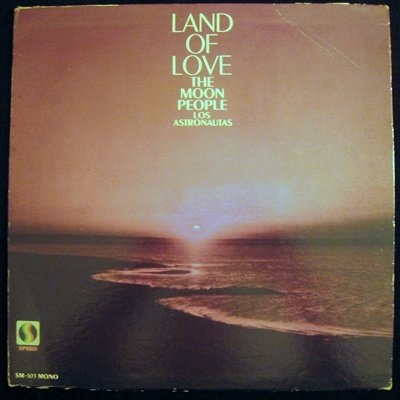 The Moon People
"Land Of Love" from Land Of Love
(Speed Records, 1968)
The Moon People album is the strangest of the original seven Speed titles: an uncredited Louie Ramirez-lead instrumental album that covered everyone from the Monkees to the Turtles. The album featured a few originals too, none bigger than the title track which would go onto become one of Speed's first hits on New York Latin radio.
Trivia Note: Craft was Speed's unofficial "Master of Titles," as he came up with the Moon People name (among others).
---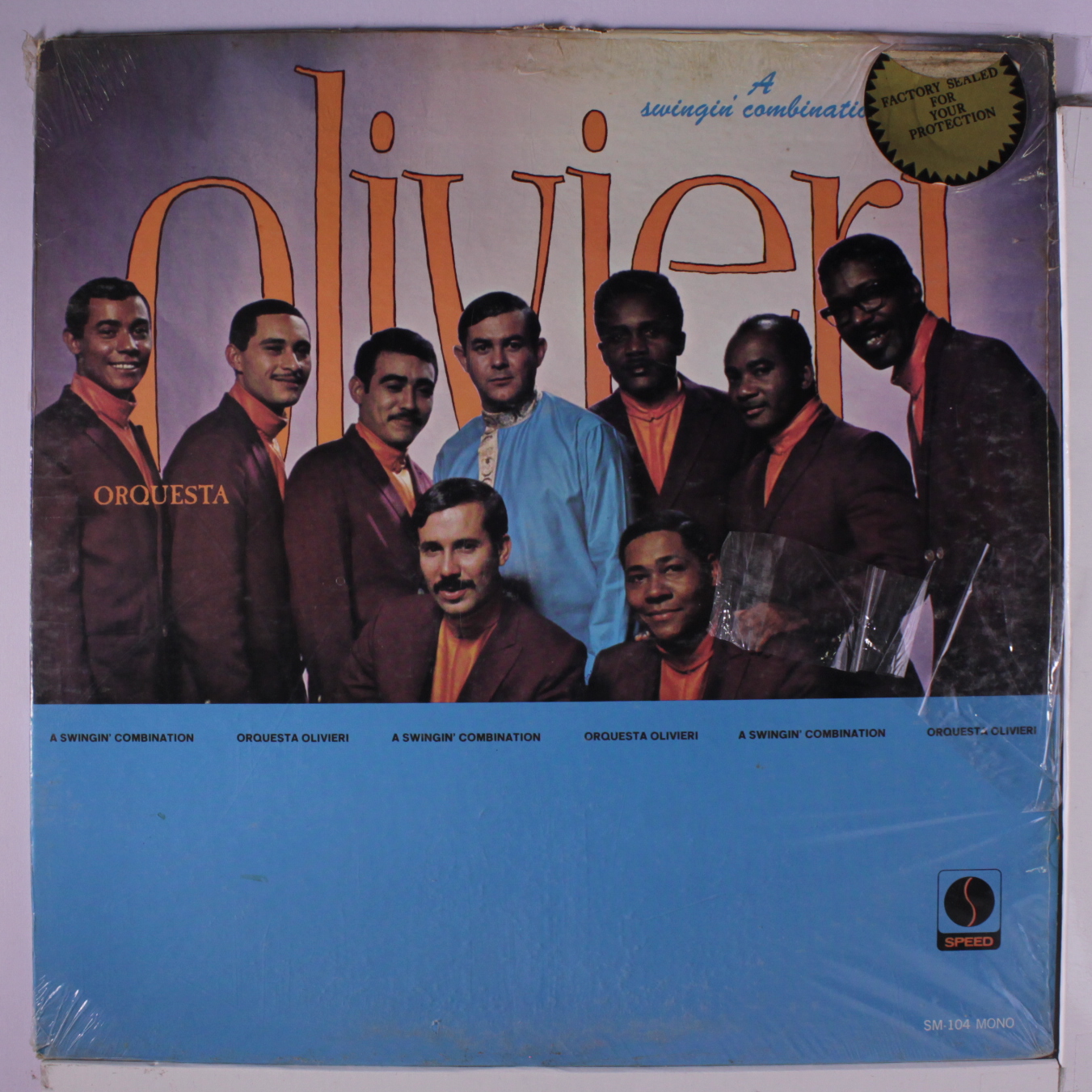 Orquesta Olivieri
"African Guajira" from A Swingin' Combination
(Speed Records, 1968)
Olivieri had already been on Marin's radar since the two men had once both worked at the famed Bronx record shop, Mary Lou. As with other Speed bands, Olivieri had originally been interested in signing with Cotique but once that label fell apart, Speed became Plan B and his subsequent Swingin' Combination album introduced what would become the common balance for the four remaining Speed titles: a little bit of Latin boogaloo, a little bit of sweet soul, recalling the mambo-and-doo-wop heritage that so many of these Nuyorican artists had grown up with. To me, the standout track from the album is the lively "African Guajira," which features both Angelo Jiminez and Felix Pagan on vocals.
Trivia Note: Herbie Olivieri previously recorded a lovely ballad entitled "There's No Other Girl," for both Delta Records and Marin's own Latin soul imprint called… Latin Soul.
---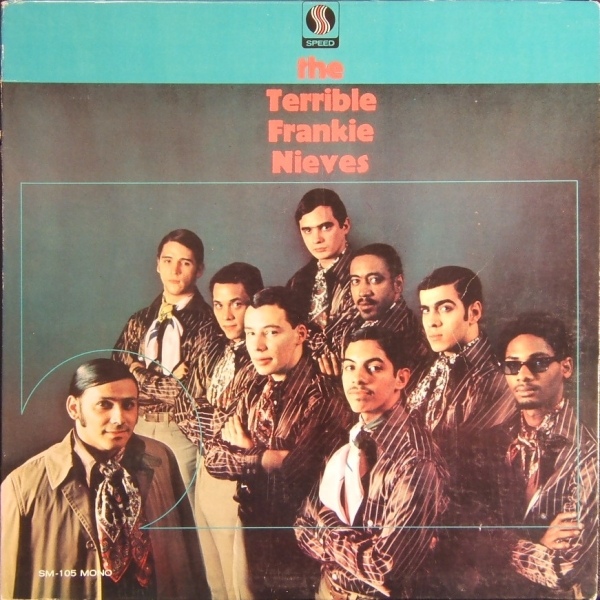 The Terrible Frankie Nieves
"It's Better To Cry" from The Terrible Frankie Nieves
(Speed Records, 1968)
Nieves originally came to Stan Lewis's attention and Marin agreed that the young Nuyorican had potential. Nieves had grown up as a deep doo-wop guy, a product of Hell's Kitchen who had listened to more than his share of street corner crooners. Not surprisingly, despite the album's Latin dance tracks, the big hit off his album was the slow-burning "It's Better To Cry," one of the best ballads of the entire Latin soul era. It would also get recorded by The Appreciations where it became a minor Northern Soul hit. (It's surprising that Speed never thought to release this on single though Nieves would record a separate 45 for the label; see below).
Trivia Note: Nieves thought that his band's name "The Terrible Frankie Nieves" was… terrible. But Lewis came up with it and for better or worse, it stuck.
---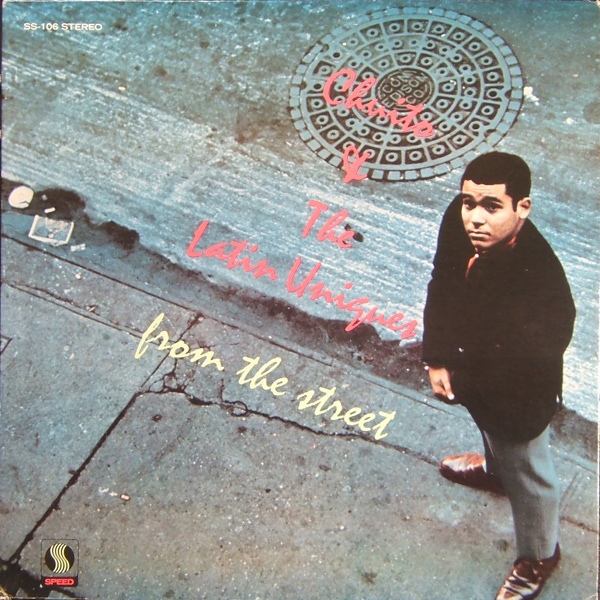 Chuito & The Latin Uniques
"Wish I Could" from From The Street
(Speed Records, 1968)
Jesus "Chuito" Santiago was originally a timbalero, who, like Nieves, came to Lewis's attention. The subsequent From The Streets album would become the most overtly soulful of the Speed LPs, not the least of which is because it featured three different vocalists: Norberto Carrasquillo, Danny Agosto and Tony Middleton. The latter, an R&B singer, formerly of The Willows, powered the vocals on "Spanish Maiden," which became the album's hit single. However, I personally have always favored the mournful "Wish I Cloud," which features Agosto singing a classic tale of young heartbreak. (Warning: If any single Speed title is likely to tax your wallet, it'll be this one since it heavily appeals to both soul and Latin collectors).
Trivia Note: Bobby Marin recruited Middleton, on the spot, to sing on "Spanish Maiden" after running into him on the sidewalk. In that sense, Middleton literally came in "from the streets" to record on the album.
---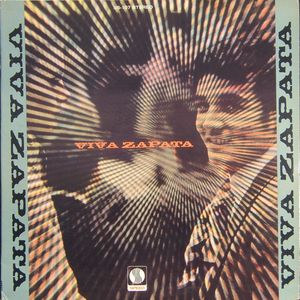 Milton Zapata
"Viva Zapata" from Viva Zapata
(Speed Records, 1968)
Zapata came onto Marin's radar as not just a dynamic bandleader but also a gifted songwriter. It's no surprise then that Zapata, unlike his labelmates, would end up writing almost all of the songs for his album. Like the previous Speed LPs, Viva Zapata mixed R&B and Latin dance tracks but though the R&B-flavored "Sweet Soul Music" (written by pianist Butch Johnson) was the single, it's the fiery, Latin jazz jam of a title track that's the album's standout.
Trivia Note: Marin recruited Johnson and the Latin Uniques' Agosto to become part of his 107th Street Stickball Team).
---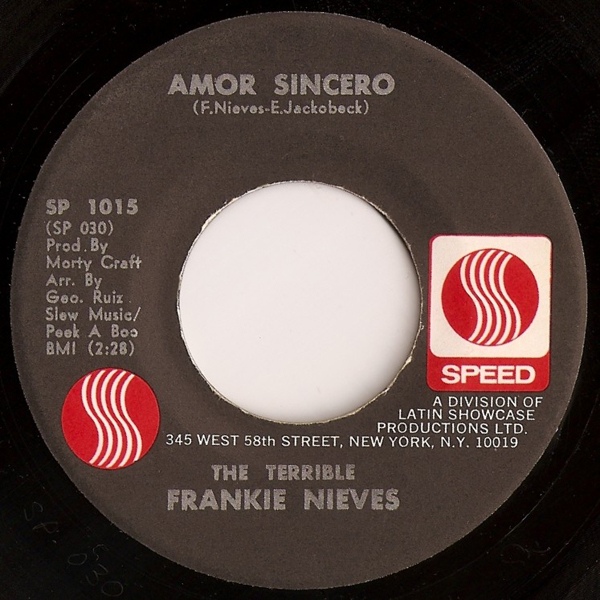 Frankie Nieves
"Amor Sincero" from True Love / Amor Sincero
(Speed Record, 1968)
Speed released at least a dozen records on 7" singles, half of which were album songs, half of which were not. The latter applies to Nieves's "True Love," which he recorded after the success of The Terrible Frankie Nieves album. He sang the song in both English and Spanish, thus producing two versions. Mysteriously, by the late 1970s, both sides would get re-released on the then-new extended 12" format by Disco International, a label run by Leonard Lewis (a relative of Stan's?) that ended up reissuing both Latin and R&B singles though it was never clear how and why they chose the titles they did.
Trivia Note: "True Love," isn't quite a cover song but it clearly takes its melodic hook from Young Holt Unlimited's smash hit "Soulful Strut".
---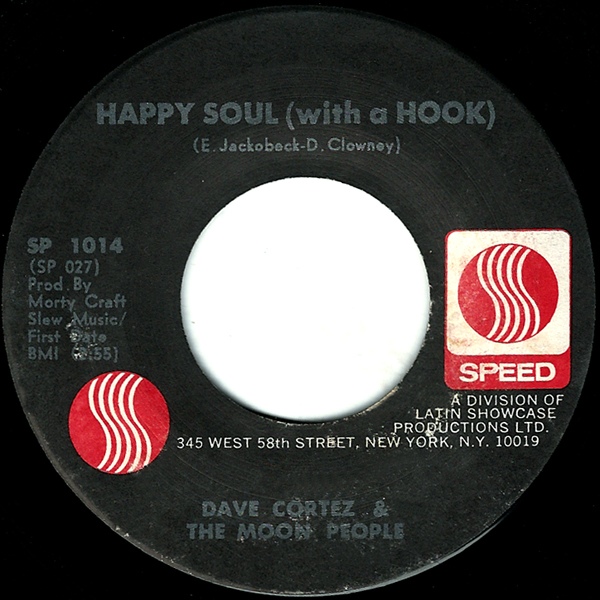 Dave Cortez and The Moon People
"Happy Soul With A Hook" from Happy Soul
(Speed Records, 1968)

To this day, I'm still not clear who/why this one song managed to get released in so many different forms. There's the Latin Blues Band original, entitled "I'll Be a Happy Man." The Moon People released an instrumental version as "Happy Soul" on Land of Love. Speed also brought in organist Cortez to lay down some keys on the Speed single "Happy Soul With a Hook," but then Roulette replaced Cortez with an uncredited piano player and released the song as "Hippy Skippy Moon Strut" by the Moon People and Disco International went on to release "Happy Soul" as a 12".
Trivia Note: DJ Premier eventually sampled one of the versions of the song for Christina Aguilera's 2006 hit "Ain't No Other Man."
---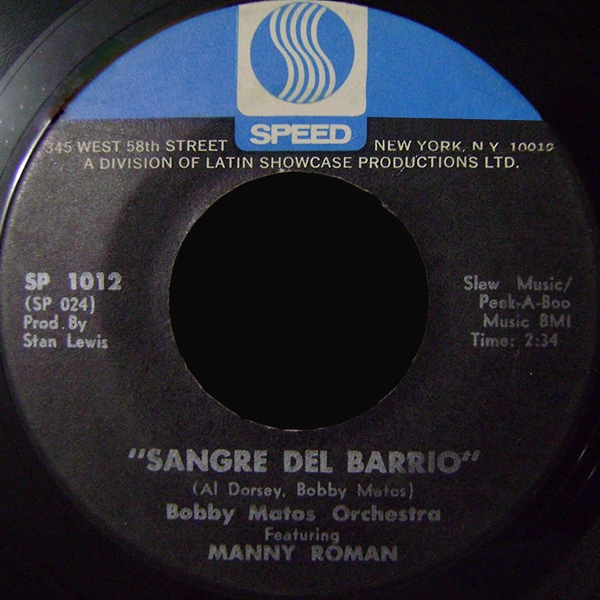 Bobby Matos Orchestra
"Cuchi Frito Man" from Cuchi Frito Man
(Speed Records, 1968)
In theory, somewhere out there is a studio tape containing Matos's lost Return To Spanish Harlem album… fully recorded but never released. Matos already had one killer boogaloo album under his belt – My Latin Soul on Phillips – but his would likely have been Speed's 8th LP release had the label not disintegrated before they could get it out. Much of that album featured singers Manny Roman and Tony Middleton and there are extant copies of Speed 45s that came out of that session featuring both men. One of the most elusive is Matos and his orchestra's cover of Ray Rivera's "Cuchi Frito Man," which features Roman on the flipside, singing on "Sangre Del Barrio."
Trivia Note: A test-pressing of Return To Spanish Harlem once existed and was given to Matos…who later lost it.