Published on
May 23, 2018
Category
Features
"I like music that makes me think and I like music that makes me dance."
It's this duality which ties everything together for classically trained, jazz multi-instrumentalist and Madlib-inspired producer Emma-Jean Thackray, as she flicks through a record collection that spans generic and geographical borders with enthusiastic abandon.
Such is the omnivorous nature of Thackray's taste, don't be surprised to find Merzbow cuddling up to Glenn Miller, Fela Kuti sharing digs with Cheech and Chong, and forgotten '70s TV soundtracks alongside Art Ensemble of Chicago in a collection which lines the back wall of her home studio in South East London.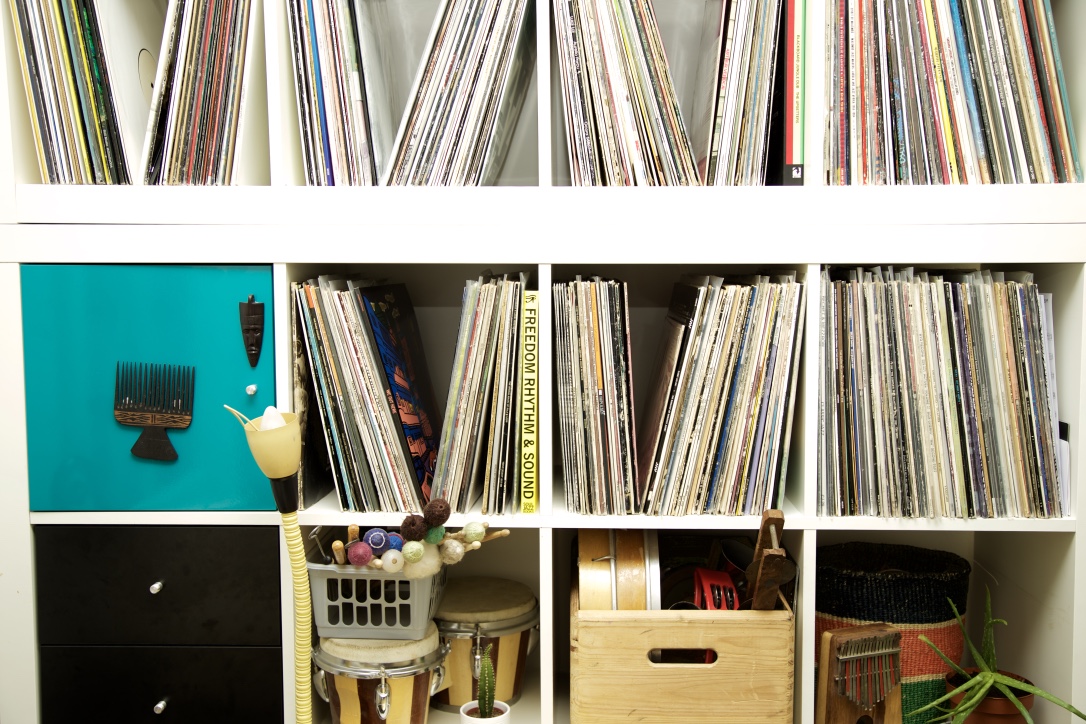 In fact, anyone who's seen Thackray's live show will sense that her love for obscure TV snippets, and cut and paste samples (from peep Show no less), reflects an irreverent but not insensitive appreciation of the jazz tradition. An on her new EP Ley Lines, Thackray is most definitely here to make you think – try 'Make Do' and its moving new video – and dance – as on the afro-beat groove of the title track.
Growing up in Yorkshire, it's no surprise Thackray has brass in her blood. On top of the trumpet, which remains her main instrument, she has taught herself countless others, many of which appear on the EP, recorded entirely by Thackray in the room where her record collection is now housed.
With the EP out now, we visited Thackray to discover a little bit more about where her musical inspirations lie, what records have helped guide her, and how you can rave to both acid house and Sibelius in the same night.
---
Your music seems so rooted in different traditions, were there records in your house growing up?
No, not at all. When I gave my parents a copy of the last EP Walrus, they were like, "what do you want us to do with this? Have you got a CD?" They have just fallen out of love with it. They did give me a lot of their pop, and I got rid of almost all of it, but kept all the good stuff like Duran Duran and the hair metal. And my grandad has a massive collection of rock n roll and blues 10"s. He saw me filtering through them and was like, "you touch them and you die!"
So you had to find your own way, for the most part?
Yeah, I listened to tapes more than anything, and as a teenager I was shopping in a lot of thrift stores and charity shops to get what I thought were more interesting clothes. I just ended up picking up vinyl by accident because it was a cheap way to get jazz.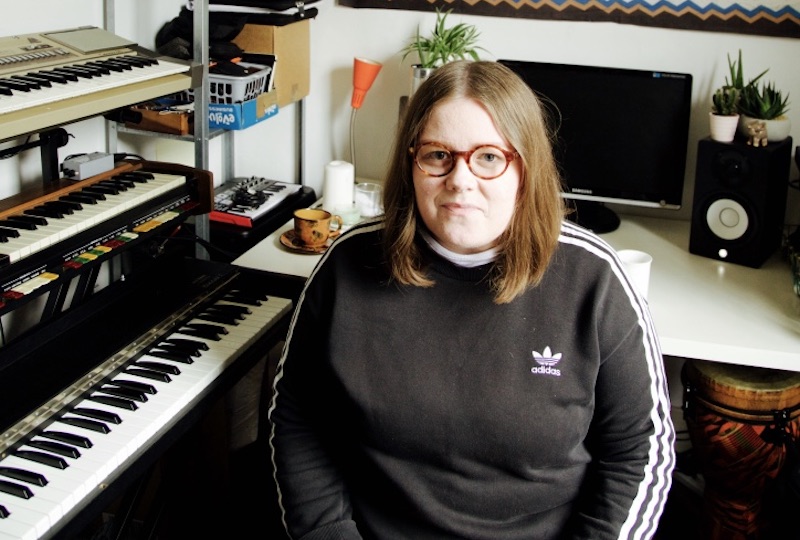 Jazz isn't your typical teenage genre-of-choice. Were you exposed to it because of the instruments you were playing?
I just came across it by accident. I had already been listening to a lot of weird rock and non-mainstream music, and a lot of classical music because I was playing in orchestras. I was playing as a featured soloist in this brass band, doing the famous flugelhorn solo in 'Concierto de Aranjuez'. I was searching for it online and found a different version that was by this guy called Miles Davis – the Gil Evans arranged version. So I started listening to more Miles Davis from there.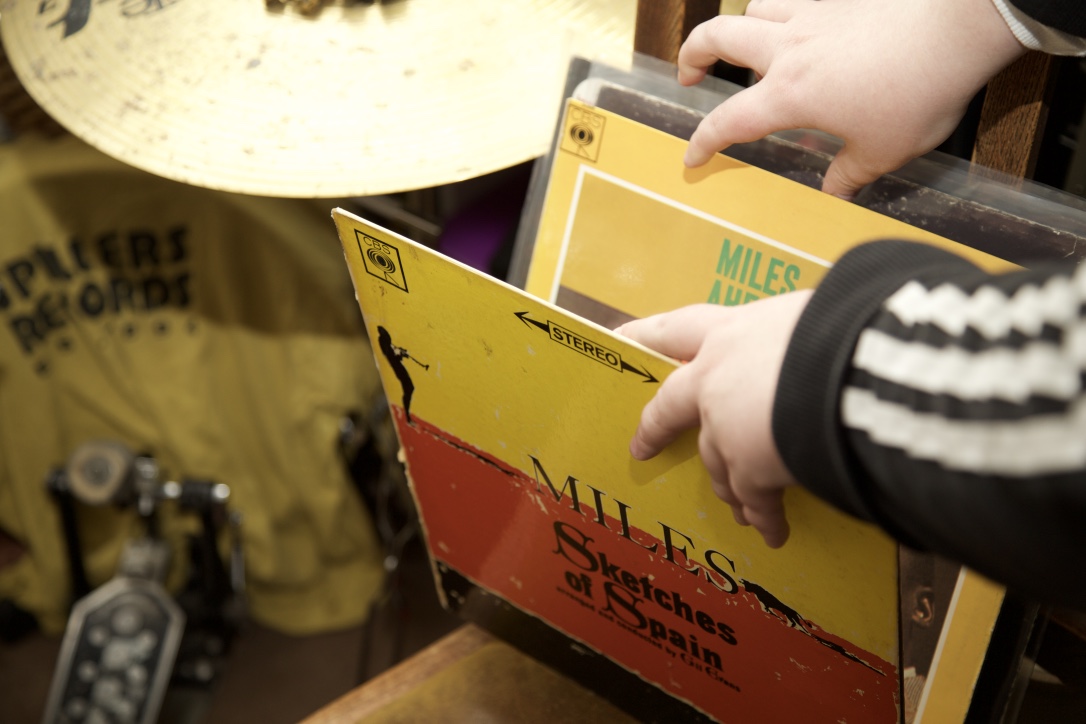 It's your main instrument now, but was your first instrument always the trumpet?
Yeah and cornet when I was very little. I basically grew up playing in brass bands in Yorkshire, that's were I learned to make a nice sound and play with other people.
Yorkshire has such an amazing history of brass bands, and they're so part of the community…
It's such a part of the community that when I get off the train to see my parents, there's this installation in the underpass where they're literally playing brass band music and have plastered photos of rolling hills, to be like 'Welcome to Wakefield'!
It's also connected to the mining history right?
Yeah, and a lot are still called colliery bands even if they're not connected to them.
It reminds me of Jeremy Deller's Acid Brass project, which featured brass bands covers of acid house jams. How do you feel about acid house?
I love it. I was doing similar things – not quite as cool as acid house. I started arranging things in my early teens and taking them to brass bands – mainly pop songs, nothing so cool. But it's such a versatile ensemble that it's amazing. I'd love to do that with the next record, do lots of brass and larger ensemble stuff.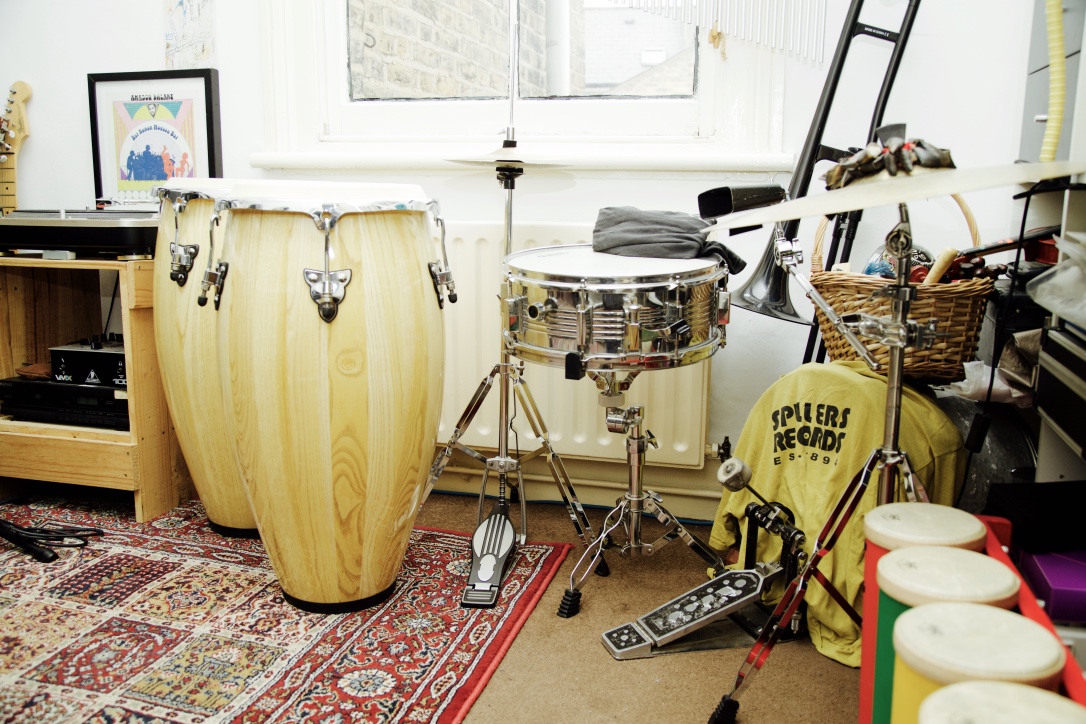 Were you also going out to clubs as a teenager?
Yeah, I was listening to a lot of electro, house and stuff with such massive basslines that you couldn't really stand up straight. Leeds had a really good scene for that kind of stuff. I'm not so acquainted with it now, but I was going to clubs quite regularly from about 14 to dance and hear music on a good sound system, because I wasn't allowed to turn anything up at home. Going to a venue was really special. To be able to really feel the music.
So quite a visceral connection with it?
Yeah – I'd listen to the thumping stuff when I went out and then go home and put on some Sibellius or something.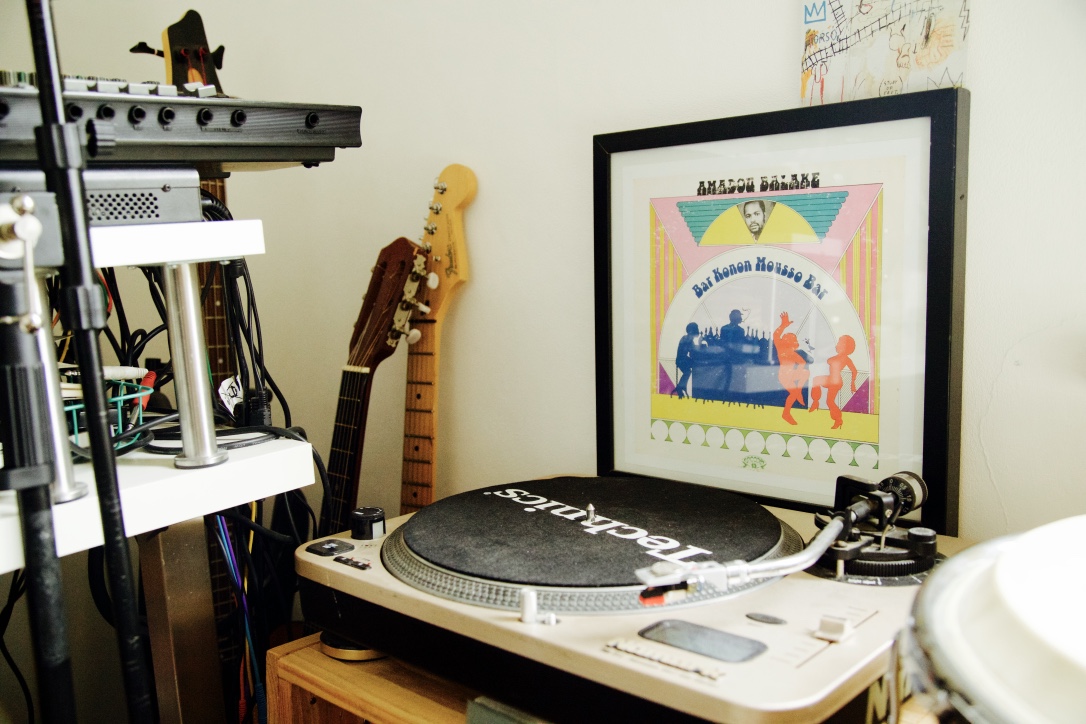 Were there any producers you were particularly into?
I wasn't really into specific producers as a teenager – I didn't really know that that job existed. I could hear certain things in tracks that I loved – a certain way of approaching an instrument or something like that, and feeling really connected to it.
I only really knew how to play instruments and arrange on paper, and was thinking about how someone could make a certain sound acoustically. I think it was also a good skill to be learning at that time, because when I was older and doing much more production, I could make certain sounds on acoustic instruments that maybe someone else might not know how to make. I'm trying to make sure that I'm fusing them together now.
That really comes across on Ley Lines. There's a feeling that the music is arranged in a sophisticated way, but there's also this sense that it conveys a feeling that you can dance to. Is that in the forefront of your mind when you make music?
It used to be. I think now I've got to a point where I don't have to think in a conscious way about that. I like music that makes me think and I like music that makes me dance and I want that to be the way that other people experience it. I think hopefully that's got to a point where I've figured out the way that I like to sound and it's just more natural now and I can let myself relax. I don't have to try and be true to myself, if that makes sense?
You said you got into the record buying thing quite early?
I used to go to HMV a lot and any bit of money that I had I would go to the jazz section and get some CDs and see what records they had. I've never really had the money to be a serious buyer. It's just happened that now there's quite a few in the house. It's not necessarily because I buy stuff every day. It's just one of those things that I'm doing consistently. Now I only really listen to music on record – I don't pick up downloads or CDs or anything.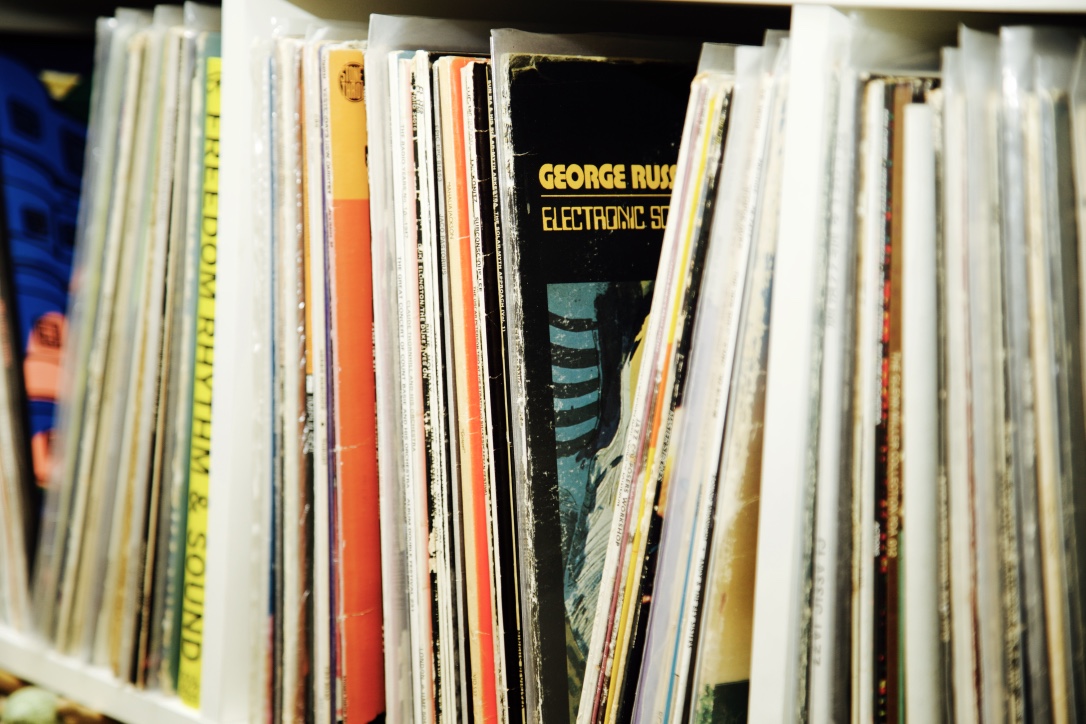 Some people really self-identify as collectors…
I don't think I've ever really thought of myself as a collector partly because I've always been very poor! But I've definitely got that in me. I would totally buy everything that Madlib ever did, if I had the money…
So when it came to buying records you were following your nose in a sense?
Yeah, so names I already knew, collaborations between people that I knew. Basically when I was growing up I knew that I would like everything that Gil Evans ever touched, and anything that Coltrane did. They were the main things that I would go to. And then as I got older, if it was produced by J Dilla or Madlib, then I knew I would definitely like it. It was more about picking up people that I knew and going down that path.
I guess the hip-hop jazz connection has always been such strong one, for the sampling history and also the potential to open up new worlds.
Exactly. I remember when I first heard some of the Tribe stuff, when they are using overt jazz samples. I was like "Yeah, this is what's been in the background in my head for ages!"
Everyone ends up listening to jazz in the end, right? There seems to be a very open-minded approach to music in London at the moment…
I think so too, I think this is the best place in the world. There are people all these different cultures with ideas and musical tastes coming together and making something fresh. This is a city of specialists and there's always going to be an audience for the niche, weird beats that you're making.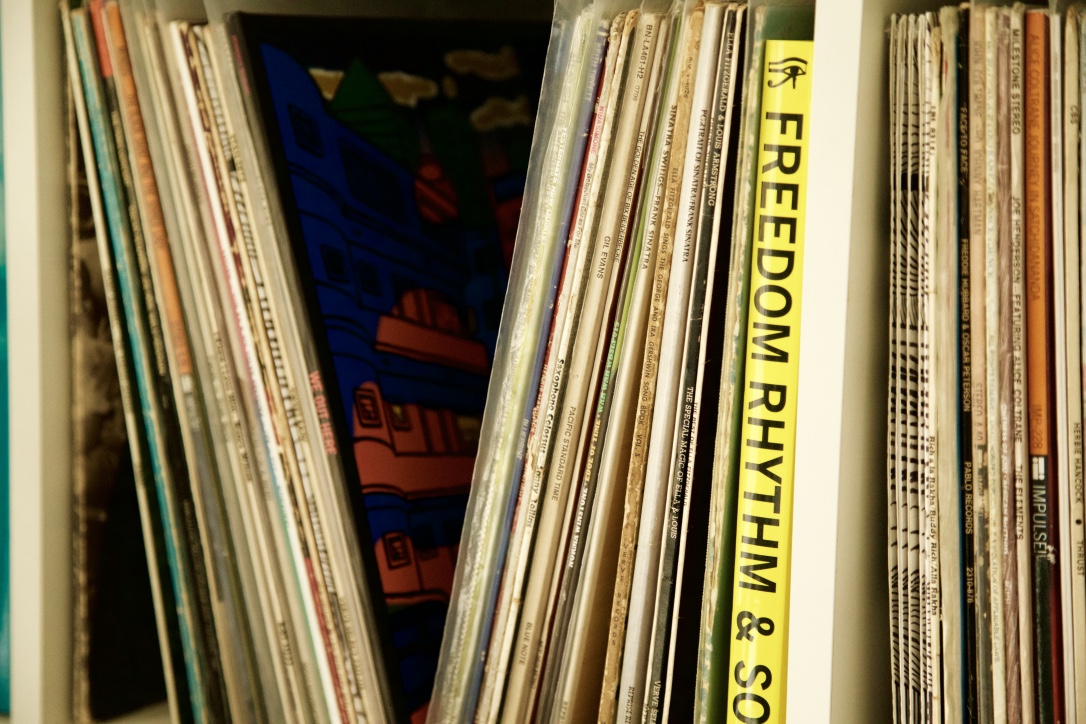 Although you're evidently a trumpet specialist, it also feels like you've got an interest in instruments themselves right?
That's actually a dangerous collector thing. If I had more money I would have so many more instruments.
Where did that begin?
I've just always liked playing a lot of different things. I didn't just play the trumpet growing up, we had a guitar and a drum kit, but everything other than the trumpet I'm completely self-taught on, so I feel very connected to those instruments and kind of feel ownership over them because I've had to figure it all out on my own. I played along to records and that was how I learned to hear what was going on.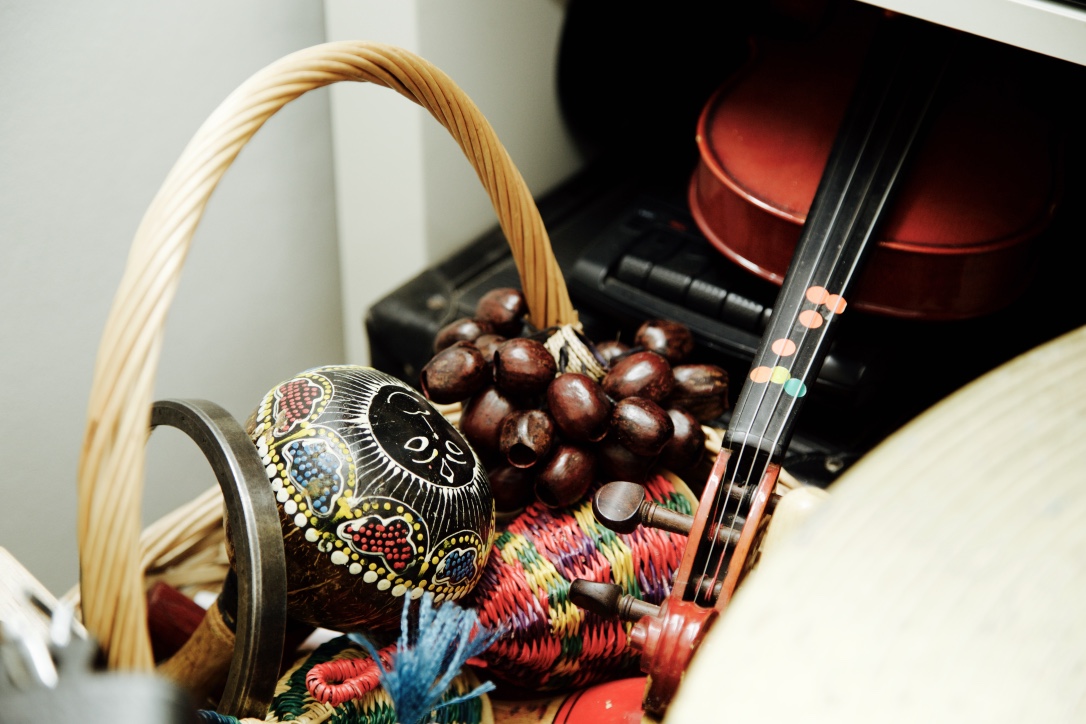 So how many instruments are we talking here?
Trumpet, flugelhorn, cornet, trombone, I can play the other brass instruments but I just don't have them because brass instruments are very expensive. Gutair, bass, drums, percussion, congas and djembes and shakers, we used to have a vibraphone which I would play all day every day, but when we moved here we had to give it back. Keyboards, singing, and I now play the clarinet. I've tried the flute but I'm not very good. I will come back to it one day.
You mentioned that you try a new instrument on every recording you make?
Not consciously, but now I will. So on 'Catford Bridge' from Ley Lines, I'd been playing the clarinet for ten minutes and it wasn't that hard to make an OK sound. On the next record, I want to play balafon or kora.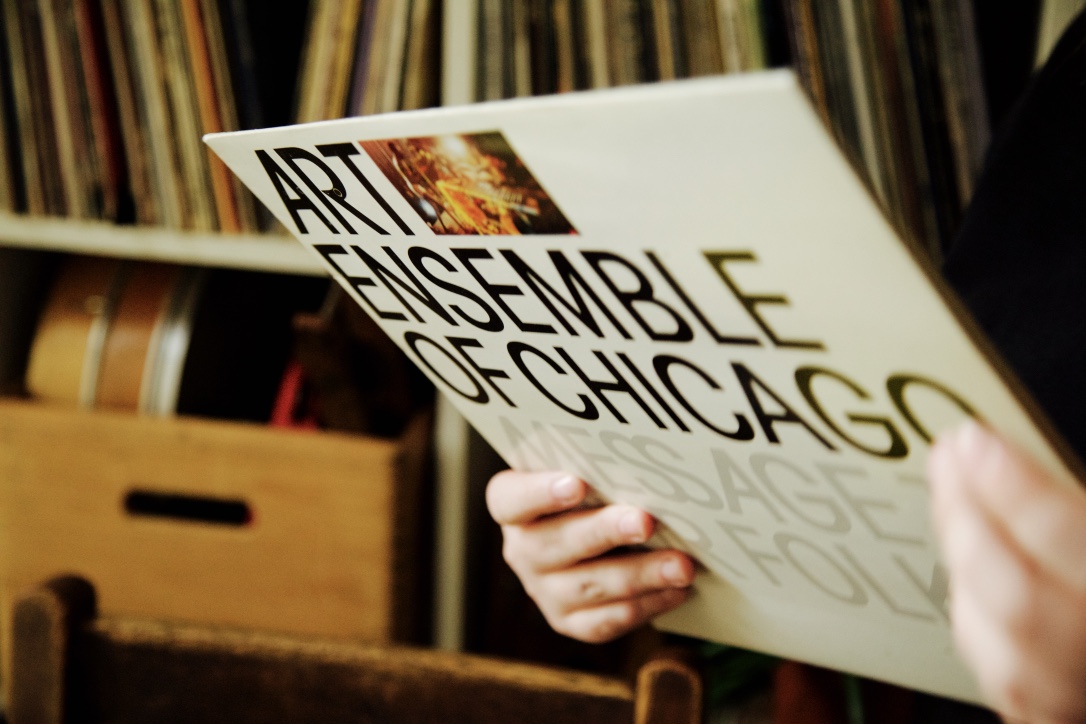 The breadth of instruments you're interested in seems to be reflected in the diversity of your record collection too. Where shall we start?
There's a lot of Art Ensemble of Chicago, and if I could I would try and collect everything that they ever did, but I think it would be impossible.
Would you say they're up there with your most important bands?
Oh yeah, definitely one of the most important groups for sure, even more important than… Spice Girls.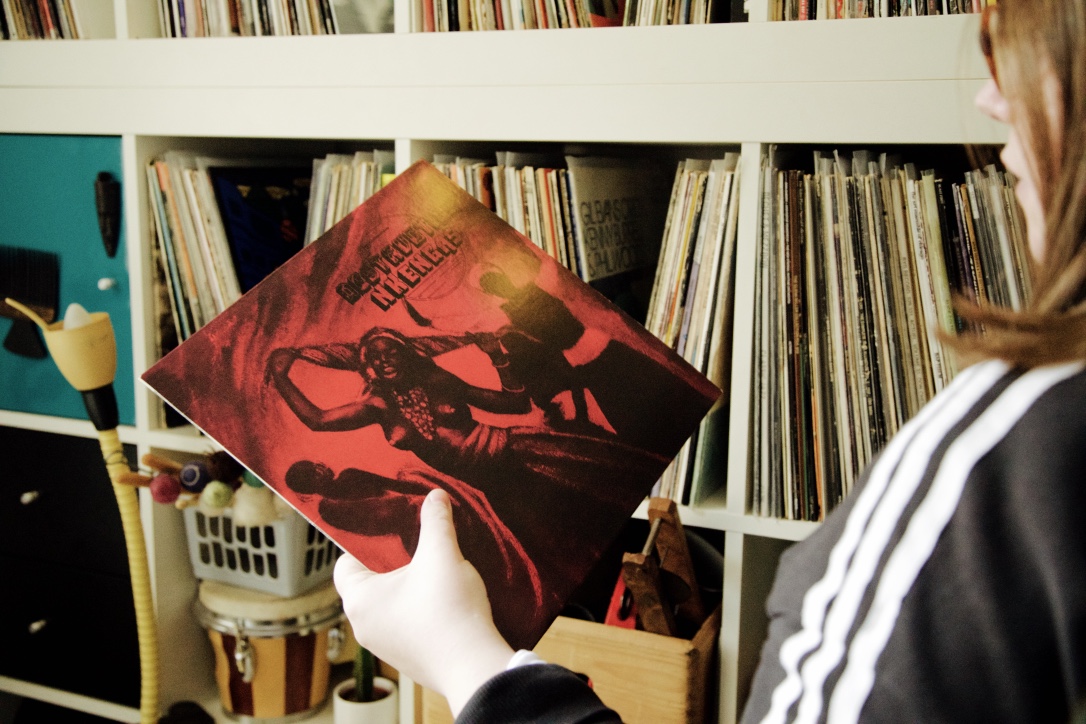 That's impossible! What genres have we got in here?
Jazz of varying degrees, stuff from Africa, different kinds of rock, lots of Soft Machine, stuff from South America. Lots of percussive-heavy stuff. If it has lots of percussion, I'm into it. Also folk music, hip-hop, more house, white label stuff. Pop and soul and older stuff from the '70s and '80s. And up here is the uncategorisable stuff. This is very soundscape-y and behind it is the Cheech and Chong comedy soundtrack…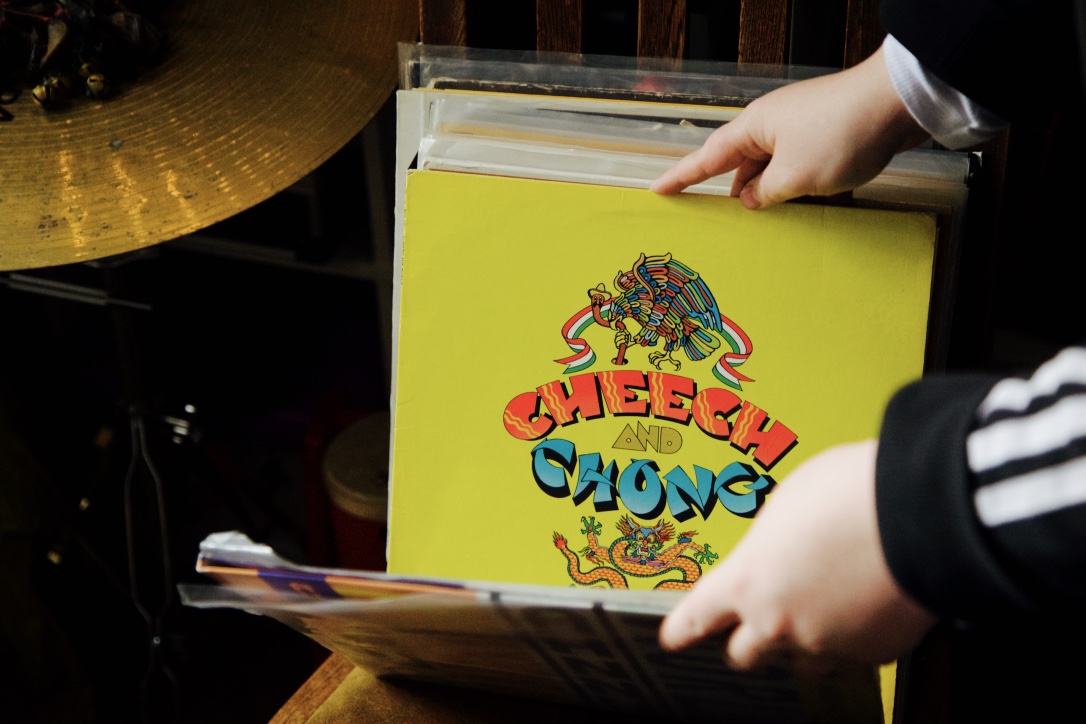 How do you feel about rare records?
I really couldn't give less of a fuck! I want to know how it sounds, I don't care if it's the original pressing. Maybe that's just because I've been too poor to care? Maybe if was a baller, I would be doing it…
This is probably one of the most expensive and rarest thing that I've got – this Michael Gibbs album of '70s big band stuff. When I got this, I waited months before I listened to it, because I wanted to listen to it on my birthday, make my day special and really listen to it. He's an amazing jazz arranger and did a lot of the Jaco Pastorius' strings.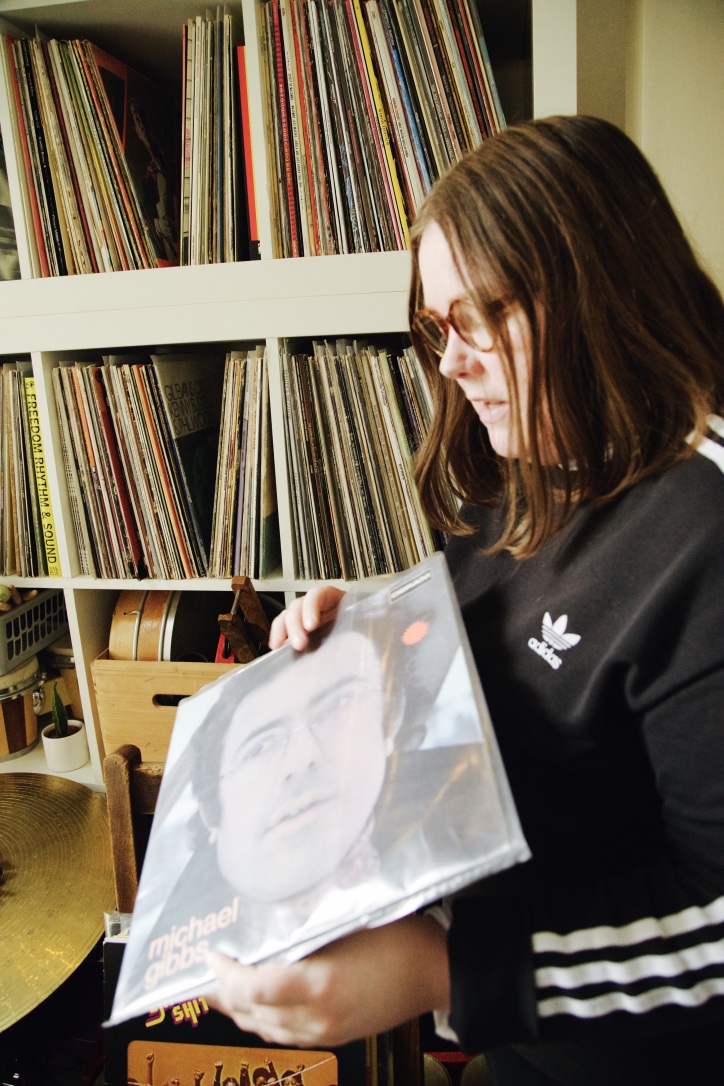 What do you mean when you say "really listen" to it?
I want to actively concentrate, I don't want it to just be there while I'm washing up. I want it to be the only thing I'm thinking about, the only thing I'm focussing on and give it its proper attention. There are different kinds of listening, and it's the kind of listening where afterwards I'm going to need to have a nap, because I'm trying to absorb every tiny bit of sound.
I think there's a John Coltrane quote about having to listen to a typical quartet record six times, once as a whole, then four times, each focussing on a different instrument, and then once again as a whole.
That's exactly how I feel.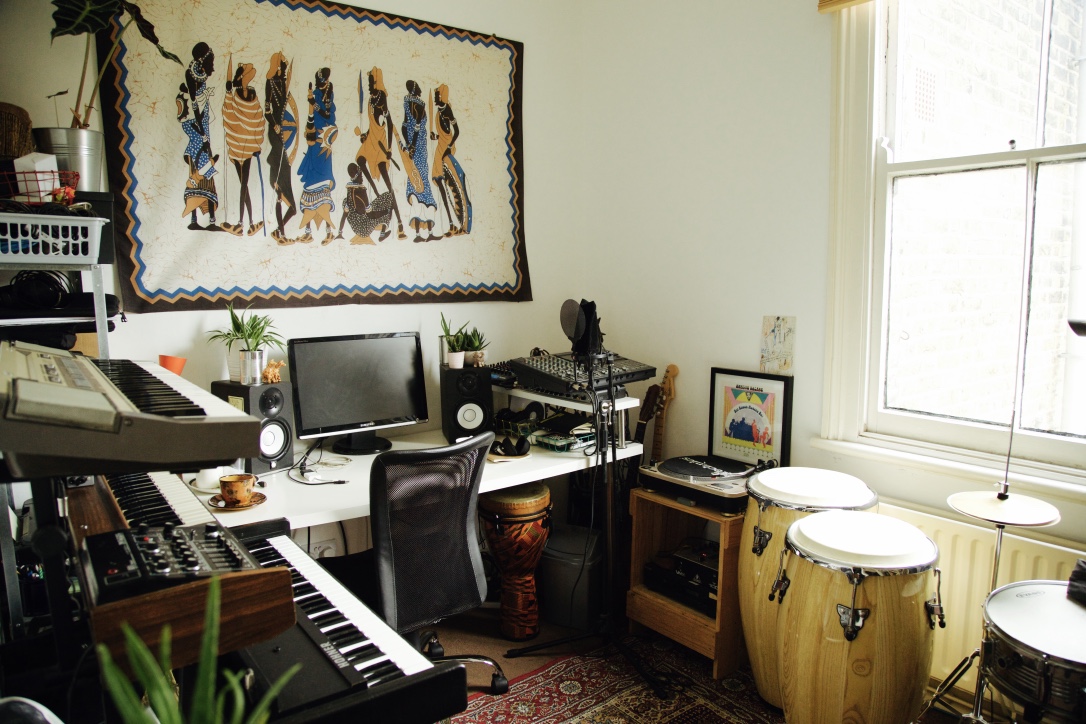 It's always interesting how differently musicians talk about their record collections in contrast to label owners or collectors, because the emphasis always feels like it's a little more on the music or musicality itself, rather than the object.
The object is just a way for me to get to the sound. Obviously I treat the records nicely and everything, but it's just a thing. It's like a door to a world, and I'm more interested in what's behind the door than the door itself.
Is there anything in particular that makes you want to discover what's behind each door? What are you listening for when you're out digging?
I like records where you can't necessarily tell when they were made, so if something sounds dated, I probably won't be into it. I want stuff that sounds timeless, genre-wise, and production-wise. When I was talking about the way I make my music, I want it to make people dance and make people think, and that's the same when I'm listening – I want to think and dance at the same time, or in different parts of the song, or different parts of the album. If in that whole experience I can do both, and it takes me somewhere, that's all I'm into.
You also mentioned Madlib earlier, who seems like the perfect example of this. He seems to uses such a timeless approach to making music, where everything is fair game and it doesn't matter where it's come from, what emerges can be of any period or no period at all…
Exactly, that's what I love as well. And the fact that he's not just taking a groove from anywhere, he wants to learn about the music from a certain place, and that's what I try and do.
In terms of the relationship between making and listening to music, what does your record collection mean to you?
I think it is me. I know that sounds cheesy, but I think it is. If you wanted to know what kind of a person I was, you could just flick through, because it's like I'm trying to search for lots of different things, lots of different sounds from around the world.
I think when you say that you listen to stuff on record, people immediately get a sense of who you are. You like the ostensible flaws in things, you like to listen to a crackle or the dust that's been riven into a groove. You don't want to listen to something that's clean just for the sake of it.
Likewise I suppose the same could be applied to the instruments, which sometimes go out of tune or do weird things…
I deliberately de-tune them! This Casio has a tuning wheel on the back and I always de-tune it, because I want a bit of the grit, I want things to sound more interesting. I think when things sound really clean they are boring, when things are pristine they're boring, when things are perfect, they're boring. I want things to be a little bit shit, it makes it a little bit more interesting.