Published on
December 21, 2018
Category
Features
Produced by UK dub royalty like Adrian Sherwood and Dennis Bovell, Maximum Joy may be less notorious than some of their counterparts, but in crafting music drawn from "punk, dub, reggae, disco, funk, free jazz and hip-hop" their sound still resonates over three decades later. Now reformed as MXMJoy, and with new album P.E.A.C.E. on the way, Janine Rainforth and Charlie Llewellin talk to Martin Aston about politics, mortality and the spirit of collaboration.
Watching the video to MXMJoy's debut single 'Can Man Conquer It All' – all becalmed vistas of road and sky juxtaposed with slo-mo mages of acrobats – perhaps only friends and family of those involved will make a connection to Bristol's punk-funk treasures Maximum Joy, forged in a cauldron of punk revolution and social turmoil.
Bands that reunite after a noticeable absence typically take the easy route – pick up where they left off with the same name and same sound. But this isn't the case with Janine Rainforth and Charlie Llewellin, Maximum Joy's respective vocalist and drummer and now the core of MXMJoy, purveyors of a blissful amalgam of electronica and R&B, laced with grittier, brooding undercurrents that hark back to their early-'80s vision.
In other words, the change of name is not cosmetic. "It was important to make that distinction," spokesperson Rainforth explains. "Especially not to mislead our audience. But it also gives freedom to be who we are now. We're a new line-up, this is a new era, but of course, it keeps links to Maximum Joy."
Rainforth and Llewellin made MXMJoy's debut album P.E.A.C.E. with bassist Marek Bero, guitarists James Byron and Jono Trott and drummer Miroslav Haldina (Llewellin handled the digital beats). David McEwen, long-time sound engineer for the famed On-U Sound label, was also involved. McEwen worked on Rainforth's similarly becalmed solo tracks that she began posting on Bandcamp in 2015, the first since Maximum Joy split in 1983.
By then, Rainforth had gone; her original vocals for a lovers rock-style cover of Timmy Thomas' 'Why Can't We Live Together' were overdubbed by a replacement, but the single was the band's swansong. If Maximum Joy are the least eulogised of British punk-funk pioneers, it might be down to only releasing one album, Station MXJY (produced by On-U-Sound spearhead Adrian Sherwood) and a handful of 12" singles (compiled on 2017's twin-vinyl I Can't Stand It Here On Quiet Nights: Singles 1981-82). Rainforth attributes the "post-punk revival that started coming up in 2003, 2004" and subsequent DJ interest in Maximum Joy tunes as the foundations for MXMJoy, but it still took an invite from Bristol festival Simple Things for Maximum Joy to reform in 2015, and the seed of MXMJoy to germinate.
Sharing files between Rainforth in the UK and Llewellin in the US, "we found we still had similar drive in terms of our influences," she says. "We're still trying to make music that mirrors our inspirations, feelings, sounds that we like now. 'Why Can't We Live Together' was the direction Maximum Joy were going in, and I think MXMJoy is the natural progression. I think it's a challenge to make a laid-back structured track like 'Ultraviolet', an understated, restrained vibe. The default in the punk era was loud, shouting, emphatic, funky, punky – which is great and part of us, but it's good to try some different approaches. It's about never wanting to stand still, it's how what inspires that fires me up!"
MXMJoy also measures the times passed since Maximum Joy. On the personal front, Rainforth is no longer the teenager who fronted the band. "Death is more of a feature now than it was," she admits. "When I first heard Bowie's Blackstar, it seemed, like a lot of us intuited, that it was about his mortality and the thought he was dying – like we all are! Without wanting to sound too morbid, it's part of life now when – if you're lucky – it's not so much when you're younger. Whilst we were in the middle of making the album, my brother died in a horrible accident, which had a big impact on things. One of the songs is definitely informed by this."
Beyond the personal is the pointed title P.E.A.C.E. (Rainforth won't comment on whether it's an acronym). As reggae legend Dennis Bovell (who produced Maximum Joy's 'Why Can't We Live Together') once said, "Your music is your politics."
"Dennis has it on the nail there for me," she says. "I think the word 'peace' has some bad, or weak, connotations, but as I get older, I realise how fundamental and important a word it is, and more to the point, an aim. I'm with Yoko on this, one hundred per cent!"
The title track, "is about global peace but also about who's blaming who, and the distractions we find with that. It's also about how the planet is changing. But an overriding theme is about what I see as the personal responsibility within that, on a ground roots level, individually as well as collectively. It's about how people are heroes even if only in what seems like a small way, in your own neighbourhood. At the same time. there's the question of this blame culture that lets us off the hook of taking responsibility."
2018 has been a year of extraordinary volatility. The early '80s was equally marked by strife and fear; but musically, it was an extraordinarily vibrant era. time. Fired up by punk, multi-ethnic Bristol created revolutionary ripples, from reggae and post-punk giants The Pop Group and Rip Rig + Panic through to '90s drum & bass, trip hop (producer, and Massive Attack collaborator, Nellee Hooper, was a member of Maximum Joy's final line-up) and dubstep.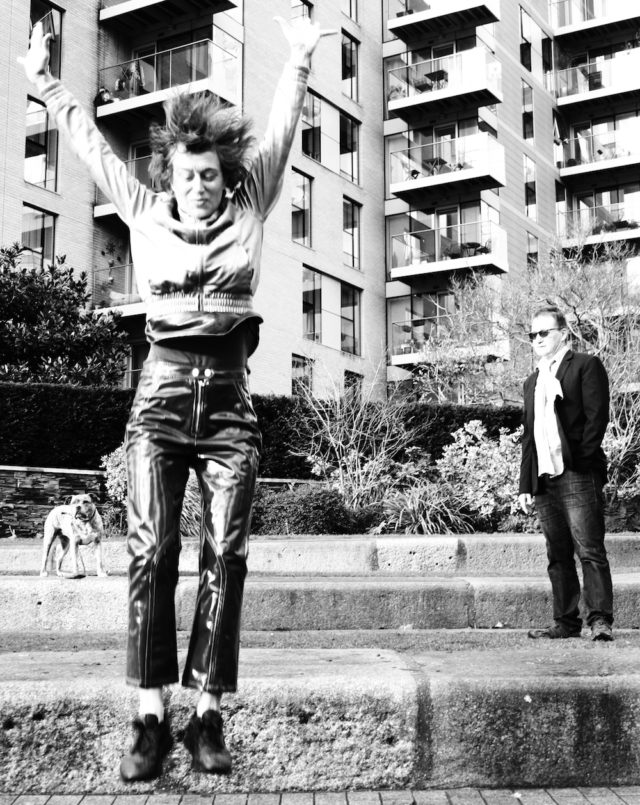 "[Maximum Joy] had loads of musical influences," Rainforth recalls. "Punk, dub, reggae, disco, funk, free jazz, hip-hop. Culturally, we were into the punk DIY side of things – the rebellion, and that we could make a difference with our music. It was a creative time in Bristol with a wide group of interconnected and overlapping groups in mad, experimental ways – and sparring off each other a bit too. And it was a crazy time, politically. There was unrest, like national strikes and high unemployment. The Brixton riots in London] and St Pauls riots [in Bristol] were happening, the Anti-Nazi League was big and CND too, so people were standing up, and it felt like change was happening."
Since those heady days, the need for an Anti—Nazi league is just as urgent, and digitalisation has revolutionised music again, "in terms of collaborations, cross fertilisation and influences, pulling the globe into one room – which I write about it on the album. It's weird and exciting and dangerous all in one, no? The potential is huge, but is it a Pandora's Box?" Still, she loves the way musicians have taken control again, "this big DIY movement that I can relate to. Punk and the following years were times of great change in the way popular music was disseminated, and made – indie record labels and distribution were just starting. Grime and trap remind me of punk, very DIY urgent and pushing boundaries, but also loads of other new and different music that we can put out so easily across the world."
Without the digital revolution, Rainforth and Llewellin couldn't have created P.E.A.C.E, in a transatlantic fashion. "Being in a room with a group of people jamming is unbeatable, of course, but it's possible to have a similar level of jamming no matter what the source of the sounds is," she concludes. "It's a response, a way of expressing on some level – dance, escape, grind. It doesn't matter what genre – if a chord or a beat or the way a few sounds are pieced together penetrates, that's what does it."
MXMJoy's P.E.A.C.E is released on 22nd February 2019. Click here to pre-order a copy.