Published on
January 5, 2017
Category
Vinyl Factory Events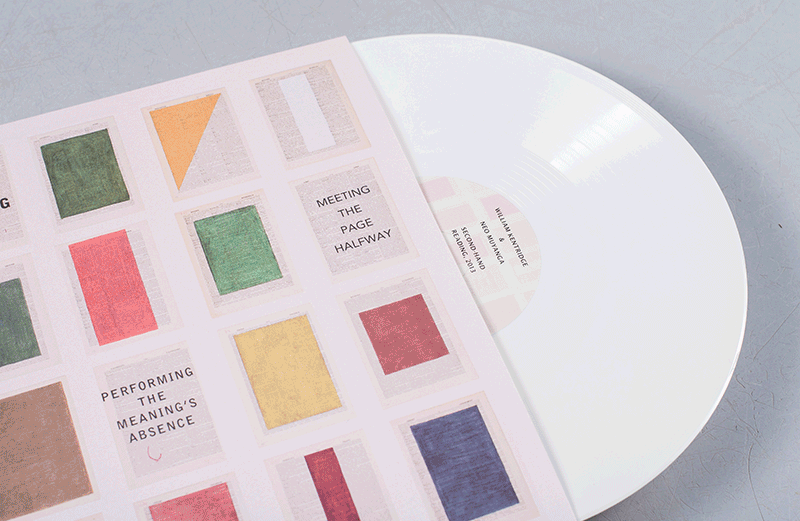 South African artist celebrated with new vinyl release.
Soweto-born musician Neo Muyanga's haunting soundtrack to Second-Hand Reading, an intricately drawn, stop-motion animation by fellow South African William Kentridge has been pressed to white vinyl for a limited edition release by The Vinyl Factory.
Muyanga's score of lilting pianos and melancholy, incantatory vocals acts as a stirring accompaniment to the piece which features hundreds of drawings superimposed on a copy of the Shorter Oxford English Dictionary and other lexicons and encyclopedia, where figures, objects and oblique sayings dance across the pages with agility and grace.
To mark the release, which coincides with Kentridge's first major solo show in the UK for over 15 years, London's Whitechapel Gallery will host a launch party at their First Thursday event on 5 January, featuring a three-hour DJ set inspired by the artist from The Vinyl Factory.
Available to buy at the event, from the Whitechapel shop or online via the following links, Second-Hand Reading will be released in two versions, a standard white vinyl edition of 300 copies featuring artwork by Kentridge, and a super limited edition of just 50 copies, each of which includes one of Kentridge's unique original drawing from the work.
The launch will take place at Whitechapel Gallery on 5 January from 6pm-9pm. Click here for more information.