Published on
March 22, 2016
Category
Vinyl Factory Events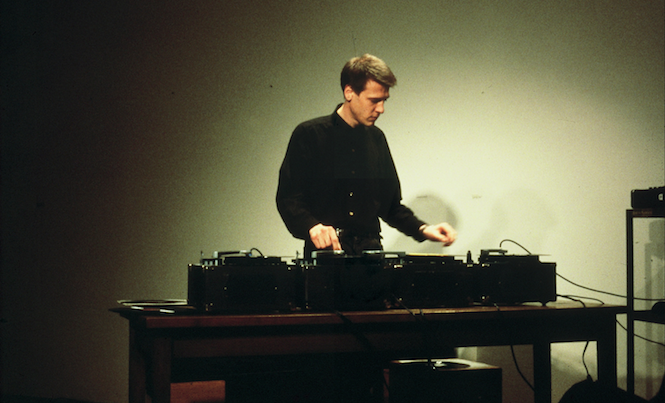 Artist and musician joins London Sinfonietta on mini-festival bill.
Originally recorded in New York in 1982, Christian Marclay is to perform a new and revised version of his debut solo piece Groove live on turntables with an ensemble in London next month.
Part of the London Sinfonietta & Ivan Volkov-curated mini-festival Mix, Marclay will be joined on the bill by maverick Italian composer Fausto Romitelli, a new commission from George Lewis and performances from Common Objects, featuring Marclay collaborator and experimental saxophonist John Butcher.
Released on vinyl for the first time in 2013 by The Vinyl Factory, Groove has been described as "an ambient classic", a mesmerizing example of early experimental turntablism and manual sampling, created by densely layering multiple copies of the same 7″ single and applying stickers directly onto the groove, causing the needle to skip and repeat.
Christian Marclay will perform a new version of Groove live at Mix: London Sinfonietta & Ivan Volkov, which takes place at the Coronet Theatre on Sunday 3rd April from 6pm. Click here for tickets and more info.
Last year Marclay collaborated with The Vinyl Factory once more to create the world's first mobile pressing plant which was installed at his major White Cube show to press records of performances recorded in the gallery to vinyl in situ. Watch our short film from the event below.