Published on
July 12, 2018
Category
News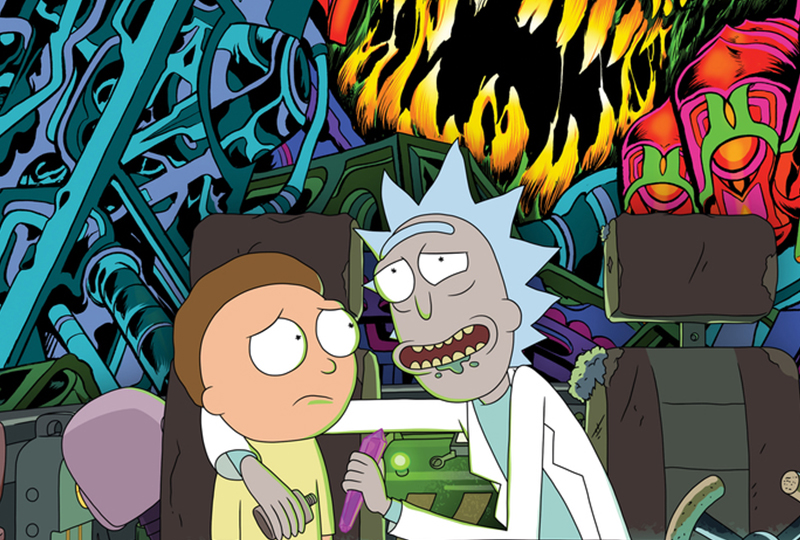 Housed in an etched plexiglass case with 7″ single.
Animated series Rick and Morty's original soundtrack is being released on vinyl for the first time, this September via Sub Pop/Adult Swim.
The Rick and Morty Soundtrack features 26 tunes, 24 of which are from the show itself – including songs by Mazzy Star, Chaos Chaos, Blonde Redhead, and Belly – alongside 2 new tracks inspired by the series.
Two vinyl variants will be released via Sub Pop: a "loser edition" on blue and green 2xLP – available 28th September; a deluxe 2xLP box set on "portal" coloured vinyl, housed in a box with LED lights and etched plexiglass, with a poster, a patch, a sticker and a 7″ single featured an extended mix of 'The Screaming Sun' – available 23rd November.
Two vinyl variants will be released via Adult Swim: a Comic Con exclusive 2xLP box set – available for pre-order during this year's event in July; an Adult Swim Festival coloured 2xLP edition – available for purchase at the event in October.
Head here for more info on The Rick and Morty Soundtrack versions, listen to its theme song and check out the track list below.
Tracklist
1. Rick and Morty Theme Song
2. Jerry's Rick
3. The Small Intestine Song
4. The Flu Hatin' Rap
5. African Dream Pop
6. Mazzy Star – "Look on Down From the Bridge"
7. The Rick Dance
8. Goodbye Moonmen
9. Summer and Tinkles
10. Chaos Chaos – "Do You Feel It"
11. Unity Says Goodbye
12. Get Schwifty (C-131)
13. Raised Up (C-131)
14. clipping. – "Stab Him in the Throat"
15. Help Me I'm Gonna Die
16. Let Me Out
17. Chaos Chaos – "Memories"
18. Chad VanGaalen – "Stuttering Light"
19. Alien Jazz Rap
20. Blonde Redhead – "For the Damaged Coda"
21. Fathers and Daughters
22. Belly – "Seal My Fate"
23. Chaos Chaos – "Terryfold"
24. Tales From the Citadel
25. Rick and Morty Score Medley
26. Human Music