Published on
May 22, 2018
Category
News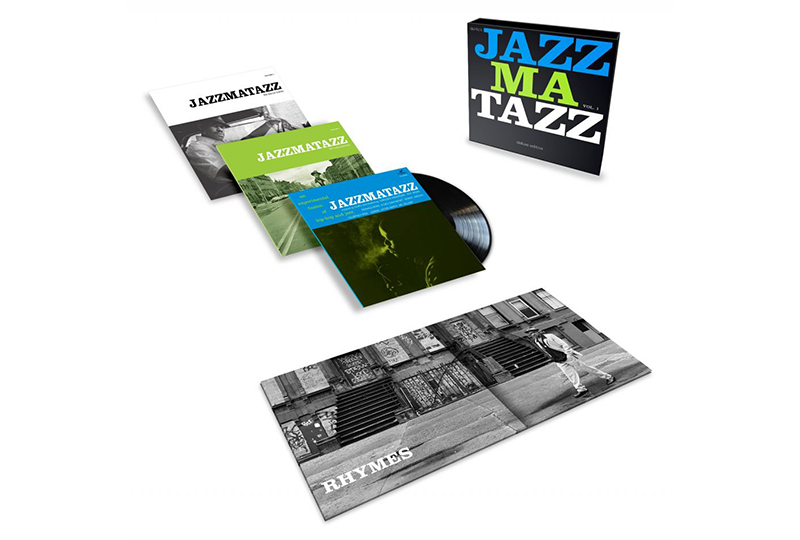 The pioneering album that fused a live super group with hip-hop production wizardry.
In 1993, Gang Starr MC Guru merged the worlds of hip-hop and jazz to create his game-changing album Jazzmatazz Volume 1.
Read more: 20 essential Gang Starr tracks
The two genres had met in the past, but Guru's collaborative album was unique from any other before it.
Rather than sampling jazz tracks to rap over, or even enlisting session musicians, he assembled a super group, in every sense of the word, to work with.
This included Donald Byrd, Roy Ayers, Lonnie Liston Smith, Branford Marsalis, N'Dea Davenport, and MC Solaar amongst others.
To celebrate the 25th anniversary of Guru's 12-track opus, Urban Legends label is releasing a new triple vinyl box set.
Housed in a custom slip case, it features the original Jazzmatazz Volume 1 album, an instrumentals version, a third LP with rare remixes plus b-sides, and a 12×12″ booklet of photos by Theirry LeGoues.
Order a copy here, listen to 'Down the Backstreets' and check out the track lists below.
Tracklist
Jazzmatazz Volume 1
Side A
1. Introduction
2. Loungin'
3. When You're Near (featuring Simon Law)
4. Transit Ride (featuring Zachary Breaux)
5. No Time To Play (featuring Ronnie Jordan)
6. Down The Backstreets (featuring Lonnie Liston Smith)
Side B
1. Respectful Dedication
2. Take A Look (At Yourself) (featuring Roy Ayers)
3. Trust Me
4. Slicker Than Most
5. Le Bien, Le Mal
6. Sights In The City
Jazzmatazz Volume 1 – Instrumentals
Side A
1. Loungin' (Instrumental)
2. When You're Near (featuring Simon Law) (Instrumental)
3. Transit Ride (featuring Zachary Breaux) (Instrumental)
4. No Time To Play (featuring Ronnie Jordan) (Instrumental)
5. Down The Backstreets (featuring Lonnie Liston Smith) (Instrumental)
Side B
1. Take A Look (At Yourself) (featuring Roy Ayers) (Instrumental)
2. Trust Me (Instrumental)
3. Slicker Than Most (Instrumental)
4. Le Bien, Le Mal (Instrumental)
5. Sights In The City (Instrumental)
Jazzmatazz Volume 1 – Rare Remixes / B-Sides
Side A
1. Loungin' (Square Biz Mix)
2. Loungin' (Guru Meets The Professor Mix) (featuring Donald Byrd)
3. Loungin' (Jazz Not Jazz Mix) (featuring Donald Byrd)
4. No Time To Play (CJ's Master Mix) (featuring Ronnie Jordan and Dee C. Lee)
Side B
1. Trust Me Trust Me (CJ's Master Mix) (featuring N'Dea Davenport)
2. Season For Change (Ronnie Jordan featuring Guru)
3. Season For Change (Dawn Of The Season Mix) (Ronnie Jordan featuring Guru)