Published on
June 23, 2022
Category
Live
Celebrating his new album, A Wonderful Letter, at Stones Throw's Cali HQ.
In VF Live, our favourite artists take you inside their homes, record shops, audiophile bars, and studios, for intimate mixes and performances.
The term 'legend' gets bandied about a lot in music these days, with few truly living up to the title. However, turntabalist, producer, DJ, and Beat Junkies co-founder J.Rocc very much does.
Both as a collaborator and solo, his productions and mixes have shaped the face of hip-hop. This includes his pioneering work as a co-founder of the Beat Junkies collective with Melo-D and Rhettmatic, as well as creative projects with luminaries such as Madlib and J Dilla.
On his own, J.Rocc's output includes mixtapes, singles, and albums spanning over twenty years. His latest LP, A Wonderful Letter, created as a sonic love note to the City of Angeles, is his second solo full length. It also marks the latest in a decades-long creative relationship between Stones Throw and the artist.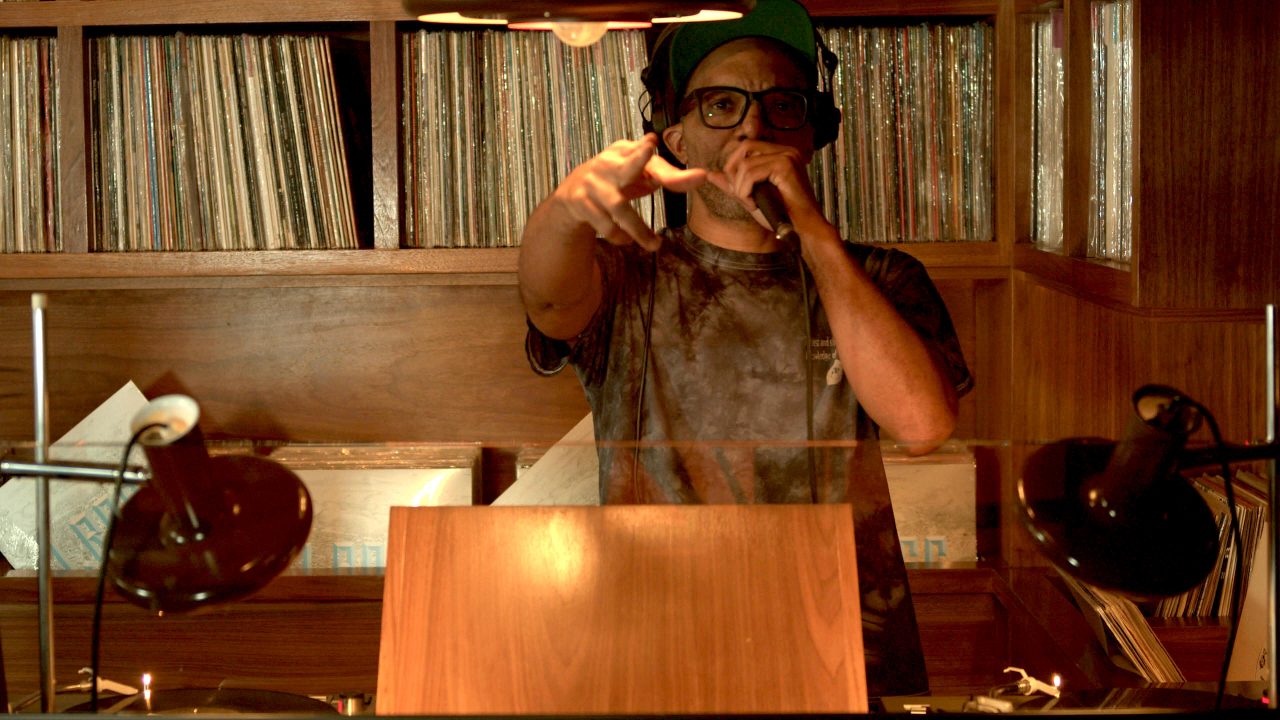 Celebrating A Wonderful Letter's release, J.Rocc explores the sounds contained within by playing a special set at Stones Throw's audiophile HQ, Gold Line Bar.
As he shares: "Los Angeles is the inspiration. All the records I played are based out of L.A. and O.C. – electro, hip-hop, and house."
Listen to the set above, and check out the tracklist below.
Tracklist:
1. The Egyptian Lover – Egypt, Egypt
2. L.A. Dream Team – Rockberry Jam
3. Rocc – Pajama Party f. The Egyptian Lover
4. D.J. Battery Brain – 808 Beatapella Mix
5. J Rocc – Go!
6. Build An Ark – You've Gotta Have Freedom (J.Rocc Remix)
7. Flaunt Edwards – Desilu
8. Dam-Funk – O.B.E.
9. J Rocc – Party
10. J Rocc – Dancing With The Best
11. J Rocc – Rocchead's Delight
12. J Rocc – L.A. Anthem f. LMNO & Key Kool
13. Madlib – 6 Variations of In The Rain
14. Visionaries – Blessings (Instrumental)
15. Fonkadelic Concepts – O.C. Bound
16. Gloster Williams – No Cross No Crown
17. Flying Lotus – Burning Down The House (Instrumental)
18. J Rocc – All I Wanna Do (Remix) f. Steve Arrington
19. J Rocc – Ras March / Calling All Greater Universe
20. J Rocc – Flawless (Smoothed Out) f. Budgie
21. MNDSGN – Rare Pleasure IV
J.Rocc's A Wonderful Letter is out now on Stones Throw.