Published on
August 10, 2017
Category
Features
AUDIO-TECHNICA AT-LP3
Price: £200
Pros: Easy to use, automatic system, value for money, musicality
Cons: No tonearm safety latch, Moving Coil option, strident mids, smeary treble, bass detail
Verdict: Despite suffering from the odd sonic and design issue, the AT-LP3 remains a solid bet for any beginner or budget-level buyer.
Rating: 3/5
---
One of a number of sub-budget (c.£200) turntables that have recently hit the market, the LP3 uses the same basic chassis and Chinese design seen in the Dual MTR-75. Hence, this 2-speed, hinge-lidded, belt-driven deck offers a fully automatic operation which means that you can operate the turntable without touching the arm.
Sporting an AT91R cartridge (set at a 2g downforce), aluminium alloy tube cantilever (a replacement stylus will cost £18), within an attractively red, SME-type, AT-HS3 removable head shell featuring a built-in finger lift, the cartridge is fitted with a conical stylus. This will hamper detail retrieval. If you purchase the LP3, buy a replacement cartridge as soon as you can.
The straight tonearm sits on a rest but includes no security latch. Hence, accidental arm knocks could cause cartridge damage if you're unlucky.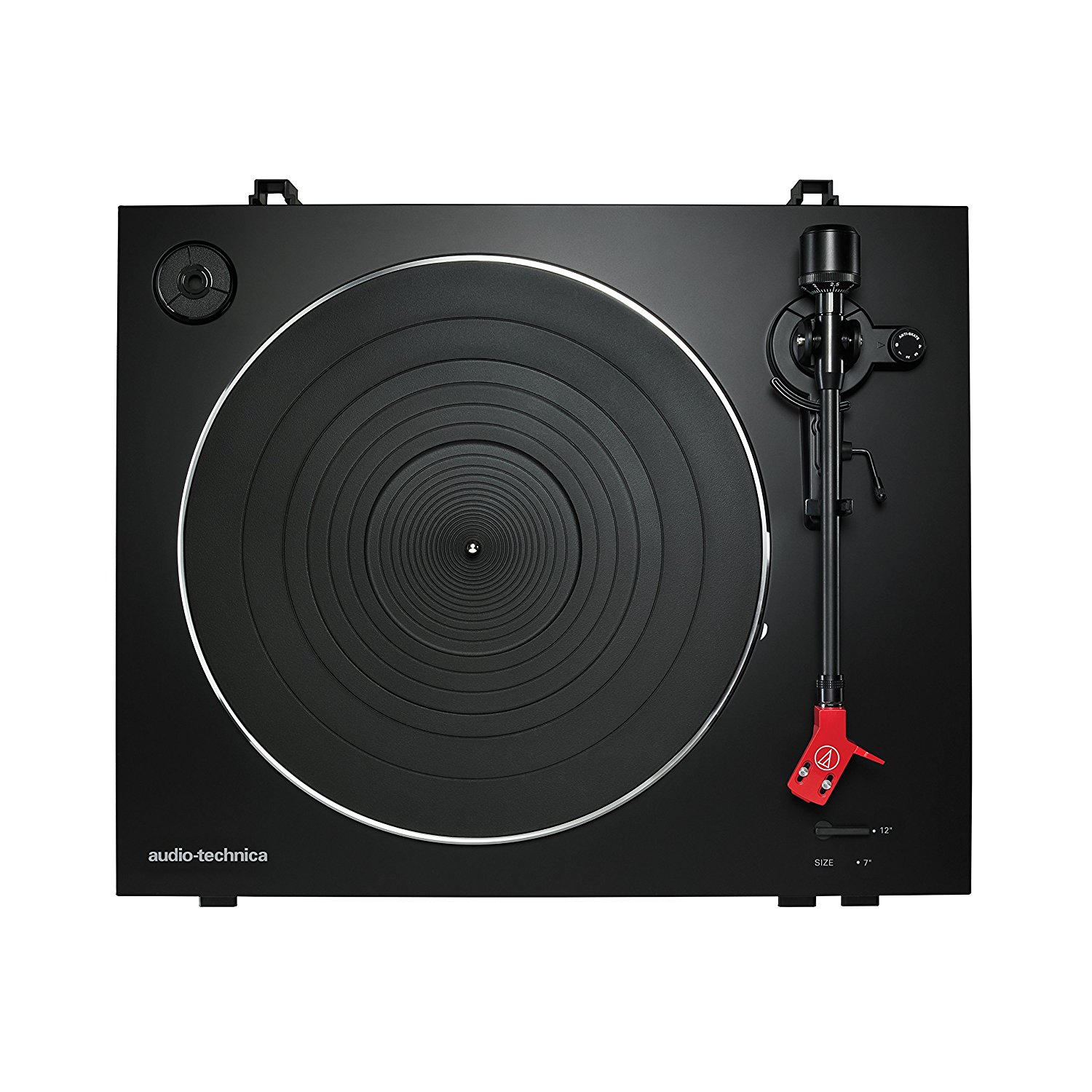 A built in phono amplifier is useful, especially for those on a strict budget. An external model will improve sound quality though so, again, if you buy the LP3, put one of your 'to buy' list.
The Audio-Technica AT-LP3 can operate both Moving Magnet and the more expensive, complicated and more demanding Moving Coil cartridge. Frankly, the LP3's inherent build and component quality are too low to use a Moving Coil cartridge successfully. Fit one into the LP3 and it will work, sure, but you'll probably get 25% of that cartridge's possible sound quality. This turntable feature is a waste of time and money.
The damped arm lift is joined by a die cast aluminium platter, 4.5mm rubber platter mat and an all in weight of 5.2kg which is heavier than the Dual MTR-75, possibly due to enhanced damping, which is a good thing.
The front of the plinth provides the On and Off buttons plus Power button. On top of the plinth is the 7" and 12" disc selector for the automatic operation. Around the back is the MM/MC switch, phono or line switch plus RCA sockets and a figure of eight power cord plugging into the built-in power supply. Fitting the power supply onto a turntable is not a good thing, it encourages noise to enter into the hi-fi chain through the cartridge.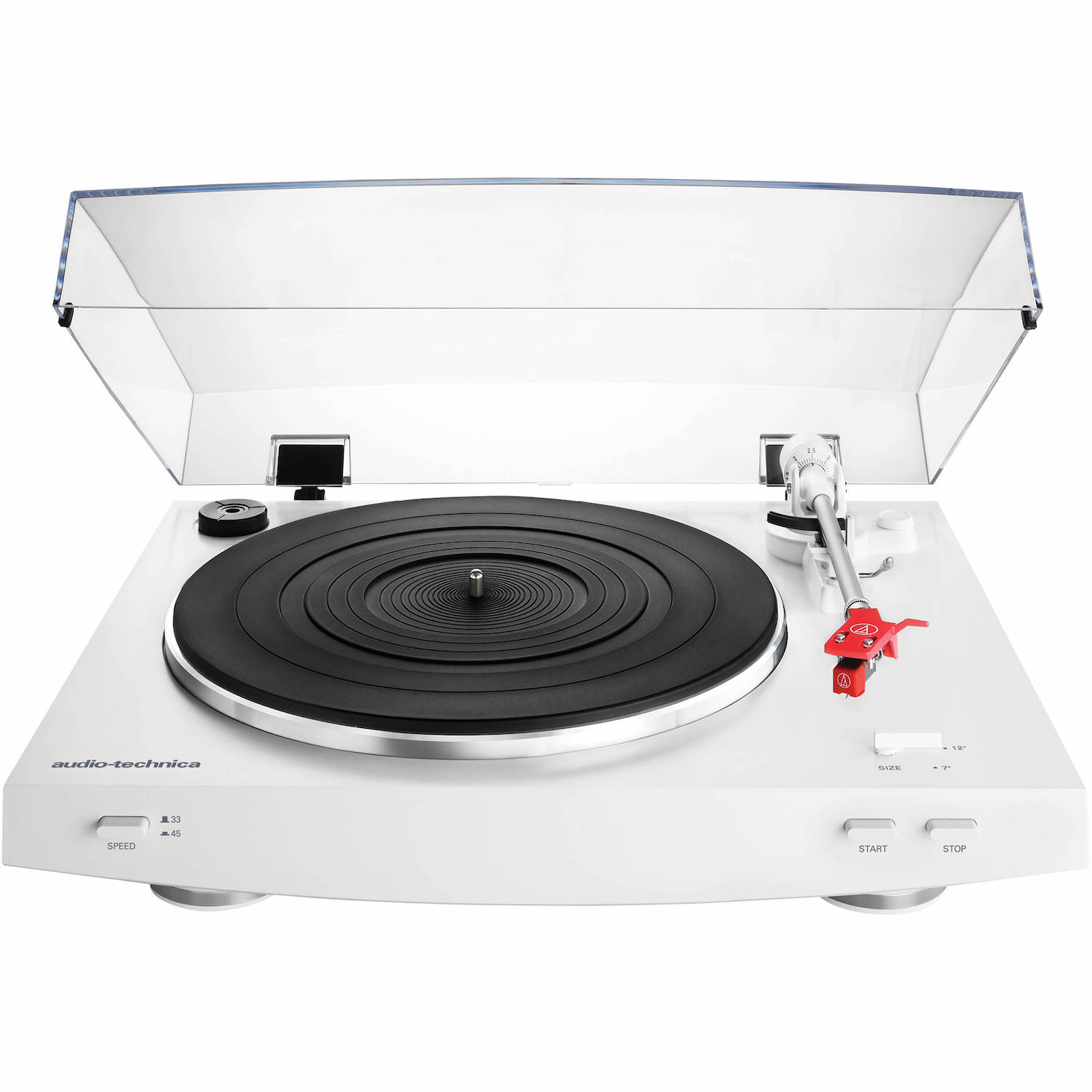 In sound terms, the built-in phono amplifier offers slightly muffled midrange and an indistinct bass yet remains perfectly usable, especially if cash is short.
Using a better quality external phono amplifier, vocal crescendos on jazz can be a little bright and unfocused with brass being a touch smeary. The midrange was quite strong, though, with a 'big' sound, providing an entertaining musical response.
For rock, bass was a touch boomy while guitar was rather unfocused yet the LP3 conveyed the passion of the performance well, giving the music both guts, emotion and a vigour that demanded a series of foot tapping exercises.
There are issues with the Audio-Technica AT-LP3 but there is also much to admire. The price is right, the design offers plenty of value, the automatic operation is excellent and the sound provides fun and frolics. Keep this turntable in mind if you're in the market for a sub-budget design.