Published on
August 9, 2016
Category
Features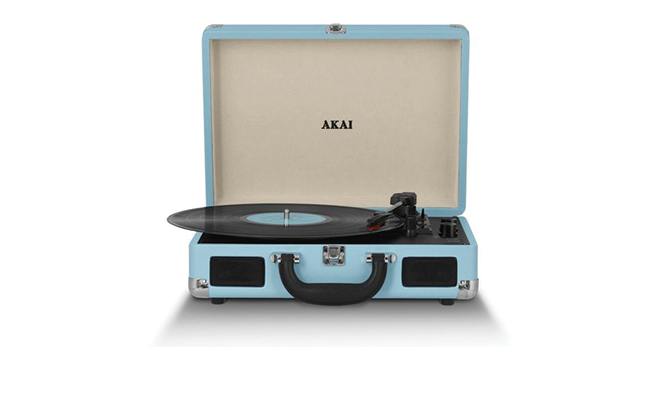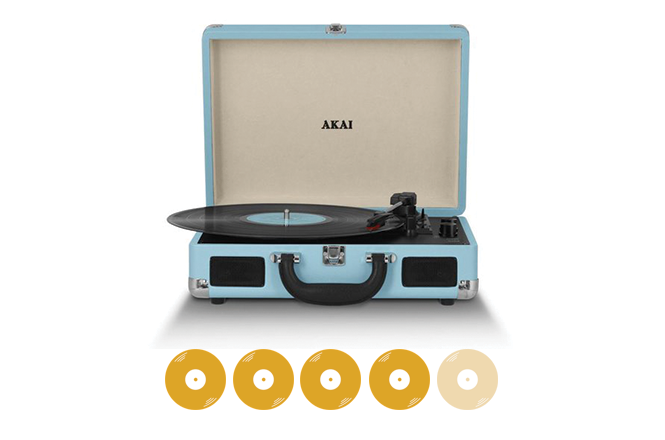 Akai Retro
Price: £50 (or less)
Pros: Price, Bluetooth, portability, external amp/speaker option, three speeds.
Cons: No automatic amplifier defeat control
Verdict: For an entry-level all-in-one deck, the Akai Retro is a capable performer and is rated in its class accordingly. A safer bet than competing suitcase models.
Rating: 4/5
---
All-in-one, very low cost, Dansette-esque turntables are everywhere in these vinyl revival days. I have already reviewed the Crosley C-100 here and was disappointed that it looked and sounded like a toy with sound quality on the sub-MP3 level.
It's all very well me being snobby and superior about these turntables but there are many vinyl fans (old and new) who want to listen to vinyl records but have next to no cash to construct a system. A few hundred quid might seem like a pittance to many audiophiles but what if you need it to pay the rent and put food on the table? Where do you go then for your vinyl kick?
If you have no option but to plump for this category of turntable then I wondered if it might be opportune to buy from a recognised brand? Akai has a glorious reputation in hi-fi terms.
The Retro looks like a Crosley Cruiser but I'm assured by Akai that this deck (despite the familiar faux leather, lidded chassis shape/colour) has nothing to do with that company… it's made by the Chinese factory located next door, I hear.
The Retro features a built-in amplifier and speakers, three speeds (33, 45 & 78rpm), a line out to connect to a hifi system, line in from a phone or tablet plus Bluetooth. It's also mobile because it's run off a chargeable battery.
I began my sound tests by connecting my iPhone 6S to the Retro via Bluetooth and played a Kylie Minogue MP3 through it. As expected, playback through the internal speakers offered restricted dynamics with a hard-edged midrange/treble and no bass to speak of. That said, the Retro made a pleasant enough noise and was never nasty in terms of being overly bright while the chassis didn't vibrate in time with the beat, which was a blessing. Vinyl playback improved matters a tad removing much of the midrange hardness. (Tip: sound quality is further improved when the chassis was elevated and placed on sorbothane pads, just a few pounds from Amazon).
I then connected a low cost pair of Boss MA-12 powered speakers (£30 or so from eBay, when available) to remove the amp and speaker equation from the Akai. I was disappointed that the Akai's internal amp/speakers continued to function, in this mode, which doesn't help sound quality because internal noise and vibration is maintained: I had to zero the internal volume to hear the external speakers. That said, the final sonic results were far better in terms of the emergence of bass, the complexity of the soundstage and midrange detail. Consider the latter as a upgrade, when funds allow.
For a modern, sub-budget, all-in-one turntable package, the Akai does the job and does it well. Considering the build budget, the construction is solid, there's plenty of extra facilities and there's also plenty of opportunities to tweak and improve the sound. A capable performer.
---
Reviewed buy Paul Rigby, creator of the music and hi-fi magazine, The Audiophile Man