Published on
November 4, 2017
Category
Features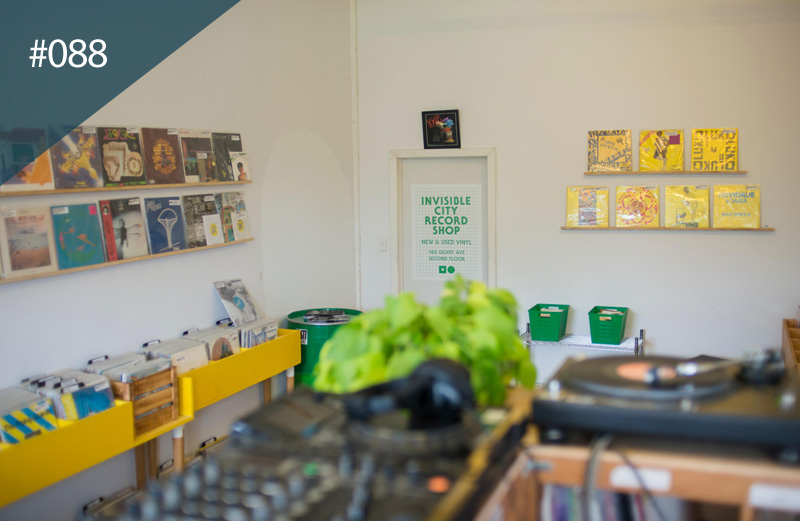 Caribbean treasures in Canada.
Every week, we pick out one must-visit spot from a different city around the world with photos and a little bit of history. Think of it as a kind of 1000 places to see before you die for record shops.
A label and peerless online shop for the world's deep-pocketed diggers, Invisible City have an outpost in their native Toronto that is an essential stop for fans of the rare, strange and downright funky.
---
Invisible City Record Shop
Location: 222 Spadina Unit C4, Toronto, On, M5T 3B3, Canada
Go for: Island disco, unpredictable soca variations, loft classics, and everything in the $5 bins
What's the story: Invisible City burst onto the scene in 2012 as one of Toronto's most consistently exciting labels, championing collaborative reissues of cult figures like Beppe Loda and Zambian psych-rock collective Witch. In late 2016, Gary Abugan and Brandon Hocura transitioned his web shop into a physical shop nestled in the second floor of a welcoming loft building on Geary Ave, where plants stretch towards the sunlight of the shop's large windows.
Without a doubt, Invisible City has the most meticulously curated selection of rare Caribbean funk, soca, and island soul records in Toronto – browsing through the shop's stock feels like you're getting a detailed musical history lesson from an experienced elder.
It's complemented by a generous selection of mutant dance, electronic soul, meditative new age, and Paradise Garage-era disco, which the Invisible City Editions reissue label sits perfectly alongside. A quick browse of the $5 bins reveals a treasure trove of releases that would be a steal for more than double the price. The only downside to the shop is that it won't remain Toronto's best-kept secret for much longer.